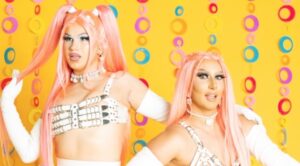 Meet the new wonders from down under! Drag queens Kali Forni-Kate and Sabrina Babyslut are producer/DJs. Together, they are known as the Jawbreakers.  They have made a big splash overseas, headlining several international festivals including Sydney Mardi Gras and Milkshake Festival in Netherlands.  Now, they're out with their first single; and it debuts at #1 on the iTunes dance chart!
"Boyfriend" is a modern-day remake of Ashlee Simpson's 2005 hit that chronicled her stealing Wilmer Valderrama from Lindsay Lohan. The Jawbreaker version features vocals from Amunda (formerly from Operator Please) and emphasizes how Kali and Sabrina are not only DJing their parties, they are their parties.  It is the first single from their Just A Taste EP, being released through Vicious Recordings, the label that discovered Avicii when he was a teenager, and released his first ten records.
Kali and Sabrina first met in 2016, performing in a Britney Spears tribute show in Melbourne.  They clicked over a shared interest in music production, bought a mixer and six months later they were in business.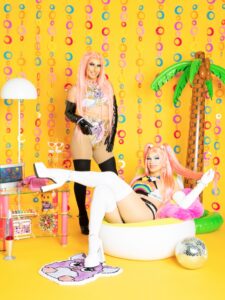 Their Jawbreakers name harkens back to the iconic candy from their childhoods and the 1998 teen film that starred Rose McGowan, Rebecca Gayheart and Julie Benz as the "it" girl clique who reign supreme in their high school.  "It's a reflection on how the drag that we do is heavily inspired by pop culture," Kali continues.  "Like the girls in the movie, we dress to have fun and through the music we play and the energy that we exude, it makes everyone want to party with us!"
"We have been keeping an eye on Jawbreakers for several years," says Damien Platt of Extrovert Music, a division of Vicious Recordings.  "When Kali and Sabrina presented us with demos of the EP, we were instantly fans of the music. It's fun, its camp and its quality music."
Jawbreakers is not Extrovert Music's first foray into gay dancefloor music.   Label co-founder Andy Van, of the band Madison Avenue, had a #1 dance anthem with "Don't Call Me Baby". More recently, Sgt Slick's recut of "Gimme! Gimme! Gimme!" went gold and has become a major queer anthem.  "Extrovert Music is focusing on dance pop/disco/commercial/cross over releases," Platt continues. "A majority of our new signings and existing roster who identify as LGBTQIA+ are producing this sound."
While Jawbreakers' unique look has helped attract attention to their work, Sabrina admits that performing as hyper feminine drag artists has made it harder for fans and the music industry to take the duo seriously.  "We've had straight DJs hit on us and others wonder who the random chicks were in the booth," she explains.  "But way more people have shown their support and their desire to see us succeed."
Their next big live gig will be Summer Camp Festival where they will perform alongside Years and Years, Big Freedia and The Veronicas. They are also slated to perform the next Goodlife U18 event, as well as Adelaide Festival, St Kilda Festival and Melbourne Pride.
Follow on Instagram @ JawbreakersDJ