Peppermint is one of the most well-liked queens in New York. She's popular, sought after, talented, sexy, beautiful and fun, and now one of the chosen few on this season's "RuPaul's Drag Race." She can sing as well as lip sync, dance and be hysterically funny. She has got the whole package.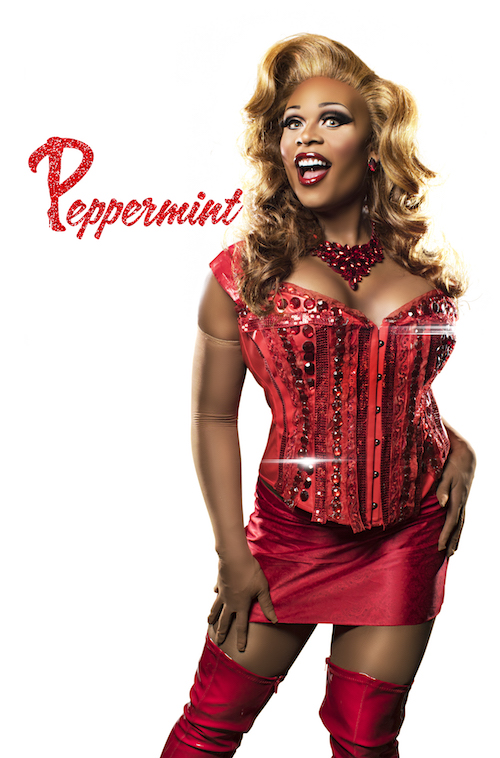 If you happen to win, what will you do, and how will that be a life-changing experience?
First of all, $100,000. You would know if I win, because all of my bills and my rent would be paid, simultaneously, on time. That is what I'm excited about. If I'm lucky, my student loans will be paid off. That would be the only thing that would change. That's how my life would change immediately. Then I think in the long term I would hope that it would give me a little more longevity with my platform. I really feel like the time is right now to speak out on so many issues that I happen to be right at the intersection of. They are race, queerness, gender, trans rights, and so many things that are going on right now at this very moment that seem to be crucial. I would like to contribute to that the best way that I can. That is something I was committed to doing even before getting on "Drag Race," but now I think my voice might be heard a little more clearly. I'm excited about that.
I like that answer. So where were you and what were you doing and feeling when you got notified that you would be a contestant on "Drag Race"?
There's been a little bit of back and forth with the different stages of the audition. So, when I got the call, I was not expecting it. I was actually on the phone with one of my girlfriends, and I got disconnected. So she called back, and I was expecting to resume the conversation right where we left off. So I was like, "What's up bitch, keep telling me," and it was one of the producers. It was quite awkward, but it was fine. I was the one who was nervous. I was actually afraid I offended her and that she would call me back and say never mind.
I've been researching you a lot lately, and I've come to learn that you are one of the most liked queens on the scene. Do you think that you're going to be as well liked on the show once the competition begins?
I hope so. I'm imagining that doing "Drag Race" is a lot like being in any other group of drag queens. So if you can handle any group of drag queens, New York City queens, different personalities, then I would say that hopefully you're primed and ready for something like "Drag Race." There are a few elements of course. It is a competition, and there is a cash prize involved, and the public is watching and even have the opportunity to interact and give their opinions, like on social media. That's a little bit of a different aspect, a new aspect than the normal kind of camaraderie that I usually have with queens. I'm ready for it.
It's a bit different than Miss Fire Island.
Well, kind of.
What would you like to promote for yourself?
I have some new music and some new music videos. Of course I still have my weekly New York City shows. And they can follow me on peppermint247 on my social media platforms and check out my new album called "Black Pepper" and my remix album called "Sugar and Spice." I have a new album coming out this summer, and I'm working on a special secret project with some of the girls from the show.