The Band Celebrates 15 Years with "Tears of Faith" Visual
Now in its 15th year, the Australian electronic pop band, Parralox, continues to champion the synthesized wave pop sound of 1980s-era Depeche Mode, The Human League, and Pet Shop Boys. Its latest single, "Tears of Faith" is a down-tempo electronic dance arrangement about broken relationships and the hope for reconciliation. Its accompanying visual, directed by Leanne Hanley, works to elevate the song by injecting a humorous Frankenstein theme. Essentially, it is a classic tale of looking for love, finding it, and then being destroyed by it.
Out front man John von Ahlen plays the role of a mad professor intent on creating his perfect soul mate. Through the power of computers, A.I. and a little bit of magic, he manages to transmute a blank slate into the perfect female creation, played by V actress Jane Badler (who also provides vocals on the track). It is love at first sight, at least for the professor! Unfortunately, his new mate rejects the mad professor via methods such as zapping his body and brain with lasers and cutting his head off.
"The video was a load of fun to film," says von Ahlen, "especially the parts where Jane comes to life and has to kill me.
"She really took on the role of homicidal android with gusto!" he laughs. "I made sure the plastic protector was on the saw, as it could have been lethal to my tender throat."
Along with V, Jane Badler is known for starring in TV's One Life to Live, Fantasy Island and Falcon's Crest.
"Tears of Faith" is the first single release from Parralox's Genesis album.
"Genesis is more mature than anything we've ever produced, especially in terms of its songwriting," von Ahlen contends. "When the band first started, we borrowed a lot from the 80s. We still do today, but to a much lesser extent. We're finding more of our own style and exhibiting our own unique perspective."
The band has experienced several shake-ups in its 15-year history. It currently features female vocalists Johanna Gervin and Louise Love and Bass Guitarist Ian Burden, formerly of The Human League. John von Ahlen is the band's lead vocalist; something that still surprises him.
"I never wanted to be a pop singer. I still don't! I totally fell into it ass-backwards."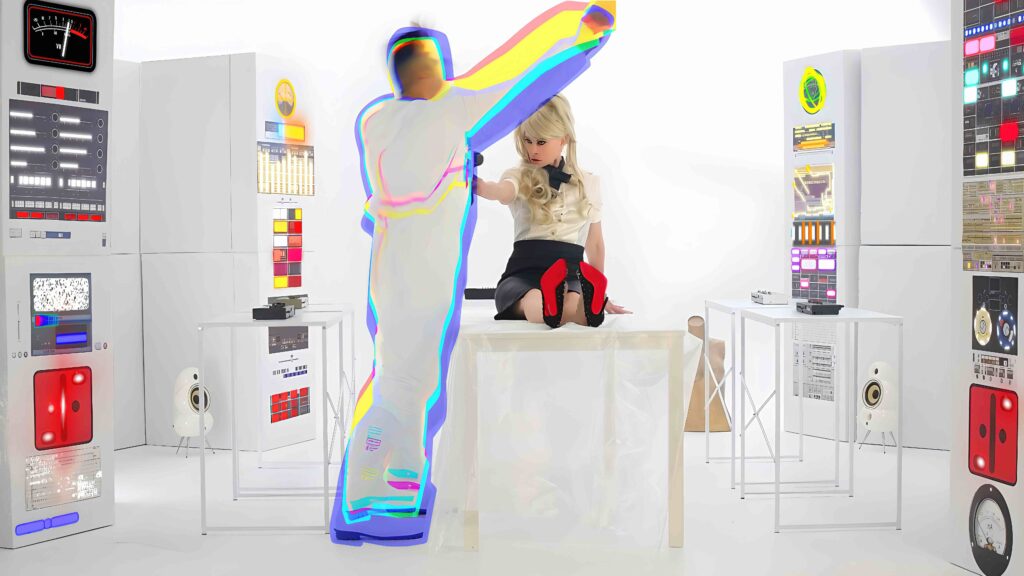 Still, he admits that, "Little means more to me than the support fans have given us over all these fifteen years. I try my best to convey that by engaging expeditiously with them all through social media."
Filming for the "Tears of Faith" visual took place in Blue Tree Studios in Victoria, Australia in 2022. It was delayed, first due to the pandemic, and then by the tragic, untimely death of Jane Badler's young son, musician and American Horror Story actor Harry Haines.
"Tears of Faith" is available on Apple Music, Amazon, Spotify, and all digital platforms now.
Visit https://parralox.com.