For 28 years The Townhouse, has been serving the community with its upscale, yet unpretentious ambience, included is a cocktail bar, for meeting and chatting, a piano
bar with some of the best and most popular pianists in the city, and now a brand new, completely renovated club room "All under the same roof"! Something for everybody.
Get Out! Magazine spoke to the Management about the new edition to the already successful establishment.
So, you have a new edition to The Townhouse?
Yes we are so excited, we have 3 bars under one roof. We have the cocktail bar in the front, the back of the bar is a piano bar, and downstairs we have our club room, which we just introduced last week, the go-go boys to that area.
What nights will the male dancers be there?
We are doing go-go boys, Friday and Saturday night for now, 9pm – 2am. We have at least four different dancers, and its interactive.
Go-go boys always seem to be a hit?
There is no other place on the east side that is doing it, the club room is a small room, and perfect for what we're doing with it, it's just a cozy, intimate area.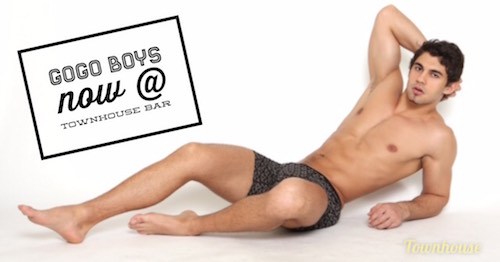 The bartender in the club room was featured on the Get Out! Magazine cover in February as one of Hornet cover guys.
Yes. Jean, a 24 year old sweet and mild-mannered, aspiring model, he tends the bar in the club room on the weekends, just another reason to come and check out the club room featuring some of the hottest go-go boys in Manhattan.
Is the club room available for private events on other nights?
Yes, It is available for private events, The club room is very attractive, and people would enjoy having a little privacy down there, it's great for a Birthday party, or other special occasions.It's just a different atmosphere from the upstairs.
Tell me about the cocktail bar.
Its an upscale social bar. Very successful businessmen come here, and their admirers. Its a very friendly atmosphere.
Do you still have a dress code?
The Townhouse when we first opened, patrons used to come out in suits and ties. We do have a dress code, that we still enforce, just not as strict as it was at the turn of the century. We don't allow hats or sleeveless tops. Business attire is our standard.
Tell me about the piano bar.
We have some of the top piano players in New York. Some have been here 28 years, from the beginning, The piano bar is well known, world wide known.
When does the piano bar start nightly?
The piano bar starts at 6pm on the weekdays. We have 2 piano players that come every night, the weekend they start around 8 or 9pm.
Is there a favorite theme at the piano?
Yes, Broadway Music, with everyone singing around the piano.
Townhouse
236 E 58th St. (3rd & 2nd Ave)
212.754.4649