One of the most powerful and vibrant duos to rule the '90s euro-pop dance scene was La Bouche (French for "The Mouth"), then featuring singer Melanie Thornton and singer/rapper Lane McCray.
Now recognized for a series of super hits, including "Sweet Dreams," "Be My Lover," "You Won't Forget Me" and "Tonight Is the Night," the duo was initially discovered by German record producer Frank Farian, who along with techno DJ Ulli Brenner and producer Amir Saraf produced some of the best dance music on the planet, fronted by Thornton and McCray.
In 2001, Thornton left La Bouche to pursue a solo career, but shortly thereafter the unthinkable happened: She died tragically in a plane crash in Zurich, Switzerland.
McCray, stunned and devastated by tragedy, continued to tour globally as La Bouche, keeping the brand alive.
In 2015, McCray discovered Hungarian-born, effervescent singer Sophie Cairo, and together they have just released La Bouche's first brand-new music and video in 16 years called "Night After Night." The song is an energetic and powerful mix with the iconic flavor that belongs solely to La Bouche. The duo are constantly touring large arenas and stadiums globally.
I had a heartfelt, intimate and brilliant conversation with the now multi-platinum artist McCray, who now lives in Germany. We discussed the newest La Bouche music, his constant and ongoing tribute to Thornton and his own personal artistic endeavors. He was candid and humble and very excited about his new release.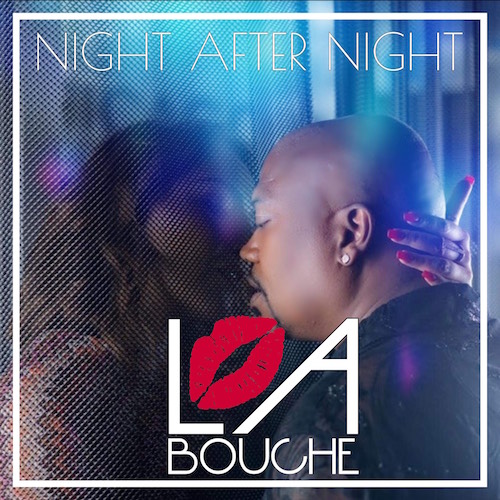 You were and are still so popular with the enormous amount of dance hits you had.
I think I'm working more now than I did when the records were out, believe it or not. The opportunities for touring through the promo companies, doing radio shows and promos here and there, and of course where we make most of our money, which is on the road, touring.
Aside from touring, what are you doing now?
La Bouche released its first new single in 16 years. It's called "Night After Night." I'm really excited about that, and the promo companies are already pushing it on the radio. Beyond that, we've been in the studio working on new material. We have several tracks that are in the can, and we should have that completed by the end of the summer. So we will be releasing this long-play CD. Actually, it's been a little bit of a mixed blessing, because my original partner Melanie Thornton was such a force to be reckoned with. Every young lady that I worked with since subsequent to that has been chasing a ghost. The '90s fans have been so vigilant to standby Melanie and her spirit. No one more than me loved her and everything about her, but, you know, she's gone since 2001. We just have to move on. I'm working with my current partner Sophie. It's been a little bit of a mixed bag. Some people haven't accepted her, although the majority have. There are a couple of die-hard people out there that just want Melanie back. If there was any way to do that… there's just one person that can do that, and that's not me.
When I think of La Bouche as a duo, you always sounded musically as so much more.
When Melanie and I first came on, I was actually in the United States Air Force. I first came to Europe in 1991. A friend of mine asked if I would come and sing in his cover band that Melanie was singing with, called Groovin' Affairs. So I went in for some rehearsals with the band, and I did a couple of gigs with them. Melanie was subsequently working with Ulli Brenner and Amir Saraf on some tracks, and she asked me if I wanted to get involved. She wanted me to do some supporting vocals and rap, and I had never been in a studio before. Once we got in there, our producer was the famous Frank Farian of Milli Vanilli. He took us under his wing, and it was odd that when we first released our first record, we had to do live singing and some acapella with it—it had to be the real thing. But when I first got here, the dance music was so freaking fast. I had just come from the U.S. where we were a bit slower on the dance thing. Then I started hearing people like Martha Wash, Jonathan Brown and Crystal Waters and Robin S, and these people were all covering these dance tracks. I thought that was really cool. So when Melanie and I got in the game, most of the euro dance that was going on was kind of centered around the rap. Girls were singing hooks, and we were kind of the reverse of that. Of course, most of the rappers didn't really sing, so the vocals were done by the girls. So that blended us a bit different than the others.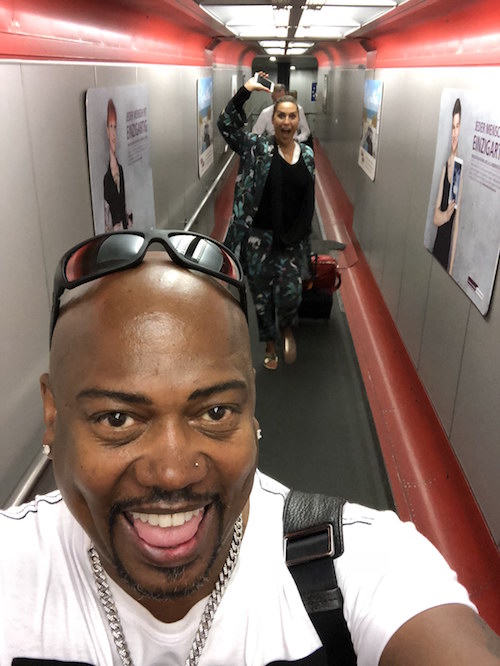 How do you feel that music has changed from the '90s to now, and what is your take on the current music scene?
Music is always evolving, right? It's evolved for decades and decades and decades. People ask me about the '90s, and I think the '90s has become a genre unto itself. We had rock 'n' roll in the '60s, disco in the '70s, glam rock in the '80s, so I think we kind of progressed into our own genre. The way I grew up, I listened to people like The Temptations, Diana Ross, and the way they phrased their lyrics. It wasn't about vocal acrobatics—how many high notes you could hit or tricks and all that sort of stuff. Now it's almost conversational, the melodies, the music. Some of it I find very interesting.
For the '90s artists trying to stay in the game, it's difficult, because our fans want to stay in the '90s. Was the music better? In some regards, yes, but as far as the business aspect of it, we've gone from record deals to A&R promotion teams to downloads and streams, and I am still trying to wrap my mind around it. It was so much easier when you had a label and the label did everything for you. They told you where to be. Now I find myself all day on social media, booking shows, pushing products, just to stay visible. It's a lot of work. I don't have anyone doing that for me, so I'm very hands-on with regard to that. So it's been interesting to say the least.
Those songs that you did are iconic. Everyone knows them, although sometimes people do not realize they belong to a duo called La Bouche.
That's one of the problems I had early on in the career. When you have more than one person in a group, there is always some compromise, some head-butting. Melanie and I were certainly good friends. We differed on some things, and one was management. She wanted her sister to represent us. I had no problem with that, but she had never done it before. She could learn, but at whose expense? So I remember I had a meeting with some Harvard-educated people to represent us, only they couldn't represent one half of a group. They had said if we sign with the label right now that they could get us at least a $5 million advance on a record. It seems like a missed opportunity for success. I said all that, because a lot of people knew the song, but they missed knowing who we were. I wanted that recognition from the beginning. For example, I would walk into a hotel, and the staff would run over and say welcome to the hotel, Mr. Haddaway. I thought, Haddaway is here? I'm Lane McCray, not Haddaway. We don't all look alike, you know.
But you do have a great musical history.
You know, I really do enjoy talking to people about our story, because I think there are a lot of fans out there that still don't realize that Melanie is no longer with us. I want to get our story out there so people do know, because I just want to honor her. One of the reasons why I continue to work is to keep her memory alive. We had some great times together. It's still shocking to me all these years later that she's not here.
Tell me a little bit about Melanie.
Melanie Thornton was from Mount Pleasant, South Carolina. When I met her, like I said, it was with this situation with this cover band. She lived in her own modest apartment, but she had one of the biggest hearts of anyone I've ever known. She was caring and giving. At the beginning of our career we didn't have a pot to piss in. We would go to each other's house for dinner. I was still in the military the first eight to nine months of La Bouche, and I would have barbecues at my house.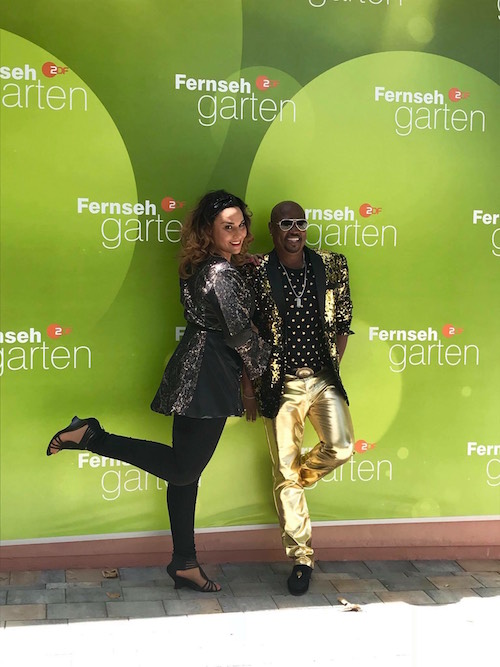 She would come over and get the sides together, and we would entertain all those military people at my house. She was just a bright light in my life.
It's just so hard to fathom, because I've never lost anyone in my family through death. So that was my first death experience. When I found out about it I was in Las Vegas in my father's house after Thanksgiving. Crystal Waters called me and said, "Lane, did you hear something about a plane crash?" I told her that I hadn't heard anything. By the time I got off the telephone I saw this ticker-tape run across CNN saying that Melanie Thornton has died in the Crossair plane crash. I just dropped the phone, and I just couldn't believe it. Some people survived the crash; I thought she would be one of them. I thought she would walk away from it, because she was so tenacious. But that was not the case. So for a couple of years I just didn't do anything. I just contemplated, "Why am I here? What do I do now?" We were a duo. After a couple of years of not working I went back to an agent, and he told me La Bouche was dead, and that I should probably consider getting a real job. So I went back to my original agent, and we formulated a strategy to get back out there. So I started working and have not stopped since. But Melanie, there is not one bad thing I could say about her. She was caring, giving, talented, charismatic. I think she was on the threshold of becoming another Donna Summer. She had that kind of voice.
It's very sad.
You have to keep going. There's a lesson I try to impart to everyone: You've got to tell people in your life that you love them, because tomorrow is not promised to anyone. We could be gone. You never sweat the small stuff. We never got excited about small things. We were just extremely glad to be a couple of black kids, one from South Carolina and one from Kentucky, to land on the international stage of music and to have people share in that journey with us. There is no bigger rush than walking into a 40,000-seat stadium and have everybody singing "La da da da da da."
If you could say anything to your fans what would you want to say?
This might sound cliché, but without you there would be no us. They have been with me from the beginning, through the highs and the lows, and so just thank you.