Emma Willmann: "Crazy Ex-Girlfriend Star Hits Netflix"
New York based comedian and "Crazy Ex-Girlfriend regular Emma Willmann is set to hit Netflix on her own special, as part of the Quarter Hours Season. As one of the top humorists in NYC, Emma has appeared on "The Late Show with Stephen Colbert", Fuse's "Uproarious", AXS TV's "Gotham Comedy", MTV International series, "Vidiots", and the web series "Gay Girl Straight Girl".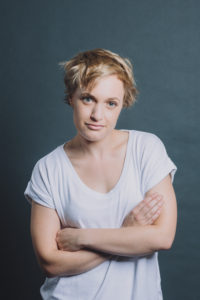 Aside from television Emma has her own comedy radio show on SiriusXM called "The Check Spot". She has appeared in comedy festivals internationally and has been named one of the 10 Funniest Women in NYC by "Time Out Magazine". The award winning, "out" comic can also be seen in comedy clubs throughout New York..
I spoke with Emma regarding her upcoming Netflix show as well as her career. You can catch Emma at Comedy Cellar where she appears as a regular if you really want to laugh,, This girl is really, really, really funny…..
How long have you been doing comedy ….you're pretty funny?
Thank you. Pretty funny, that's what I'm going for…I started in Boston in 2008, but I wasn't doing it all the time. I'd go to an open mic once a month. Then I would do it once a week, then I would do it every night. Then I won this competition in Boston, so I moved to New York. I was in New York for two years and I was running around doing stand-up, and then when I graduated grad school I stopped for a full year. I moved back to Boston and decided to do something not in show business. That made me really see that entertainment was something that I wanted to do, so I moved back to New York, and that was about five years ago.
So you are New York based?
I'm in LA now filming Crazy Ex-Girlfriend, but I live in New York, and I love New York.
Where can one see you in New York?
I do one to five shows a night in New York. You can see me at the Comedy Cellar, or Stand Up New York, or New York Comedy Club. Those are the three that I am at the most I would say.
Let's talk about your up and coming Netflix show.
The Netflix show comes out August 31. I filmed it in Atlanta, and one day a week I do a morning radio show called The Taylor Strecker Show, (The Check Spot). A lot of people who listen to the show come out to the live show. So I felt like a lot of love. There were a lot of racially mixed, aged mixed, there were straight couples, gay couples, …it was just the ideal performance situation. I knew most of the other comedians I was taping with that night, so it was just a great taping experience. I've done a lot of other tapings, where I felt very nervous, especially a late night taping thing. Especially the late night taping on Colbert, that was live. I'm working on another late night set, and when I work on a 5 minute set I feel very restricted and tight and I get very nervous. Every single word has to be perfect because it's such a short amount of time. So then when I got to do Netflix, which was 15 minutes, I had more freedom in what I could say because in Netflix it's not network. I mean I was nervous leading up to it but then I felt so comfortable filming, and I was happy with how it came out, which is very rare. When I'm rewinding something I always think, "I have to change that and I have to change this". My big thing after watching Netflix was like, "I have to change my hair". After then I got my hair done platinum.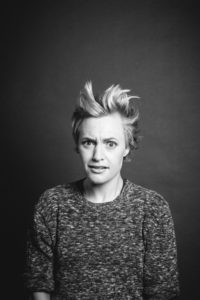 Who are your influences, who do you think is really funny?
It's so interesting too because comedy, once you are a totally professional comedian, it just gets very subjective. It comes down to who would you be friends with, who would you want to hang out with, who would you want to hear talk? So if I'm watching someone for fun I'll watch, Brian Regan, Richard Denny. If I want to study how they said something, or set something up, I'll usually watch Seinfeld, Louis CK, or Wanda Sykes… or Jim Jefferies. That's who I'll watch to get inspired. I'll watch them to see how they did something or what kind of transitions they used.
When happens when you go on stage and no one laughs?
Oh man…it's interesting… usually you get at least one person. I had a weird show the other night. There was one person in the corner clapping. But if no one laughs you just have to look at it and analyze it…. I kind of treat every show that goes great the same as the one that doesn't because it's all just like moving forward for the next thing that you're going to do. It also depends on the kind of mood that you're in. You can be up there saying "I hate my life, I hate show business"… Last night I did three shows. In New York that's common, but in LA it was really the LA hustle. So the first show went great. The second show was OK, but I did new stuff. So then that was more productive then the show that went great. Then the third show…l hated the set….I HATED IT!!! After it people came over and said, " great job" I said to myself, " fucking kill me".. I hated it!!
Do you prefer to perform for gay audiences?
I'm not used to performing in front of a gay audience. I've kind of tailored it a little more for someone who isn't part of the gay community. I have to say recently it's been nicer, and nicer performing in front of a gay audience, because I don't have to explain anything. But, I want to be very careful with that because the goal is not to just be performing for gay audiences. It's just that I don't have to explain myself, because that can get very tiring. But, I don't necessarily have a preference. I think that if I was performing just in front of gay audiences I would be very worried about my career. I did a gay resort, and it was the time of my life. It was so fun. I did a festival in Rochester and all the lesbians came out, and it was so much fun.