TonY YnoT – a t F i r e I s l a n d P i n e s
Popular DJ Tony yNot, began his DJ career seven years ago and is now sought after on Long Island, in New York, Fire Island and South Beach. He can be found this summer late night Fridays at Sip N Twirl, Monday nights at Sip N Twirl during Lip Sync for Your Drink and at The Blue Whale at various dates during Low Tea.
Tony has three albums out now on iTunes, Spotify, Google and Beatport. He is currently working on a brand new album of remixed classics, working in a studio and learning production.
We shared questions and answers about his career and his summer at the Pines on Fire Island.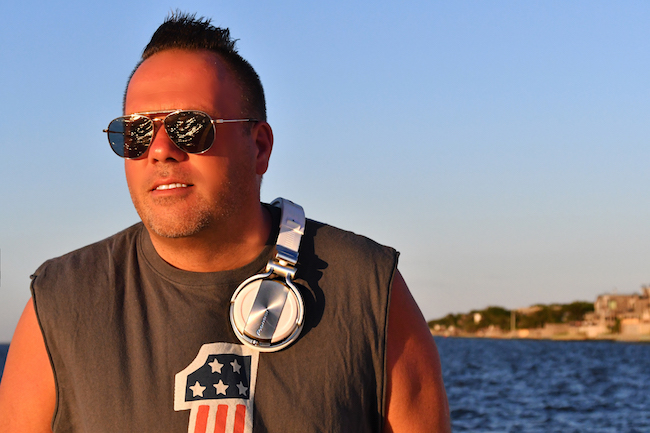 How did you start your Fire Island DJ career?
Years ago a fantastic promoter and friend, Tony Fornabaio, and I were talking, and I mentioned I really wanted to DJ and that I had been practicing a lot and thought it would be something fun to do. A few days later he called me and said, "OK, you want to DJ? I am booking you for the high tea deck at Pavilion this Saturday." I was completely nervous and excited. I just remember thinking I hope people will like what I play and not make a fool of myself. Fornabaio was really so encouraging and supportive. The night was incredible with a packed High Tea deck. People dancing and the amazing energy I received from the crowd gave me an instant love for what I was doing. The night was successful. Fornabaio scheduled me most of the Saturdays for the remaining season and began rotating me into DJing Low Tea at the Blue Whale. I will always remember that phone call and how supportive Tony Fornabaio was and how he pushed me and threw me right into it. I found something I love and enjoy.
Where and when do you spin at The Pines?
I began DJing the High Tea deck at Pavilion, then began rotating into Low Tea and the pool deck. In 2015, after the property was acquired by PJ McAteer, he continued to keep me in rotation alongside legendary Fire Island DJ Steven Oliveri, and Chris Camuso now adding Sip N Twirl as an additional venue to spin. PJ is an amazing person to work for and with. He is by far one of the most loyal people you will ever meet, and painstakingly spends months making sure DJs are scheduled properly and that we each have an opportunity to shine. This season I can be found late night Fridays at Sip N Twirl, Mondays with drag host Rosè doing Lip Sync for Your Drink at Sip N Twirl, various dates at Low Tea at the Blue Whale and Twirl Tea at Sip N Twirl.
What did you do before Fire Island and off season?
Back around 1997, I created a company called GayCollegeParty and began throwing 18+ gay parties all over Long Island. The parties were a massive success, especially being the very first 18+ gay party anywhere. I eventually moved the party to NYC after doing several one-offs at Roxy, Limelight and Webster Hall. I eventually opened Heaven Saturdays along with Alan Picus, and it became the longest-running gay 18+ party in NYC, spawning countless up-and-coming promoters, DJs and drag talent and events. Currently, during my off season, I travel and spend much of my winter time in Miami. I started doing guest spots at South Beach's incredible Twist nightclub this past winter and will be doing a few gigs at the famed South Beach Palace this upcoming fall.
How long have you been a DJ?
I have been doing this for approximately seven years. I currently have 3 CDs on iTunes, Spotify, Google and Beatport: "Popular Vol. 11," "GayCollegeParty Vol. 1 reworked, and recently, "Wurkout Vol. 6," all under the LGBT-owned Centaur Label (TheOutClub.com). I am currently working on a new CD of remixed classics from Centaur's vault of music. I have been working in a studio and learning producing and creating my own remixes. I am excited for everyone to hear it when completed.
What motivated you to begin to DJ?
Growing up I loved music. I would listen to everything from big band, hip hop, disco, classics. I liked sounds and the different beats and sampling. For my 20th birthday I got a set of Technics 1200 turntables and a mixer and learned how to beat mix from vinyl. I would practice every day and really just loved it. At the time I would fill in for a party company doing Sweet 16s and office parties. Back then it didn't really pan out financially, so it went on the back burner, and I pursued nightclub promoting. Currently, DJs like Barry Harris, Mauro Mozart, Toy Armada and Grind all inspire me, and their music is consistently motivating and well put together. You will never hear a song from these guys that doesn't make you want to be happy and dance.
What do you enjoy most about Fire Island?
Fire Island to me is a paradise where everyone is included, and people are friendly and welcoming. There is always something to do, and no one is judged. I have lived in Fire Island Pines for over 15 years and could not imagine being anywhere else during the summer months. If you have never been, please visit and enjoy the love and beauty that is Fire Island Pines.
For bookings email [email protected] or visit DjTonYYnoT.com.