Victor Borbolla and Javi Perez are the fifth of six New York profiles we're featuring of people who can be found on the world's premier gay social network, Hornet.
Victor and Javi are the definition of relationship goals. The adorable married couple have been together since high school, and they are a huge presence in the gay community of New York City. You may even see Victor staring down at you on the subway in one of the ad campaigns he recently did.
The high school sweethearts may not have met on Hornet, but the boys say they love using the app when they travel to meet new people and discover new places. We caught up with the pair about their messy proposal, their very wet wedding day and growing a gay family in New York City.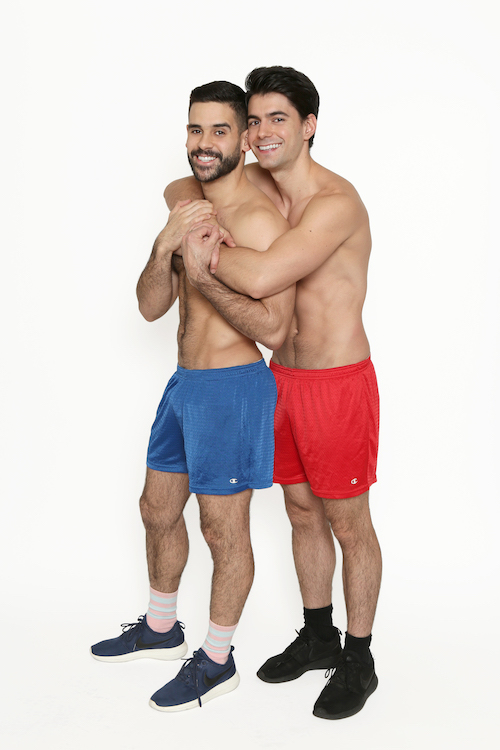 How did you two meet?
VB: We met in high school. We sat at the same lunch table for a year without ever really speaking. It wasn't until we started running into each other at parties that I began to become interested. At first, I thought he was the distant straight guy who didn't want to be friends with the new kid. We began hanging out senior and became best friends. We were closeted in high school and our relationship was purely platonic for three months. Eventually, we opened up to each other and dated in secret for the rest of the school year. We came out together after graduation.
How did you propose?
JP: So I proposed to Victor and he had no idea it was coming! We rented out a house Fire Island Pines for the week with some friends and everyone else knew it was going to happen. With help from three of my best friends, we set up brown paper bags filled with tea lights, spread them around the edge of the rooftop of our house, played our favorite song from high school on a loop ("Two Weeks In Hawaii" by Hellogoodbye) and waited for the sunset.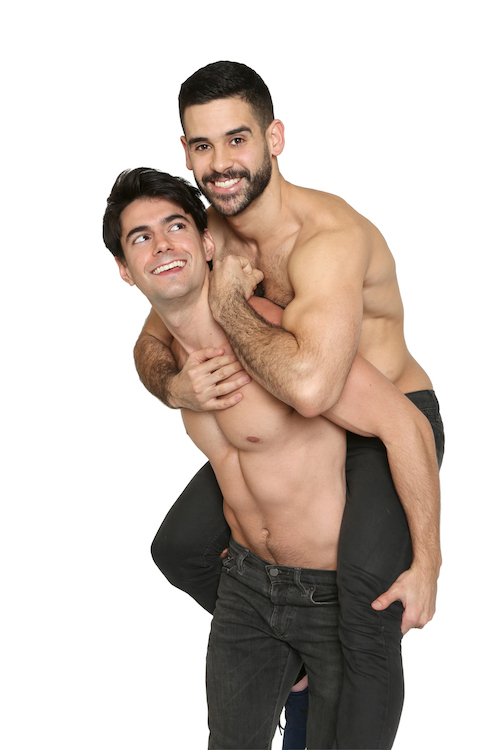 Of course, Vic started to speculate some funny business, so I had to rush the proposal before he figured it out. So, the sun was still out, the tea lights in the brown paper bags looked like lunchtime at a preschool and we were still in our bathing suits. I was so nervous. He had to keep calming me down throughout my little speech. I had a ring ready, I got down on one knee and our friends rushed up the stairs with champagne when they heard him say, "Yes!" It was a beautiful mess.
Describe your wedding day in 200 words or less.
VB: You know, everyone tells you that your wedding day flashes before your eyes, but I didn't really understand what that meant until I was waking up in a panic the next day thinking about the fact that we never cut our cake! October 8, 2016 started off incredibly stressful. We rented out a Midtown loft and planned on using the rooftop for the ceremony. As luck would have it, it began to pour rain 15 minutes before the ceremony. Instead of moving everyone downstairs, we decided to do it on the rooftop anyway. We got married under a foggy Empire State Building surrounded by cafe lights in the rain. It was magical. By midnight it stopped raining, and we came back outside and danced the night away with 115 of our closest friends and family. That's totally over 200 words, isn't it?
What is your favorite thing about the gay community in NYC?
VB: When we moved here, we had no gay friends in NYC. You won't always get along with everyone you meet, even those that are part of our community. But if you're lucky, like I consider myself and Javi to be, you'll find a group of friends that become your family. I see little gay families growing all the time in NYC.
What is your favorite thing about gay social networking app Hornet?
JP: We love to travel and make friends who can can show us around all the local hot spots.
What is the quality in your partner you respect the most and why?
JP: The quality I respect the most in my husband is his will to succeed or solve a problem.  From something as big as his career to as small as fixing our cable box to getting the best possible tickets to a Lady Gaga concert, he will always find a way to make it happen.
Hornet is currently available on iOS, Android and the web.