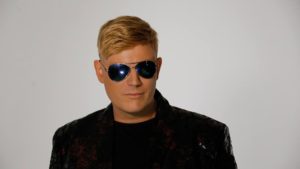 Preparing to release his new video "Careless Whisper", London based recording artist Jason Prince is much more than a singing phenomena.
Prince is a major DJ, producer, TV personality, and owner of a record label. I met him at Club "Fire" and fell completely in love with his vibrant personality and his vivacious, colorful animation, and
felt the extreme need to share him with the world.
Please introduce yourself to the American audience, and those that aren't familiar with you in the UK…, and the world……exactly what is it that you do?
I'm a Londoner through and through. I'm a singer/songwriter but I'm lucky enough to have a great career covering several genres in the music and entertainment industry, wearing many hats! Variety is the spice of life!
Which came first, singing or DJ'ing?
Definitely singing. I started as a child performer in musicals then moving into my teens I became a full time club singer which led onto my most well-known career path as a recording artist. I have been the UK's top male Hi NRG artist for 2 decades. House music is a much more recent progression for me and DJ'ing has gone hand in hand with that.
Tell us a little about your record label.
Klubkidz productions started life as a club night/party promotions company founded by myself. We have been responsible for some of the best parties on the London club scene. The DJ's and Singers that performed at our nights became the roster of our music productions company. Over the past decade we have released a string of 'Klubkidz' singles and albums which I co-produced for several Dance labels including collaborations with Rozalla, Angie Brown, Hazell Dean and Viola Wills. We started our own label at the end of last year to release the charity single 'Love Is The Only Law' which featured 50 UK artists including Samantha Fox, Jaymi Hensley and Tight Fit. This year we have several singles due for release on our own label including an original track with Swedish artist Therese. We own a big recording studio and television studio in central London and all of our productions are in house.
What is the most exciting thing that you've ever done?
So So many! All the usual ones that singers say I guess, Seeing my first single on the shelves in virgin megastore (on Vinyl I might Add!) First time I was on tele! First time singing to a festival size crowd, first time DJ'ing (at Fire in London, in at the deep end!) But I think the thing that sticks in my mind was moving to Sri Lanka for 6 months, It was amazing.
Was there a particular moment in your life that changed the entire trajectory of your life?
There have been several. Meeting Simon Napier-Bell in my youth was life changing. Simon managed me for a time and signed me for my first record/publishing deal. We are still good friends to this day and I co-starred in his movie '50 years Legal' last year alongside Sir Ian McKellen and Sir Elton John (to name but a few) Meeting my best friend Scott Houzet changed my life. Our London parties made us Infamous and from those crazy times Klubkidz productions was born. Releasing a Klubkidz track with the late Cilla Black was a turning point too, Cilla was one of our biggest stars here in the UK and it put the Klubkidz brand on the map. Also being caught in the Asian 'Boxing day' Tsunami when I lived in Sri Lanka was a definite life changing experience.
Who were your musical influences growing up?
I loved the big stars of the 80's Madonna, George Michael, Boy George. And I loved Pete Waterman's pop music, my favourite songwriter/producer. To discover 'Kylie' was just pop perfection but I loved him right from his first Stock/Aitken/Waterman hits with Hazell Dean.
What does music mean to you?
Everything! Music is magic, it can touch people of every creed, colour, religion, politics. It brings mankind together, stimulating our emotions. Music is the one power that can Unify.
If you could say anything to your fans and followers, what would it be?
Follow your heart
I understand that you have some kind of TV show…explain?
I hosted 3 seasons of the U.S. show 'London Calling'. A magazine show where I got to interview big names of the UK entertainment scene that have a following both sides of the pond. My favourite interview was with my dear friend June Brown who is a star of our biggest TV show the soap 'East Enders'. She is a national treasure here in the UK. I've also been filming a reality show 'Reality Ready' for London TV company Mighty Productions. It has been following the journey of Klubkidz productions with a fly on the wall documentary.
links