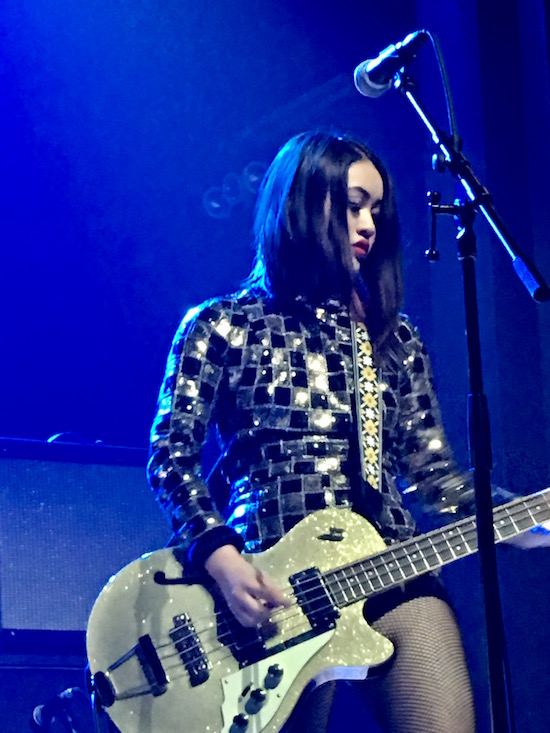 It's not often a band playing support fills a room. Not so for the Glam Skanks, the glittery, effervescent kaleidoscope of brilliant bursts of sparkle and glamour infused with raw talent and drama-less fun.
The Glam Skanks have been the opening band for the salacious rocker, Adam Ant during his iconic "Kings Of The Wild Frontier" tour, and thus, have been acquiring fans and followers in an enormous fashion. The all girls faction have taken the stage like a raging tsunami, enveloping their audiences with a glamorous blast of sound and wild frenzied 70's inspired punk.
Lead singer Ali Cat, is an irresistible flash of light circulating all over the stage, as well as surfing the crowd, with a powerful melodic voice and flamboyant acrobatic presence. Fluorescent guitarist Veronica Volume, plays her instrument with the soul of an iconic rocker, breathing fire and life into each song, with her vibrant fuchsia hair, and personality to match. Bassist Millie Chan, an accomplished instrumentalist, surrounded by her shimmering stage spirit. Drummer Cassie Khalilieh, followed by a trail of sparkles wherever she goes, wants to be the best that she can be, and won't except anything less, with her vivacious, adorable wildness, so apparent in her musical abilities.
You've just got to love a band that sings praise to Teenage Drag Queens, idolizes Glitter City, loves Karma, and who's idea of a love song is Fuck You. I noticed that when the tour was in its infant stages the audience song participation was rare. However by the time they reached New York City, the grande finale, every fan in the room was singing along, and after their performance, the congregation rushed to steal a picture with them, or buy a CD, or just wear a bright feathered boa by the merch stand.
These girls elevate the word happy, yet their music is unapologetic, opulent and suggestive. If you missed the tour, or just want more, the Glam Skanks will be performing at The Monster Bar, 80 Grove Street, on Friday February 24th, 12 Midnight, followed Saturday, by another gig at Berlin, 25 avenue A, both in New York City.