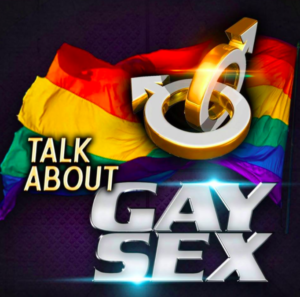 TALK ABOUT GAY SEX is the brand new provocative, hilarious, informative and conversational podcast with host, Steve V. Rodriguez, sidekicks, Jeremy Ross Lopez and Steve Carpenter. Rodriguez is joined weekly by one of his two sidekicks along with a very special guest who has a large following in the lgbtq community.
Special guests include social media celebrity and cabaret singer, Gregory Nalbone. Nalbone has 360,000 followers and growing on Instagram. Other guests include Lucas Entertainment porn star, Drae Axtell, Celebrity personal trainer Teddy Bass and host/writer Kevin M. Thomas.
Topics in the first three episodes include, "What's Your Game?", "Sex and Relationships" and "When to Ask, and When to Tell Regarding HIV Status". The provocative topics relating to gay sex are openly discussed in a conversational style, taking cues from "Real Time with Bill Maher", and "The View". Alcohol will be consumed and nothing is off limits when it comes to the discussion of gay sex.
TALK ABOUT GAY SEX is available for free on iTunes Podcasts under the category of Health. Audiences can subscribe and download the weekly podcast that will appear every Tuesday. Listeners can also hear the show on the show's Tumblr page at Tumblr.com/blog/TalkAboutGaySex

Follow TALK ABOUT GAY SEX @talkaboutgaysex on Twitter, Instagram and Facebook
About the host: Steve V. Rodriguez has a background in communications, marketing and is the creator of Progressive Pulse, the lifestyle online site that features Music, Fashion, Art, Travel and Politics. Rodriguez has created the behind the scenes video series for Macy's, "Beyond the Runway" as well as the live streaming series, "Live Virtual Wine Tasting". As a host for Progressive Pulse, Rodriguez has featured and interviewed celebrities, authors, directors and more including Quincy Jones, Vanessa Williams, Trudie Styler, Tommy Hilfiger, Matt Bomer, John Lithgow, Choreographer Warren Carlyle and more.
Jeremy Ross Lopez is part of an NYU study on sexuality pertaining to his sexual practices intended for research. He has been apart of the study for six years. Lopez is a graduate of FIT (Fashion Institute of Technology) and currently works in fashion.
Steve Carpenter is a music performer and producer who has extensive background in classical, Broadway and jazz music. He worked for many years with The Glines Theatre Company in NYC as a producer, director and board member. Currently he's working on several music projects including a jazz vocal album of his own. He's thrilled to be a part of this groundbreaking new podcast series.