This February, the Pride Center of Staten Island is highlighting its HIV Awareness and Prevention initiatives. For the month of February, the Pride Center has set the goal of reaching over 50 participants for private and confidential HIV testing. All services related to HIV Awareness and Prevention month are available throughout the year at the Pride Center, located at 25 Victory Blvd, (3rd. Floor), Staten Island NY, 10301.
As part of the HIV Awareness and Prevention Month initiative for February, the Pride Center would like to raise awareness about the following available FREE resources: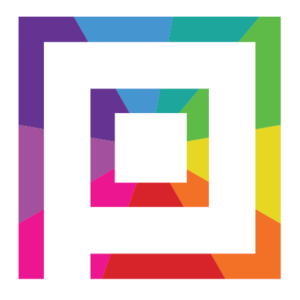 PRIDE University
• PRIDE University is open to all and seeks to educate and elevate members of the community through programs designed for young men who have sex with men within the age range of 16-31 years, HIV neutral and trans inclusive. Our fun and interactive groups includes; MPowerment, Momentum and CORE Group. Participants of these groups plan and create a team-based social events/activities, earn up to $70 in gift cards, learn about safer sex and to share ideas with like-minded people at our judgement- free zone.
• These services and support groups are available for free for individuals living with HIV/AIDS, newly diagnosed and to the general public. Individuals who seek to get one- on-one confidential sessions are also available at no cost.
• Among other services provided by The Pride U includes PrEP (Pre-Exposure Prophylaxis) and PEP (Post- Exposure Prophylaxis) services, job readiness, food pantry, access to benefits and legal assistance etc.
• Free, completely confidential HIV testing will be available to all members of the community, no matter what gender, sexual orientation or relationship status.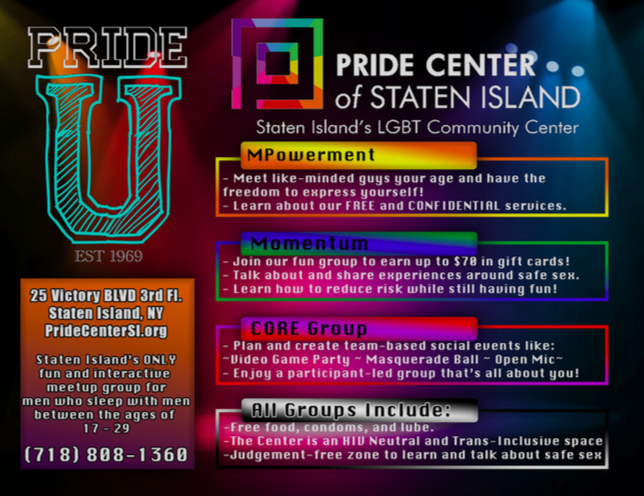 Our mission: The Pride Center of Staten Island creates a safe and welcoming space, offers comprehensive resources, provides empowering programs and events, and celebrates our diversity.
Our vision: The Pride Center of Staten Island empowers LGBTQ individuals and families living on Staten Island to achieve their fullest potential. The Pride Center builds a self-sustaining visible place for gay, lesbian, bisexual, transgender, queer, and questioning people. The Pride Center enriches community efforts toward justice and equality. For more information about the programs, services, special events, community activities, educational workshops and ways in which you can support your Center through volunteering and donations, visit http://www.pridecentersi.org/.