"Mad World: An Oral History of New Wave Artists and Songs That Defined the 1980's" – Lori Majewski
"Mad World: An Oral History of New Wave Artists and Songs That Defined the 1980's"
I first heard about Lori, her book and her love for Duran Duran, when I myself was trying desperately to procure an interview with Adam Ant. I adored the fact that she credits her career to her admiration for Duran Duran, as I also give Adam full credit for mine. Behold, quite by accident, after two years of yearning to interview her, I finally met her following an Adam Ant concert, how fitting.
After speaking with her for less than five minutes, she swiftly became one of my newest heroes. Not only was her knowledge of 80's music more than impressive, but her philosophies of the time and the music surpassed that of any I had ever heard.
Lori Majewski has written for some of the most popular magazines including, Spin, US Weekly, where she became executive editor, Teen People, and Entertainment Weekly, where she also served as editor. She currently is an on air personality at SiriusXM music talk radio, channel 106, Volume.
Lori is more than an author or a journalist. She lives her dream, and for that I hold her in the highest regard.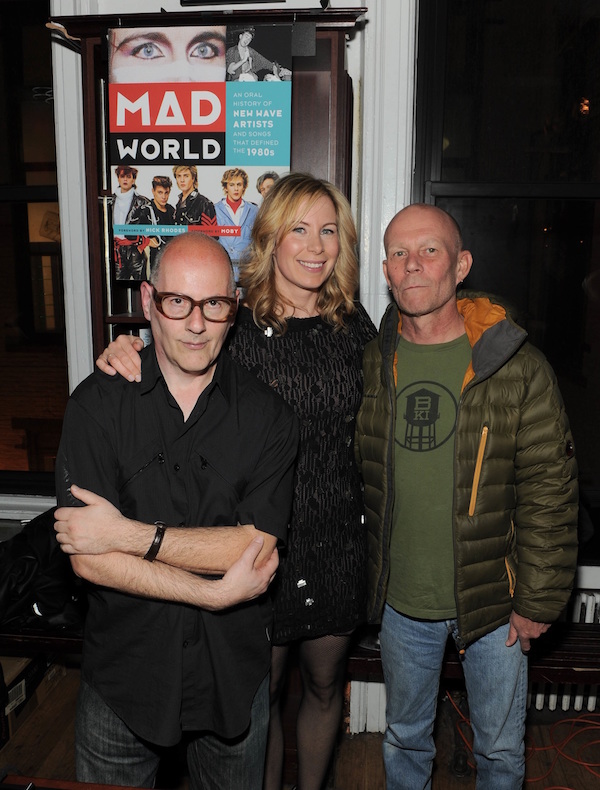 So how did you become involved with such a cool radio show?
They started a new a brand new channel called Volume, on Sirius XM. It's channel 106, which is a very prime spot next to Entertainment Weekly, and it is the first "all talk" music channel. So there is talk politics, talk sports, this is all talk music. We do the morning show from 7 to 10, it's available on demand at any time, and it even repeats on weekends. Musicians, when they do a lot of radio, and they have 3 minutes to talk about your new single single…… We're long format based, so when we talk to someone, we really get into why it is that they do what they do. I love talking to my heroes about their heroes. That's one of my favorite topics.
Me as well.
It's been great. We've had everyone from Adam Ant, to Lady GaGa, who was our first interview, Peter Hook, Johnny Mar, yesterday we had Chester Bennington from Linkin Park, Kelly Clarkson, so you never know who it's going to be.
Do they just come down to the studio, or do you speak to them via phone?
Most of the time they come to the studio. Like you I have years of contacts, so when Peter Hook or Steve Jones is going to put out a book, …I've been following them for years, and someone like Adam knows, he has an ally. I'm a fan and I'm going to ask In depth questions, but I'm not necessarily looking to trip anyone, I'm not a jaded journalist, I'm not a frustrated musician, I love music. I have heroes and I'm not afraid to say it. I'm a fan of pop music, and at the end of the day when we were talking about Adam Ant, he's a punk star who crossed over. He embraced pop music. That's why I love the 80's. It was a time when the underground was overground. By that I am saying cult heroes became the biggest pop stars in the world. They didn't have to be the lowest common denominator. All of the people we love, all of the post punk and new wave people, are thinking man's pop stars. Think about Adam Ant, how he worshiped the futurist, think of how he incorporated history into his attire. A song like "Goody Two Shoes" in America was a big pop hit, but look underneath the surface, it's not as frothy as you think. That's what I love. All the people from the post punk era are born from the breath of David Bowie, and Roxy Music, and Sex Pistols. Put that all in a stew and stir it up, and you have one of the most interesting times. The fact is, it had a expiration date. I say that expiration date was July 13th, 1985 with Band Aid, Before that it was a party that happened when we needed it. The world didn't know if we would be obliterated my a nuclear bomb, there were gas lines, everybody was broke, so music was our savior. When I talk to the members of Depeche Mode, or Spandau Ballet, they all have the same story. They were working class people.
The 80's were the best times ever, musically.
I'm the same little girl that fell in love with this music, except now I have boobs. That's why when I hear you say that this is the 12 show that you've seen on Adam's tour, I must've seen Duran Duran's to list you 20 times. That's my favorite.
I love Duran Duran too. But Adam is my favorite.
What is it that makes Adam Ant your favorite?
I think he is a true musical Genius, and a true genius.
It's couched in a way that…that accent, people don't think it, but he's brilliant. He's artistic, he's sensitive, and if you look at "Mad World", the very first chapter is of Adam Ant. Why did we choose Adam and the Ants?…. Because I really do believe that Adam kicked open the door to the entire genre. Yes, there were people like Human League and Joy Division who came in the 70's, but for me, what he did when he made the decision to leave the dirty, stinky, gutter snipe world of punk behind, to create something way bigger, he made the template.
I think that he created a genre all his own.
You know, I couldn't agree more, and watching it last night the show, and listening to "KOTWF", in order, I thought, "this album is a cohesive work of art, that no one has ever sounded like this before, or since". Bow Wow Wow had 2 drummers, whatever….the vocals…..so when I say New Wave, I meant that Adam led a new wave of pop stars, that, like Bowie, were interested in sound as well as vision. He thought about the entire theatrics from head to toe, what was he going to wear, what was he going to sound like, and as time goes by there are certain people that time diminishes. George Michaels is a great example. In this country people forgot how big George Michaels was. He had two album of the year nominations back to back. He won with "Faith". So if you read the book it will say " no one is more deserving", than Adam Ant. Adam Ant had to come first because he was the most influential.
Who is the person that you have interviewed that stands out for you, ( except Duran Duran of course)?
(With that Lori showed me a picture of Annie Lennox and herself),
That's so amazing. I also interviewed her.
Listen, I've been very lucky. I've interviewed almost everyone then I wanted to.
How did this all begin for you?
When I was 11 years old I fell in love with Duran Duran, and had to think of a job where I get to meet them. Basically I opened the pages of Star Hits, and I saw the name Suzanne Cologne. Suzanne Cologne was a woman and she was writing for a magazine, a rock magazine and she interviewed Duran Duran. So I said I want to be her. I started to plan out in my head that I'm going to be the editor of my school newspaper, then when I graduated I went to college at Fordham University, and became the editor of the arts section of the paper, and I started interviewing bands. I would go and sit outside hotels after class, and I would take my little tape recorder, and I'd say, " can I ask you three questions for the Fordham Observer"? Before I graduated from college, I had interviewed Duran Duran.
How was that for you?
They knew me because ever since I was a sophomore in high school I had been going to see them, waiting outside their hotel, and getting to meet them. But, as you said, it's different getting to meet them, having a picture with them, exchanging a few words, then sitting down and having a conversation. My very very first interview was with Simon Cuccurullo and Nick Rhodes. I walked into the room, and I couldn't believe that I didn't have to compete with other fans to get to talk with them. I had my own private time. I thought,"OMG, this is what I want to do for the rest of my life". I wanna go to shows and I never wanna grow up. I wanna talk about music and the cultural significance of music, and what music means to people, how MUSIC changed us, how music comforts us. People always ask why I go to so many Duran Duran concerts, I say, "why not". "Mad World" is the book that's taken me 30 years to write. I couldn't have written it then because they didn't have the perspective. Adam Ant hadn't gone through the things he's gone through yet, John Taylor had left Duran Duran and come back, Khajah GoGo hadn't broken up and gotten back together….The thing that TIME gives us is perspective, and it was time that this music got its due.