Thousands to March in World's Largest AIDS Fundraising Event
Against Healthcare Bill that Could End Affordable Care for HIV+ People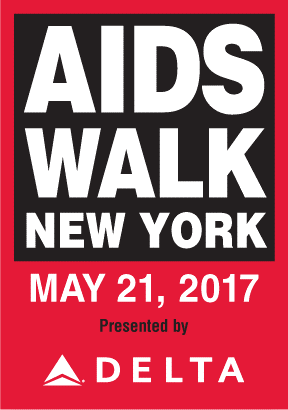 Kathy Griffin, Bob the Drag Queen, Zachary Quinto, Estelle, Javier Muñoz among Celebrity Supporters to Appear at 2017 AIDS Walk New York
New York, NY–GMHC and AIDS Walk leaders expect a larger than usual turnout at this Sunday's AIDS Walk New York in response to the recent House passage of the American Health Care Act (AHCA) that could soon throw thousands of HIV-positive people off their insurance.

"We see this vote as a direct attack on our clients, many of whom may lose their health insurance and their ability to access lifesaving medications," said GMHC CEO Kelsey Louie. "The potential outcomes are devastating, not only for the LGBT community, but for all Americans. AIDS Walk New York is a chance for people who care about public health and social justice to rally together and raise their voices against this disastrous bill–while raising funds to support those it could harm the most."

"As with the civil rights movement 50 years ago, once again we face, in Dr. King's words, 'the fierce urgency of now,' said AIDS Walk Founder and Senior Organizer, Craig R. Miller. "We must act now to beat back the callous and bigoted effort to deny access to healthcare for the most vulnerable among us–low income people living with HIV, heart disease, cancer, diabetes, and other life threatening 'pre-existing conditions.'"

The 10-kilometer walk begins and ends in Central Park. Celebrity attendees at the Opening Ceremony will include Grammy Award-winning singer Estelle, Sarah Boggess (Broadway's The Little Mermaid),  Tommy Dorfman (13 Reasons Why), Raul Esparza (Law & Order: SVU) Carson Kressley (RuPaul's Drag Race), Javier Muñoz (Hamilton), Denis O'Hare (HBO's True Blood), David Hyde Pierce (Broadway's Hello Dolly), Andrew Rannells (Girls) and Zachary Quinto (Star Trek Beyond).

Elected Officials in attendance will include United States Representatives Carolyn B. Maloney and Jerrold Nadler; New York State Senator Roxanne J. Persaud; New York State Assemblymembers Richard N. Gottfried, Félix W. Ortiz, Dan Quart, and David Weprin; New York City Council Members Corey Johnson and Helen Rosenthal; New York City Public Advocate Letitia James; New York City Comptroller Scott Stringer; and Manhattan Borough President Gale Brewer.

A Post-Walk show will be held for select participants who have qualified by raising $200 or more, headlined by comedian Kathy Griffin, and featuring special performances by Darren Criss (Glee), Estelle, and RuPaul's Drag Race stars Bob the Drag Queen, Jinkx Monsoon, Latrice Royale, Milk, and Trinity K. Bonet. Carson Kressley will host.

For the first time, a 5-mile running route through beautiful Central Park is available to participants as an alternative to the 10K walk.

This year's event is presented by Delta Air Lines, the official airline of GMHC.

WHAT:            AIDS Walk New York (AWNY)
WHEN:           Sunday, May 21, 2017
7:30 a.m.       MEDIA CHECK-IN (next to main stage on Center Road): Please RSVP to
Danielle Schlanger, listed above.
9 a.m.             OPENING CEREMONY
(at the stage next to Sheep Meadow)
10 a.m.           AIDS WALK BEGINS: Walkers step out onto the route through Central Park and the
the Upper West Side.
12:30 p.m.     POST-WALK SHOW (at Rumsey Playfield)
3 p.m.             ANNOUNCEMENT OF FUNDRAISING TOTAL (at Rumsey Playfield)

WHO:
More than 20,000 participants are expected to attend. The landmark event benefits GMHC and 40 other local AIDS service organizations that provide HIV/AIDS care, prevention services, and advocacy throughout the tri-state area and beyond.

WHERE:
General Entrance to the event is on 59th and 5th Avenue.
Venue map: click on link

All media check in just east of the Opening Ceremony stage. Network television broadcast crews: contact Danielle Schlanger (see number above) in advance to make any arrangements for parking or live feeds. Best availability for photos and interviews: Backstage immediately following Opening Ceremony.

MORE:
Walk registration and donation information: For information about participating in or contributing to AIDS Walk New York, please call 212.807.9255 (WALK) or visit http://ny.aidswalk.net/.
About Gay Men's Health Crisis:
Gay Men's Health Crisis (GMHC) is the nation's leading provider of HIV/AIDS care, prevention services and advocacy, serving nearly 10,000 people living with and affected by HIV and AIDS in New York City, the epicenter of the epidemic in the U.S. As the world's first HIV and AIDS service organization, GMHC is an expert in providing services that every person affected by the epidemic deserves. GMHC is on the front lines caring for people who are both HIV negative and positive, including: testing, nutrition, legal, mental health and education services. GMHC also advocates for stronger public policies at the local, state and federal level with the goal of ending AIDS as an epidemic in New York State by 2020. Most recently, GMHC and other HIV and AIDS organizations successfully persuaded the federal government to recommend widespread use of PrEP, a new daily treatment that is over 90% effective in preventing HIV infection. For more information, visit www.gmhc.org.About Delta Air Lines:
Delta Air Lines is New York's largest carrier with more than 500 peak-day departures to more than 130 destinations worldwide from its hubs at LaGuardia Airport and John F. Kennedy International Airport – including more destinations from New York State than any other airline. Delta has invested more than $2 billion in New York airport infrastructure, including a $1.4 billion international gateway at JFK's Terminal 4. The airline is also building a $4 billion, state-of-the-art home at LGA. Delta offers more first class seats than any other carrier in New York and the most seats between JFK and Los Angeles/San Francisco, with flights that deliver flat-bed seats and chef-inspired menus in Delta One, complimentary food and beverage in Delta Comfort+, and free meals in Main Cabin. Delta's three metropolitan-area airports carried more than 28 million customers in 2016, up from 26 million in 2015. Delta and its nearly 10,000 New York-based employees are part of the fabric of the New York community, acting as the official airline of the Yankees, Mets, Knicks, Rangers, Madison Square Garden, Food Bank for New York City, The Whitney Museum and GMHC, among many others.

About AIDS Walk New York:
Since 1986, AIDS Walk New York has nearly $150 million for HIV programs and services in the tri-state area, and has grown into the largest AIDS fundraising event in the world. In 2016 alone, 20,000 participants, many of whom were members of more than 2,000 corporate and community teams, raised $4.5 million for GMHC and dozens of other tri-state area AIDS service organizations. For more information, please visit http://ny.aidswalk.net/.

About MZA Events:
AIDS Walk New York was founded in 1986 by Craig R. Miller and his organization of activists, MZA Events. Miller is the AIDS Walk originator and has produced hundreds of public service campaigns and fundraising events, generating more than $380 million for major AIDS organizations throughout the country. For more information, please visit mzaevents.com.