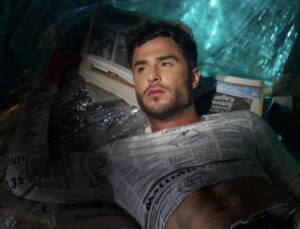 John Duff grew up in a suburb outside of Baltimore. After graduating Syracuse University, he made his way to the bright lights of New York City, where he worked as an actor and partied for six years. He then moved west to Hollywood to pursue his artistic dreams. He has been in Los Angeles for six years and has released an EP, Homo•Sapien, and several hit tracks including "Hokie Pokie", "Do It" and "High Heels."
His latest single,  "House on Fire", is a breezy throwback track with a groovy bass-line with a wistful melody that seems to resemble a love song.  However, deep below the surface lies a tale of concealed infatuation.
"I wrote the song about somebody I went on one date with," singer John Duff reveals.  "Unbeknownst to them, they lived in my mind as 'the one'." It was a completely delusional fantasy, Duff admits, but it got him to thinking: how close are the lines between innocent adoration and sadistic obsession?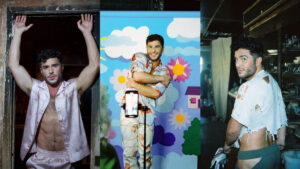 Written with Eren Cannata, some of the lyrics in "House on Fire" are pulled from Duff's real-life conversations from the date, and their subsequent DMs.  His long-time collaborators Alex Delicata and Luke Moellman helped him bring his romantic fallacies to fruition with production that is simultaneously nostalgic and fresh.
The music video is directed by Xavier Hamel, with creative direction by Adrian Gilliland and John Duff.   It is the first video in Duff's new collection of videos that celebrates the dystopia we call home.  "I'm an absurdist," Duff reflects.  "I find joy in mirroring reality as I see it.  It's like I'm in living in my own fun house."
The "House on Fire" visual tells the story of a wannabe-TikTok-star, played by Duff.  On-camera, he is a typical influencer promoting rainbows, sunshine and positive energy.  Off-camera, however, lurks a darker side:  a hoarder and sadomasochist whose delusions convince him that his hostage is a willing participant in their twisted relationship.
With a sadistic antihero (not unlike the beloved villains in Silence of the Lambs, Misery, and You) the video begs the question: have we become hostages to the algorithm of TikTok and similar social platforms? "I don't know about you, but half the time what I consume is very much not on my own volition," says Duff.
The choreography for "House on Fire" is by John Duff.  The TikTok dance featured in the video started as a lyrical piece he created during a costume fitting with stylist Adrian Gilliland.  Through fits of hysterical laughter, the pair filmed the dance and Duff later simplified it, adding sign language and a body roll and boom, a new Tik Tok craze was created!  Even legendary singer/choreographer/American Idol judge Paula Abdul recently released her own version of the dance!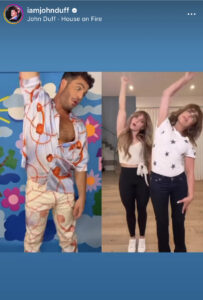 Production design is by Rashi Jain, photo direction is by Kenzo Le, makeup is by Kàlyd Odeh, and editing and VFX by Shawn Adeli.  Nellie Salisbury makes her acting debut as the psycho's object of desire in the visual.
 "Though they may not look it, the majority of clothes my character wears in the video are designer," Duff points out.  "Some straight off the runway. Turns out fashion these days is very 'Derelicte'… Zoolander reference."