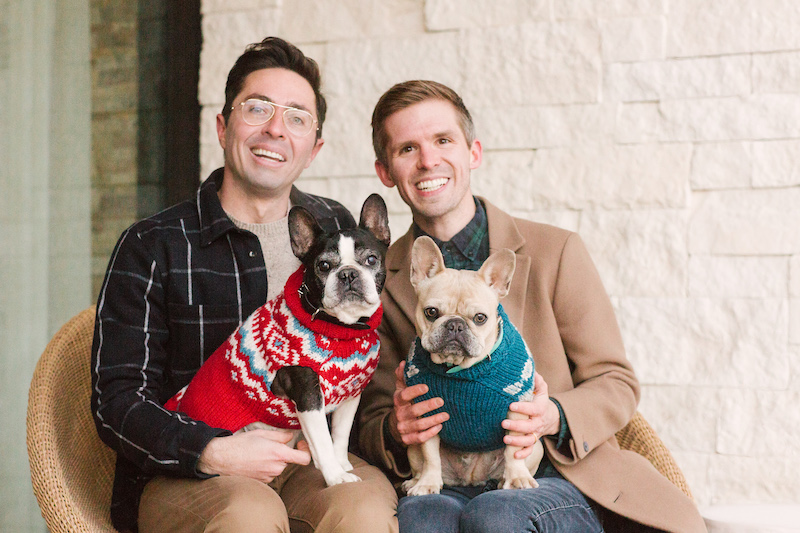 On December 19th, multi-Emmy Award winning production designer James Pearse Connelly and Netflix Production executive Wallie Wachter will be celebrating their Hollywood romance at a blissful destination wedding. The two will be tying the knot at a place they've never been or seen in Banff Springs, Canada, where they will enjoy the beauty of a true winter adventure.
Connelly has a full service design company that specializes in pre-visualization and environments designed for television, special events, and residential and commercial projects. He has created sets for shows including The Kelly Clarkson Show (on which he recently appeared). He has also designed projects for The Voice, Top Chef, MTV's Video Music Awards, and many others. He is currently starring in the HBO MAX series Craftopia.
Wachter has been with Netflix for six years as a manager of production for You, Virgin River and Locke & Key. Together, after two years of planning, they are working with Phil Crozier in Alberta for editorial photography and decorative B-roll photography.
This is sure to be "the wedding of the century"!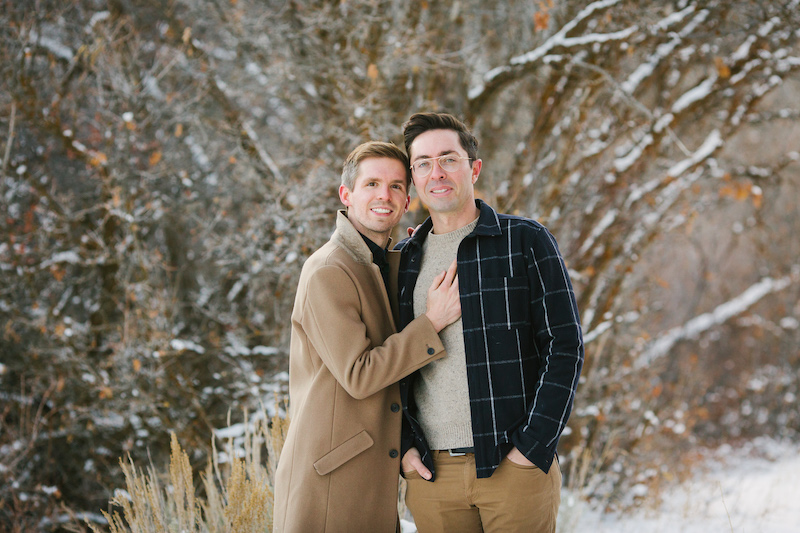 Interview
Hey, guys. Congratulations on your wedding!
James: I thought we were done planning it. Truth be told…After a call just about a moment ago, we're still planning it! But now I'm more excited. We are leaving here in a week.
What made you decide that you wanted the details of your wedding in an interview?
James: Interesting question…It's exciting. I feel like weddings for gay men are unique and they are hopeful and optimistic, and sharing that lifestyle is just coming to be publicly accepted within the last 20 years. It should be penned and something that we share.
You're getting married in Canada, so my question to you is: Just in case, down the line you want to divorce, will you have to get it in Canada?
James: No, we are signing our paperwork here in Los Angeles just after the wedding. We will be married in Canada, but we will also be married here in the states.
James, what exactly do you do when you're not planning weddings?
James: I feel like I'm always planning weddings…I'm a production designer for television. So it's my job to design scenery for these shows. Last year, we did 74 television shows. So oftentimes, television shows could be compared to brides. They have big opinions and sometimes they have no defined vision. So I would say it's kind of similar.
Wallie, what do you do?
Wallie: I'm more of the nuts and bolts person and I oversee a handful of Netflix original dramas. A lot of my productions are currently in Canada, so it made sense: Why not get married where I work? We have a pretty hefty plate on our hands.
How did you meet?
Wallie: This was obviously a Hollywood love story. I was so proud to tell my family and friends that we didn't meet on an app. We actually ran into each other at the Creative Arts Emmys. James was up for a nomination and I had been working on the studio side of that project. My manager at the time had made the introduction by telling me that I had to meet this fantastic, creative production designer. It was like shooting stars in passing. We met each other in the chaos of the lobby. I met his mom briefly and then we went our separate ways with our evenings. My patent leather, white shoes stuck in James' brain because he knew me as a patent leather, white shoe guy.
James: Then I reached out to his boss. Two days later, I was thinking, "Who was that guy?" When I reached out to his boss, I guess they were sitting next to each other and I guess he had Wallie at the conference table in his office.
So he kind of connected us and then I reached out to him personally on Instagram. But from there, we met up for dinner and never really stopped. We dated maybe three or four days and then wound up living with each other. It's so much fun.
I like that story. Sounds like both of you are super busy, so what challenges do you feel you're going to face as a married couple?
James: We are very busy, but I will say that we both know each other as super productive people. I think the business is just part of our day to day. We like that. We enjoy projects.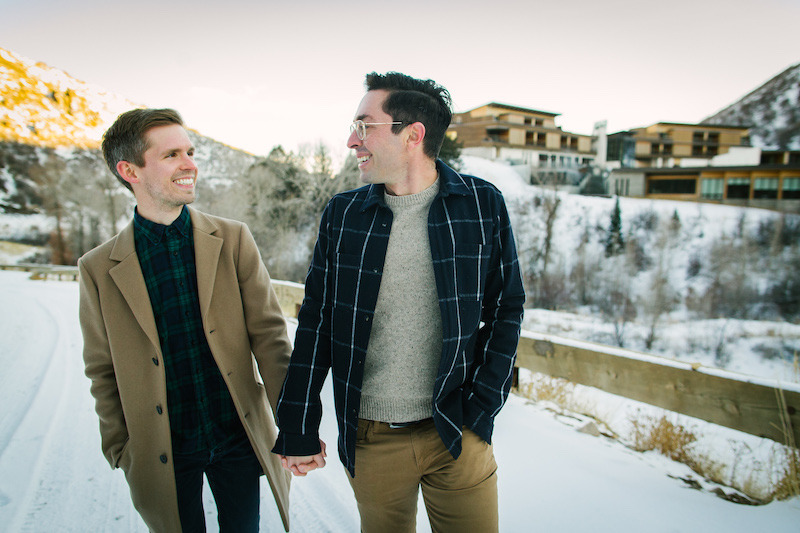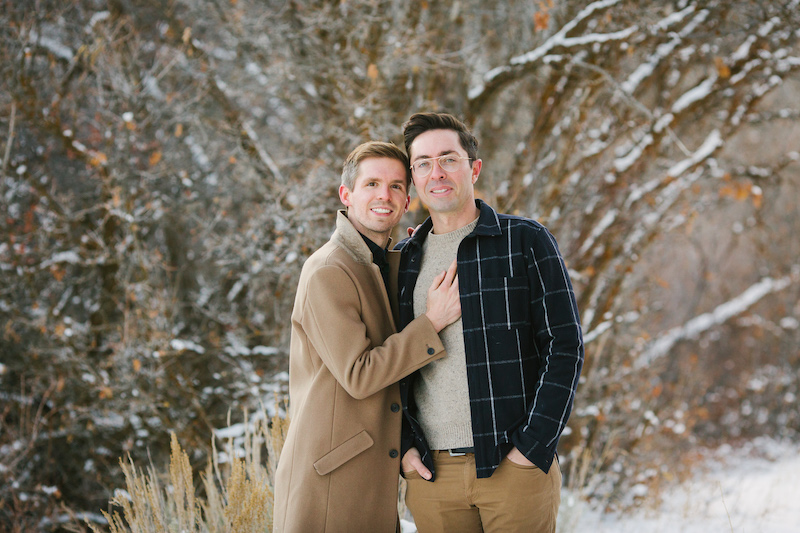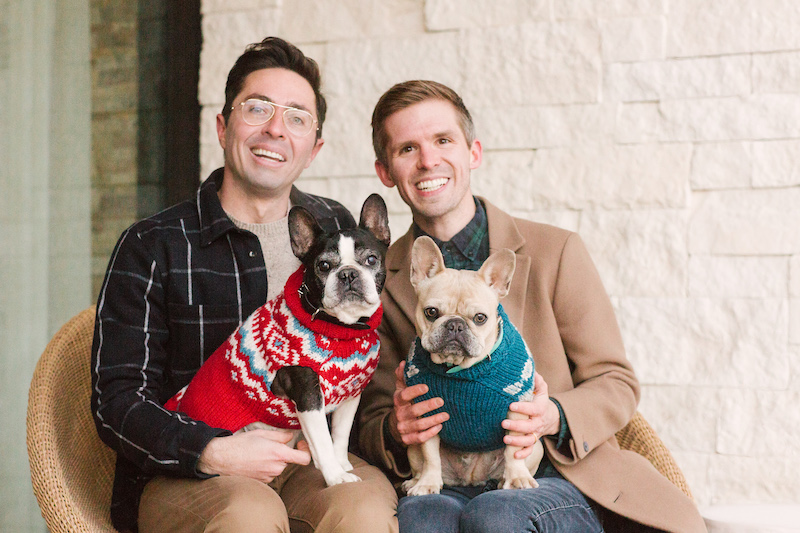 If we're not doing this, we're doing landscaping in the backyard or we're planning an Easter dinner or brunch and having people over. We are constantly planning different events for entertaining. This wedding has taken up quite a bit of time for us the last nine months, and we are really excited. It's turning into quite a large event. I'll say this: I'm 41 and I've definitely been through a few relationships, but we rarely bump heads. I think that that's a good sign. We've had conflicts maybe a handful of times throughout the years, but we know when things get escalated to just take a break. We know that we should resolve it within 24 hours by talking about it. It always starts with an apology and then an explanation. We know that if we can't handle it, there are professionals that can. If we had a tax problem, we would go to an accountant; if we had a legal problem, we would go to a lawyer; and if we felt we had a personal problem, we would go to a therapist. We are not ashamed to say that. So those are the techniques that work for us, and we think we're very happy so far.
Wallie: We are the best complements for each other. James is definitely more of the right brain and I am the left brain.
So how many wedding attendees so far?
James: We are up to, I think, 70. We expected cancellations beforehand, but we haven't seen any. That's pretty remarkable.
Wallie: It's kind of poetic in a way since we chose this place because we've actually never been there. We wanted to go on a trip to a destination unseen, with friends and family. But coming from Los Angeles and a freelance community of entertainment and stuff, I'll be honest with you, it's so nice to get away from the pomp and circumstance.
We boiled it down to a really pure attendee list. All the guests had to figure out how to get to this really remote destination by going through a couple of connection flights and getting a tux. The last couple of days have been really exciting. Guests are getting really excited about this.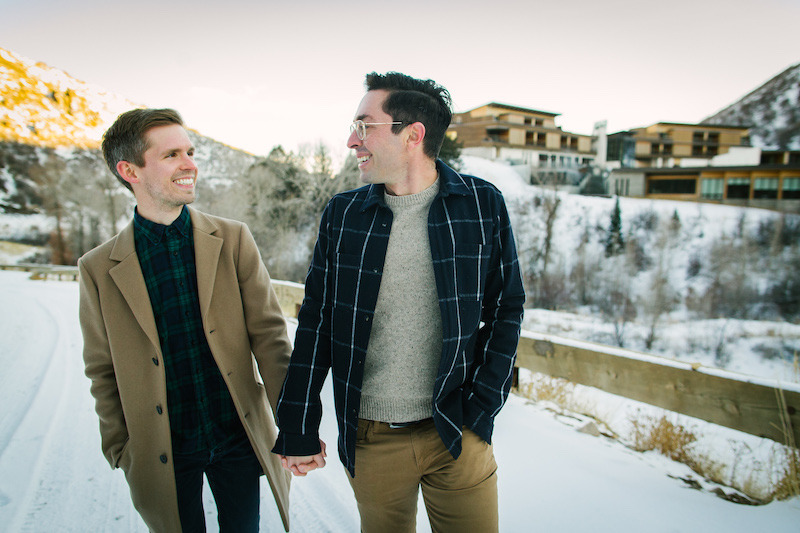 Why did you pick this time of year for a winter destination wedding?
James: I know…right? We honestly just sat there after we got engaged and decided to take a nice trip during New Year's and Christmas because we both work in entertainment. Just to be completely honest, we usually are buried between February and November, all day, every day in between production work. I don't work that often on the awards circuit. I do two awards shows, but they are generally after the awards circuit. So I have a lot of time off and Wallie has a lot of time off, so we decided to roll our wedding experience into taking a Christmas trip together. So we bottled it together budgetarily, for the experience, and decided to go to a place where we never were. We are really glad to share the experience with our friends and family and they are so excited to go. It's going to be literally a Netflix original Christmas movie.
Are you doing your own vows?
James: OMG, it's so crazy that you asked that. Yes, we are doing the traditional vows and then we are adding our own vows afterwards. I'm speaking for myself, but I think I know Wallie's answer. We both haven't written them yet. That's on my weekend list.
James Company: http://jpconnelly.com/
James' IG: @jpconnelly
Wallie's IG: wwacht