The 56TH Miss Fire Island Pageant Presented by The Ice Palace
Fashioned somewhat after the Miss America pageant, only much more dazzling, the 56th Miss Fire Island Pageant was held at the Ice Palace at Cherry Grove, Fire Island on September 10, under an umbrella of sunshine and sparkle. Hosted by drag icons Ariel Sinclair, Porsche and Logan Hardcore, with music by DJs Chauncey Dandridge and Chuck McTague, the pageant featured a barrage of talented and stunning queens competing for the illustrious title. The winner was set to walk away with the glittering crown and the $2,500 prize, and Entertainer of the Year with a splendid crown and a prize of $2,000.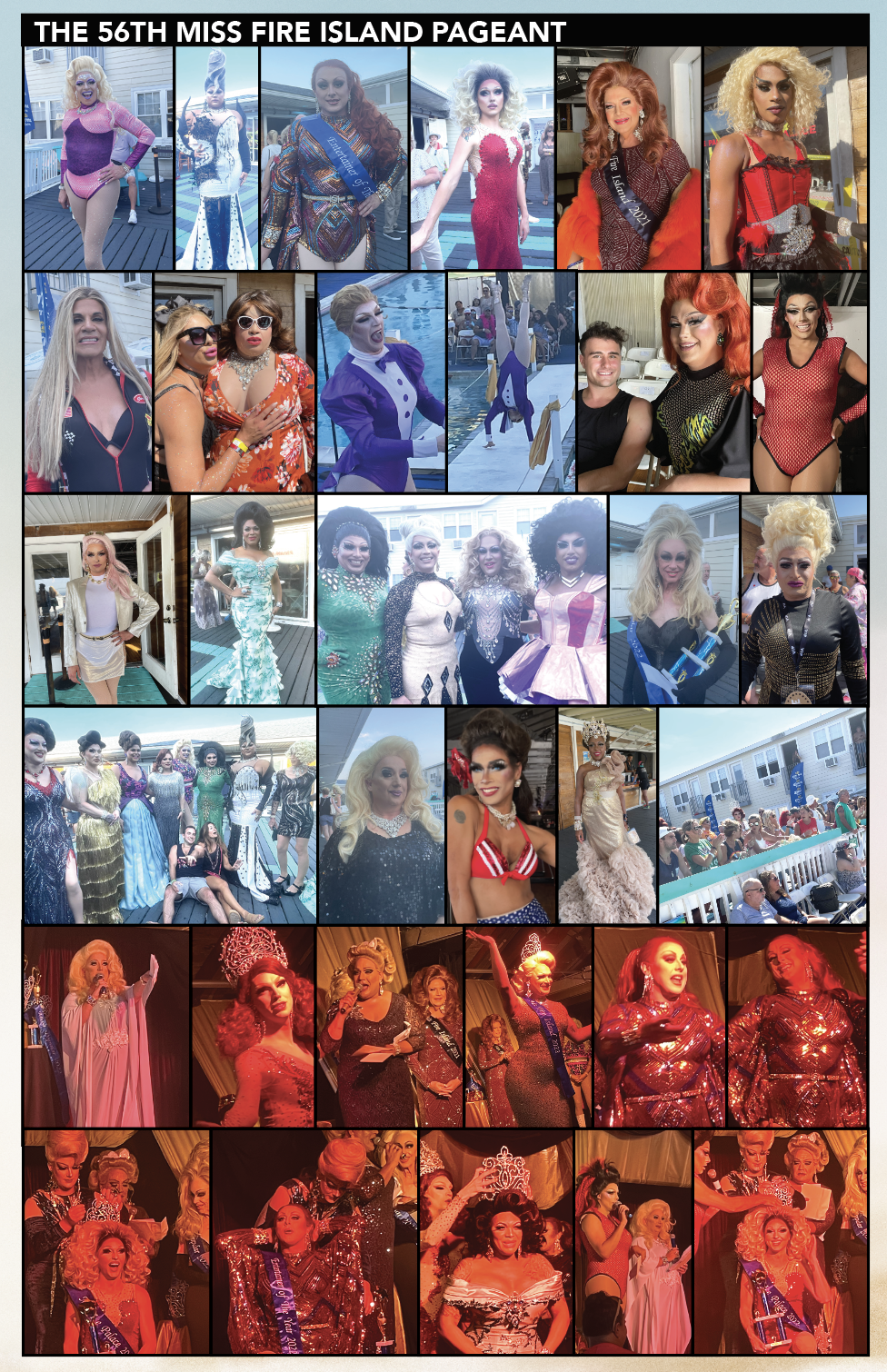 The six-hour poolside extravaganza was inundated with an array of people from everywhere, filled with anticipation, excitement and plenty of drink, awaiting the glamor, the brilliance and, of course, the crowning. The pageant originated in 1966 with bartender Johnny Savoy, who wrote a riff on Bert Parks' signature song. It began as a Cherry Grove event, but was so popular with the audience that a runway was added the year after and the event grew to become the biggest affair of the summer.
The performances this time were magnificent, especially those from Fifi DuBois, the reigning Miss F.I., and competitor Dallas DuBois, who presented us with Mary Poppins incarnate and also wound up winning a well deserved Entertainer of the Year honor. Other notable showcases were talent from songbird Angel Love, Robin Rose Quartz, and Saline Dion. The most spectacular costumes were worn by Thee Surburia and Olympia.
The grand finale and crowning of the winners took place inside the Palace and was presented by all three illustrious Mistresses of Ceremonies and last year's crowned royalty, who was also onstage. In a dramatic, tear filled presentation, Zelina Duval was named this year's Miss Fire Island.
AND THE WINNERS ARE:
Miss Fire Island: Zelina Duval
Entertainer of the Year: Dallas DuBois
Miss Cherry Grove: Kara Sucia
Miss Ice Palace: Robin Rose Quartz
Drag King: Bette Titler
Ms. Fire Island: Lady Champagne Bubbles
Most Popular: Julia
Special thanks to manager Rob Lassegue, hotel manager Ethan Silva, owners Frank Shannon and Samantha Liguria, new owners Jeffrey Bloom, John Flynn and Greg Holte, and bar manager Robbie Manuallo. Also a congratulatory shout out to Greg Scarnici on his wedding day.