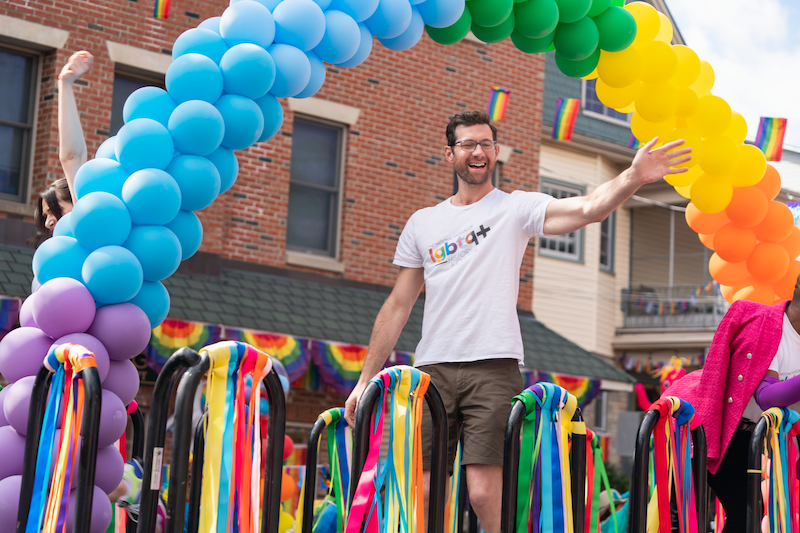 By Tim Nasson
Billy Eichner, the openly gay comedian, is usually the one asking the questions. Eichner came to fame with his award-winning, 2011-2017 truTVshow, "Billy On The Street," where he would accost strangers on the streets of Manhattan, often with an A-list celebrity at his side. Eichner would interrupt someone in the middle of a jog, an errand, or daily commute, to ask a groan-inducing question or play a silly game. Most New Yorkers did not recognize either Eichner or celebrity sidekicks like Chris Evans, Will Ferrell, Mariah Carrey, or Sarah Jessica Parker.
The tides have turned. Eichner, in a few short years, has gone from video class clown to a polished (dare I say very good) actor, writer, and all-around mensch – and ascended to celebrity A-list status himself. In 2019, he starred as the voice of Timon in the Disney live action remake of "The Lion King." He also voices Timon in the upcoming live-action sequel: "Mufasa: The Lion King."
But that's not all. Currently, Eichner is writer, producer, and co-star of "Bros," a  new romantic comedy about two commitment-phobic gay guys in a relationship—Eichner and costar Luke MacFarlane. MacFarlane—who came to fame playing in schmaltzy Hallmark Channel movies— is another openly gay (not to mention very good looking) actor; indeed, all of Bros' writers, producers, and all of the lead and supporting actors identify as LGBTQ (with the exceptions of director Nicolas Stoller and producer Judd Apatow.) "Bros" is the first 'almost' all gay, lesbian or trans major motion picture.


Among those with speaking roles in the film: Guy Branum (The Other Two), Miss Lawrence (Star), TS Madison (The Ts Madison Experience), Dot-Marie Jones (Glee), Jim Rash (Community), EVve Lindley (Dispatches from Elsewhere), Monica Raymund (Chicago Fire), Guillermo Diaz (Scandal), Jai Rodriguez (Uncoupled) and Amanda Bearse (Married …with Children).
The film also features appearances by Emmy winner Debra Messing (Will & Grace), three-time Emmy nominee Bowen Yang (Saturday Night Live) and legendary four-time Tony winner Harvey Fierstein (Torch Song Trilogy). 
"My day hasn't even begun," says Eichner who has just arrived in San Francisco, and where it's the ungodly hour of 7:45 a.m. He's just back from the Toronto International Film Festival, where "Bros" debuted to great acclaim.
Eichner knew from the beginning that he wanted to make a film about modern, urban gay male life that felt adult, authentic and relatable. "I wanted a movie that showed in a very funny, but realistic, way what happens when two adult gay men who both pride themselves on not needing a relationship fall in love for the first time," Eichner says. "Men in general, and especially gay men, pride themselves on being strong and self-reliant. And in terms of the LGBTQ+ world, we've all had to be really strong on the outside. We want to be tough, and we don't want to need anyone else. So, what happens when two men like that fall for each other?"  At forty-four, he is old enough to remember growing up during a time when gay themed movies had limited releases and smallish audiences. "I went to see a lot of them,"  Eichner recalls. "'All Over the Guy', 'Jeffrey,' 'Trick,' 'Edge of Seventeen,' 'Go.' But it felt like it was something I did in private. It felt like it did when I was hiding a magazine [for secrecy at home]."
The genesis of the film's narrative came from a sketch Eichner had done on his series Billy on the Street years earlier called "The Bro Lightning Round" with Jason Sudeikis.  "It was one of the only times on Billy on the Street when I took on another persona," Eichner says. "I turned myself into a bro and I wore khakis and a sports jersey and a backwards baseball cap. And I was going up to people and doing this bro voice and totally changed my demeanor. It went sort of viral, and people wrote all these think-pieces about how it was a commentary on masculinity. In real life, a good friend of mine — a gay friend of mine — saw me in the sketch and he was like, 'You know, you're really hot in that sketch.' This is someone who's been a good friend of mine for 20 years and has never, ever hinted at any sort of attraction to me. And he literally said — without any irony or sarcasm — 'You should dress like that, because you're really hot in that mode.' And I was like, 'Do you know what you're saying right now? So, you think I should completely alter my voice, body and everything about me in order to seem hot?' I think he thought he was complimenting me. And I thought, there's something to this, because it's funny, and it's also kind of messed up. And that inspired the whole movie." 
"Bros" is written for contemporary audiences —straight, gay, and everything in between (my words) —who are unfazed by scenes and situations that would have seemed controversial even ten years ago. And, given the talent behind the project and the early buzz, "Bros" could be the first gay romcom to become a mainstream box office smash.
Particularly with director Nicolas Stoller and producer Judd Apatow on board. "'The 40-Year-Old Virgin,' 'Bridesmaids,' 'Forgetting Sarah Marshall,' 'Neighbors….Judd and/or Nick are responsible for some of the funniest movies during the past two decades," Eichner enthuses.
One of the most charming aspects of "Bros" is a pivotal scene filmed in Provincetown, MA, a community with deep gay roots. "Provincetown is maybe my favorite place on earth," says Eichner. "It's as far out on Cape Cod, Massachusetts as you can get. Being able to film in Provincetown added so much style to the classical romantic story. The town has a rich, gay history but is beautiful, sexy, and fun. It is so welcoming to everyone that Nick [Stoller, the director], who is straight, and married with three kids, takes his family there every summer. Iti is also the first place that we began filming." The production was shut down in between filming for over a year and a half due to Covid-19.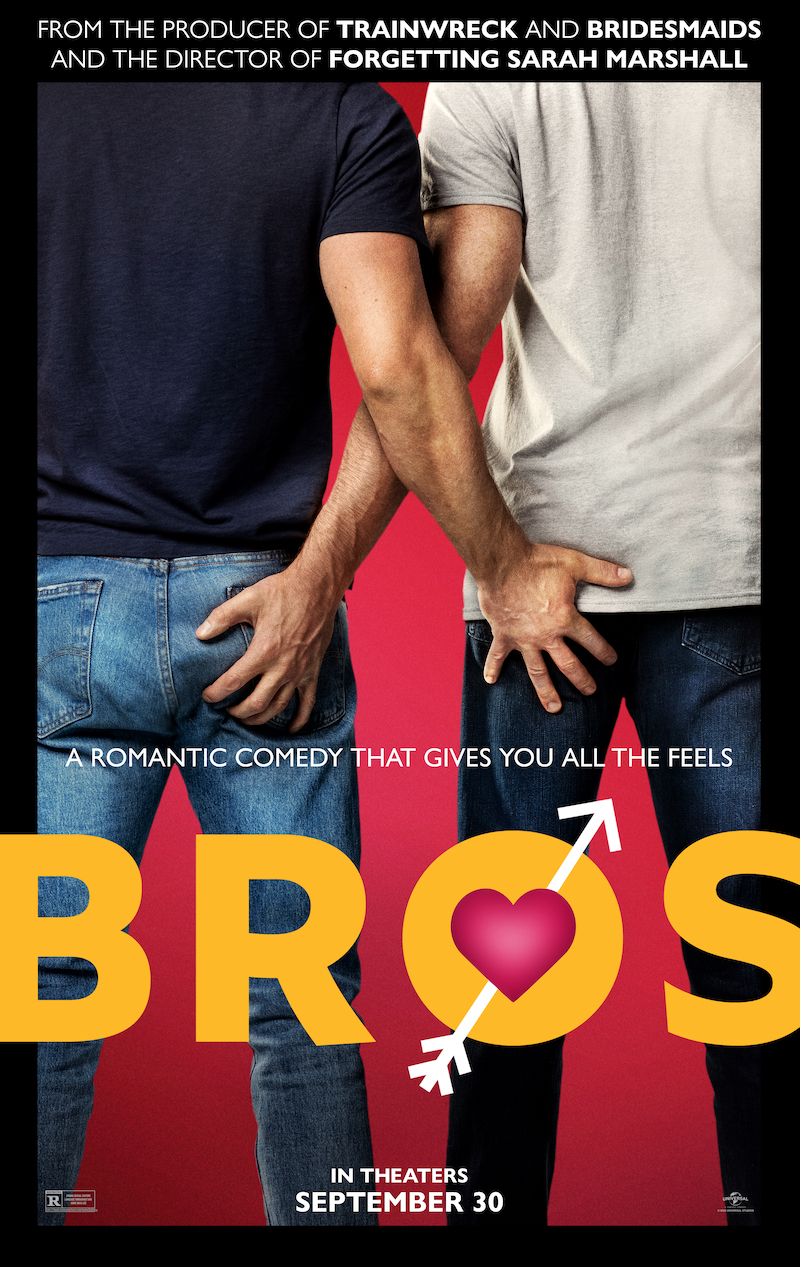 Among the many gay-culture aspects that the film affectionately satirizes—absurd workout crazes, Grindr hookups, thruples, intra-queer politics—Bros shines its brightest, most unflinching light on those elements of gay male cultural that elevate, emulate and eroticize stereotypical masculinity. 
The first scene Eichner thought of for the film is one in which his character, Bobby, has just been dumped and decides to get in peak shape. "Bobby's feeling very insecure about how he looks and his body and masculinity," Eichner says. "So, he's at the gym working out, and he sees a guy across the gym that he thinks is hot, and they're making eyes at each other and Bobby walks over to the guy to flirt with him. But as he does, he makes a last-minute decision to change the way he's walking. He turns his baseball cap around to seem more like a bro and he makes his voice much deeper than it normally is. And he changes his personality in order to seem more attractive." 
This is an ongoing issue among gay men who came of age in the '90s and 2000s, Eichner says. "My friends and I, we didn't struggle with being gay," Eichner says. "I'm sure some people did. I never did. But where the struggle came was: 'Well, I'm gay, and that's cool. But I still want to be a man.' The struggle was with masculine versus feminine or masculine versus flamboyant. Like, 'I'm gay, but I still want to be a bro.' I don't feel this way anymore. But I certainly did. And it's something that was ingrained in gay men in my generation."
It's so pervasive, in fact, that Eichner himself doesn't always realize when he's slipping into bro-mode, even now. "All my agents are straight men, and my lawyers are straight men, and my manager is a straight man, and they're all very lovely and wonderful," Eichner says "I had an assistant for a really long time who was a co-producer on Bros and she said to me, 'Whenever they call you, your voice drops two octaves.' And I didn't even realize it. It's very indicative of all the code switching that we've done over the years. It's just a part of our lives that we have to constantly play that game of, 'How should I behave in front of this straight person in order to not alienate them?'" 
Ultimately, though, the film is about the herculean challenges of finding someone who doesn't drive you crazy—and then finding the courage to let yourself love them. "It's the story of two men who fall for each other, but who, at the same time, for different reasons, are both intimidated by each other and a little scared of each other," Eichner says. 
Is there any romance going on in Eichner's life? When I asked him for a funny story about a first date, he laughed and said, "I'm still waiting to go on one. But, seriously, I met a guy that worked for a cannabis company. He showed up as high as he could be. And of course he was hungry. I should have just called it a night then. But we went out and all he could do was eat. There wasn't any conversation. But I don't know if that is funny, or just weird."
The score for Bros is by Tony winner and seven-time Oscar nominee Marc Shaiman, whose music has shaped some of the most iconic romantic films of the past three decades, including When Harry Met Sally, Sleepless in Seattle and The American President. 
There's a musical moment in "Bros" that may surprise some Eichner fans—but shouldn't; he's a great singer and studied musical theater in college. His love of music predates his bar mitzvah , which he describes as "Broadway meets Pop Music…I had a life-sized, airbrushed Madonna standee from her 'Blonde Ambition' tour. And a standee from [the Broadway musical] 'The Phantom of the Opera'. I even sang 'Lean On Me.'"
Eichner's singing talents are displayed in "Bros", but very briefly. "I don't want people to think 'Bros' is a musical, though," Eichner wants readers to know. And let me add my two cents: "Bros" is not a musical, at all. It is a comedy that is going to go down in history, in a great way.  
THE PRODUCTION
Bros filmed for 34 days, in Newark, New Jersey; Keyport, New Jersey; and Provincetown, Massachusetts
The LGBTQIA+ Museum sequences were filmed at the Newark Museum of Art. "We wanted the museum to feel big and groundbreaking, much like the film itself," production designer Lisa Myers says. "Designing the Legends Pavilion was really exciting for me, not just because of the design but because of the research I got to do. I worked with three LGBTQ+ historians, making sure that the images in the Pavilion represented a wide variety of LGBTQ people throughout history."
A Jersey City concert venue was transformed into the gay club where Aaron and Bobby first meet.

 

The producers were five weeks out from filming in 2020, scouting locations in Buffalo, NY, when the film was shut down due to the pandemic. Filming was delayed for a year and half. The delays allowed for the addition of some of the film's funniest scenes and a location switch to New Jersey allowed filming to also take place in New York City.