Do you have February 3rd marked in your calendar yet? Do you even know what is happening on February 3rd? Why, it's the biggest night in football, honey! The Super Bowl. And one of the city's biggest celebrations will take place at America's gay sports bar, Boxers.
What better way to mark down the important game – and every important sports event throughout the year – then in your Boxers 2019 Calendar? It's available free, while supplies last, at all Boxers locations.
"It is with great joy and gratitude that we have once again teamed up with our LGBTQ ally, Smirnoff Vodka, for the 2019 calendar," says Boxers co-owner Bob Fluet. "Their generous sponsorship makes the annual project possible."
The calendar is twelve months of perfection that will put a smile on sports fans every day of the year. Photographed by Leandro Justen, all models are current bartenders from the four Boxers locations. They include Yancy, Zack and Bernard from the Hell's Kitchen bar; Rafael from Chelsea; Tyriek, Luis Carlos, Aaron, Julian, Carlos and Ralf from Washington Heights; and Austin and Tyler from Philadelphia.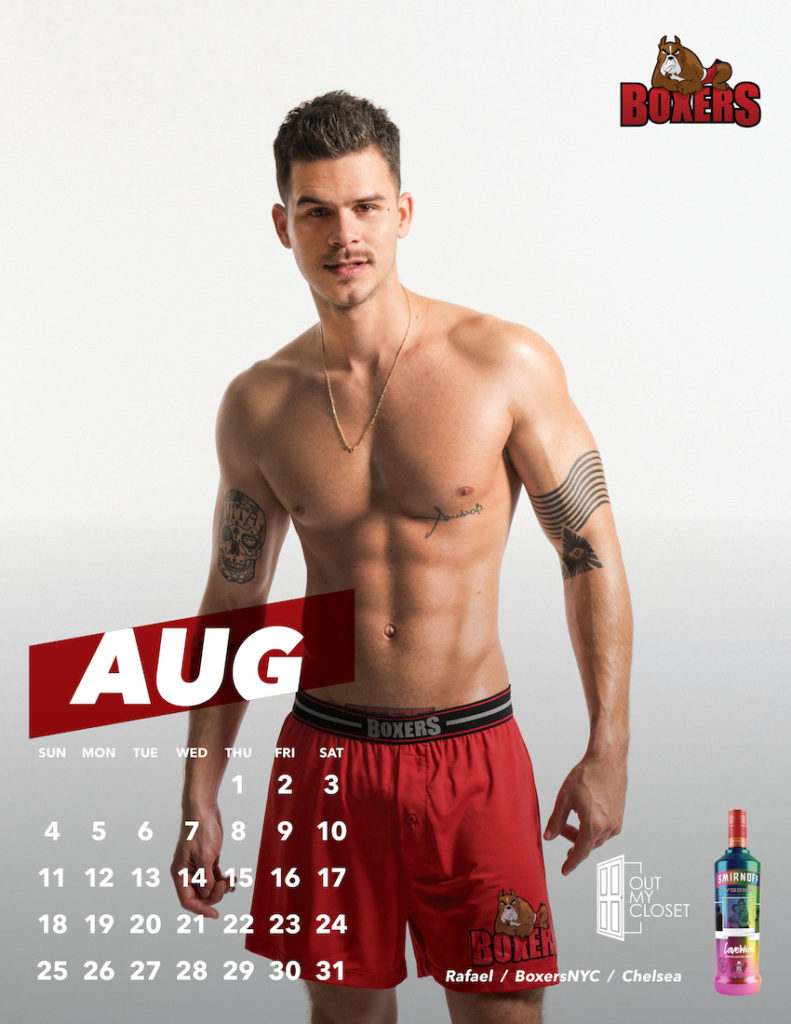 The men graciously volunteered their time (and bodies!) to help shine the spotlight on Out My Closet, a non profit organization that empowers displaced and under resourced LGBTQ youth with clothing grants, counseling services and other outreach and educational programs.
As if you didn't know, Boxers mixes mainstream sports bars elements like pool tables, beer on tap, brick oven pizza, 2-for-1 happy hours and flat screen TVs broadcasting sports games with DJs, large outside spaces, pop music videos and shirtless male jock bartenders in – what else? – their boxers.
It's the perfect place to catch the Super Bowl and maybe score some action of your own.
Visit boxersnyc.com. Follow on Facebook, Instagram and Twitter