Spotted: The Ever-Elusive, Hot, Gay Bear nerd!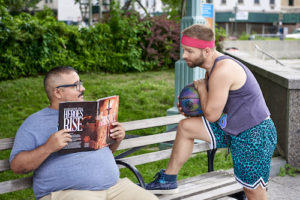 Everyone remembers Season 7 of Will and Grace, when to Jack's shock, he discovers Karen's peeping Tom is really a bird-watcher that happens to be the rarest of all gay subspecies – the hot gay nerd.
Now comes news that even a rarer subspecies of gay has been unearthed. The ever-elusive, hot, gay bear nerd!  Tom Goss, the crooner behind the hit single, Bears, made the discovery and he sings about it in his new summer anthem, "Nerdy Bears."
Tom has never been shy about his love of big, furry men, but says he has a particular affinity for the nerdy kind. "From my experience, they tend to be gentle and warm. They want to have a good time, they're easy to get to know and of course, they're cuddly. To me, that's a winning combination," he says.
The "Nerdy Bear" video was shot in NYC, primarily on the Chelsea Piers and yes, that is the Village's own Rockbar NYC.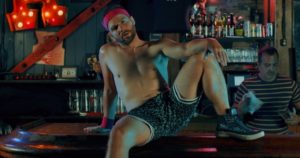 Tom interviewed a bunch of candidates for the right man to play Nerdy Bear, and eventually chose Jason Villegas for the role. "When I saw Jason's pictures, I knew he was the one. I can't tell you how much joy I got from editing his face for dozens of hours. His smile is perfection!"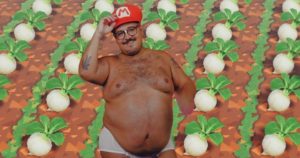 No one can argue with that.
Tom Goss's "Nerdy Bear" is available on iTunes, Spotify and all major digital platforms. Visit Tom's website and follow him on Facebook, Twitter, and Instagram @tomgossmusic.