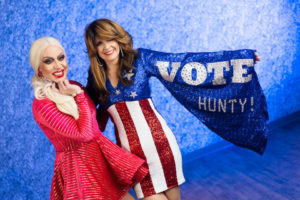 Brita Filter (?RuPaul's Drag Race Season 12), Jaremi Carey (Phi Phi O'Hara of ?RuPaul's Drag Race Season 4 and All-Stars 2), and NYC's own Marti G. Cummings are calling all queens to join them in Drag Out the Vote, a first-of-its-kind initiative to mobilize drag artists across America to increase voter participation in their communities this November.
The idea for Drag Out The Vote came about when Jackie Huba learned 100 million people did not vote in the 2016 election.  One in five LGBTQ people are not even registered to vote!
Inspired in part by ?Phi Phi O'Hara's "Queens United" fundraiser for Hurricane Maria relief, Huba began reaching out to some of the most recognized and respected drag performers and civic engagement organizations in the country.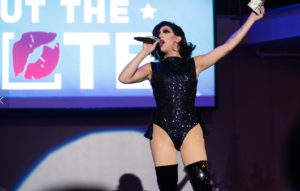 "?Drag artists are uniquely positioned to use their platform to rally their communities to action," she says. "As part of the Drag Ambassador program, Drag Out The Vote will provide drag artists with the tools and training they need to register voters and make their voices heard."
Because this next election matters, people! The LGBTQ community is in the fight of its life for trans rights, queer workplace protections, access to lifesaving HIV/AIDS prevention and treatment and gender-affirming healthcare, and more.
National partners for the Drag Ambassador Program include Planned Parenthood, LGBTQ Victory Institute, and the Lawyers Committee for Civil Rights Under Law.
If you're a drag queen, Brita, Jerami, Marti and Jackie Huba want you!  Applications for the Drag Ambassador program are open now at ?https://www.dragoutthevote2020.org/?.
And if you're one of the one in five LGBTQ+  still not registered to vote, do it here NOW.