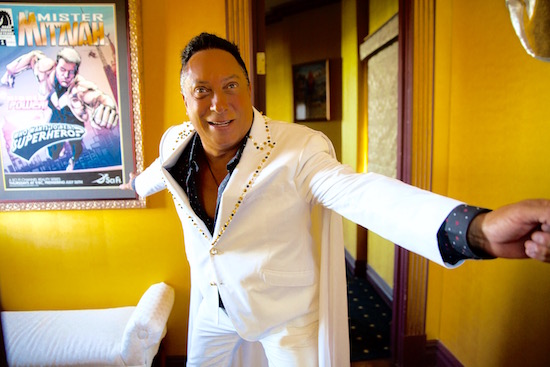 As always, it was an honor to speak with Sir Ivan, this time about his newest Billboard hit, "I Am Peaceman," featuring the talented, iconic superstar and pop recording artist Debbie Gibson. The song holds an anti-gun violence message, designed to help those who have suffered from PTSD due to gun-related tragedies. It comes at the one-year anniversary of the Pulse massacre in Orlando.
Nationwide, the major cause of death amongst young black males is from guns, especially in Chicago, where Sir Ivan, billionaire banker/philanthropist-turned-pop/dance recording artist, has given $10,000 to the Psychiatric Department of Mercy Hospital to help the victims in the hardest-hit African-American communities. The Peaceman Foundation, set up by Sir Ivan, will also be donating all net profits from downloads of this new song to those suffering from PTSD.
For years, Sir Ivan and The Peaceman Foundation have been donating vast sums of money and lending support to the LGBT community. He has also given $10,000 to the organization Gays Against Guns.
So, what's cooking?
New single, new video, some checks for some new charities.
You can begin wherever you want.
Timing wise, couldn't be better for this song, because of the one-year anniversary of the Pulse massacre, as it is an anti-gun violence anthem. I can't take credit for that, because Ali D, who is the producer, and his team of talented musicians and songwriters, wrote this song for me. I added to it and changed a significant part of the lyrics, but the vast majority of the song was done by Ali D and his team. Then I picked five extraordinary remixes to take it to an even higher level, for every club all over the world. I've gotten the full cooperation from Debbie Gibson vocally on the record and in the video. She's also helping us promote it, so I owe her a big thank you. She is also a big supporter of the LGBT community as well, so together it makes a nice combination.
The song is a good electro-pop dance song as well as having a message.
Thank you. Erik White also did another fantastic video. He's the one who directed "Kiss All the Bullies Goodbye," the one I sung with Taylor Dayne.
I loved that video.
That's why I hired him again to do the video with Debbie Gibson. He did a fantastic job. I waited 20 years to use the castle in a video. Even though other people wanted to rent the castle for other artists, I thought one day it would be fitting for my own music video. I wanted it to be fresh and seen for the first time in a video that was appropriate for having a castle background.
So the castle is included in the video?
The entire thing was filmed in the castle, even on the castle roof. We even have drone footage of the dancers doing a line dance. If someone had to ask what this song is about in terms of feeling and excitement and fun, even though it has an important message, it also has a very positive, uplifting feeling and is a great party song. To me it's like a fusion of LMFAO and PFY, including a line dance that the choreographer put into the music video, which shows the dancers with their hands cocked like a pistol, and then through the dance moves the pistol turns into a peace sign. So it's a very catchy song with a very catchy hook and a very catchy dance, which anyone could learn. The video also is a tribute to all my LGBT support by chanting over and over again the colors of the rainbow. The public service announcement at the end of it actually serves the purpose of helping the African-American community, because of the gun violence and the murder rate in Chicago. It's through the roof the amount of African-Americans that have been killed in the past few years. It's the effects of that on the husbands, the wives, the sons and daughters and children of these murdered individuals that are going to suffer for the rest of their lives from PTSD, which is the bottom-line cause for the Peaceman Foundation.
Yes.
So I actually wound up cutting two checks to two different organizations. One to the psychiatry department of Mercy Hospital in Chicago. I gave them $10,000 to help the members of the community deal with the high murder rate of African-Americans, and I gave $10,000 to Gays Against Guns. So this song is to help multiple causes, but from the same horrible gun violence.
I imagine the song will be played internationally?
It's already blowing up in Europe. It's already on the Billboard charts. Right now, as we speak, it's number 42. The video is getting a great reaction in the fact that Debbie Gibson is on it. One of the promoters who follows me was in disbelief that these two female singers, Debbie Gibson and Taylor Dayne, both led themselves to my creative projects. So people are pretty impressed by that.
Well, they are both very big names.
Yeah, I'm pretty proud of that myself. Now all I have to do is get Debbie Harry and Cyndi Lauper. It's funny, because my lawyer, which makes it easier, is also the lawyer for Taylor Dayne, Debbie Gibson and Cyndi Lauper. We'll see where it goes.
Aside from the new song, what else are you working on?
I'm about to sign the most important thing in my life. I'm about to sign a publishing agreement for my father's life story. It's because of my father's history of having lost 59 members of his family in the Holocaust and having been in Auschwitz—that is the whole reason I became Peaceman, to help other people. So finally his life story will be known. I'll sign the contract within two weeks, the book will be out in about a year, and then I'll have an agent that's shopping the television and movie rights to it. It's the best agent in America for taking books and turning them into movies. Then I will be focusing on trying to get everybody in the world to read that book, because it's so inspirational.
Did you write it?
No, I supplied most of the information; however, I hired an author named Joshua M. Greene, who is a best-selling author on Amazon. It's going to be great and will be an inspiration to everybody. There is something to be learned in this book for everybody. How he came to America after all of that shows that you can overcome any obstacles that life throws at you or fate thrown at you, and you could become a superstar, a genius, a success in anything you try.