Recording artist/producer/actress Debbie Gibson is featured in billionaire/philanthropist/dance-pop artist Sir Ivan's brand new hit song "I Am Peaceman." The song has hopes of helping those who suffer from the trauma caused by gun violence, which is the leading cause of death among young African American men in the U.S.
Known for her career-launching, super-hit song "Only in My Dreams" (still one of my favorites), Gibson has celebrated a successfully fabulous singing, songwriting and record-producing musical orbit. She was the youngest artist to ever write, produce and perform a Billboard #1 single at age 17 with her song "Foolish Beat."
Aside from the record industry, Gibson has appeared on Broadway in Les Miserables and in a London West End production as Sandy in Grease, and then continued to perform in many other theatre productions nationwide. She has also appeared on television on shows such as "Celebrity Apprentice."
Most recently, her anthem "Rise" was included on the list for "Best Song in a Film" for an Academy Award. She will be touring this summer with pop recording artist Tiffany. Get Out! was able to share some questions and answers with Gibson regarding her recent and upcoming events.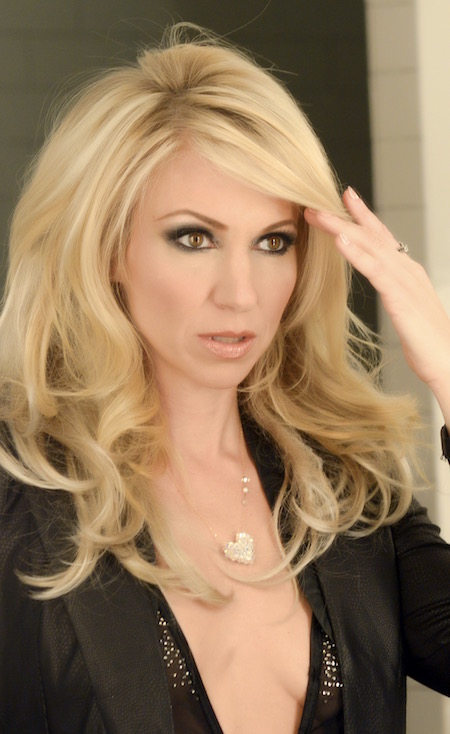 How did you come to work with Sir Ivan on this song?
That's a really great story! I was on "Celebrity Apprentice," and in our first charity fundraising task, for Patricia Velasquez and The Wayuu Taya Foundation, I was singing in this sort of deli-turned-nightclub. This mystical character walks in in a bedazzled cape with a peace sign on it and says he will donate $5,000, I think it was, to the charity if I do a guest spot on his record. I think I upped it to $10,000. [laughs] It has been many years of trying to find the right fit, and this song was it! So, I am making good on my commitment, but it is beyond that. This song is really fantastic, and Ivan is a super charitable guy, which is a great combo!  
Will you be performing it with him live sometime in the future?
We are still trying to work that out! It has entered the Billboard Dance charts faster than we all expected, so we are seeing if we can coordinate schedules, because that would be an absolute blast!
What was most memorable in recording the song or doing the video, and what are your own personal feelings about the message?
Working with both Ali D and Erik White was an absolute thrill, as I have been a fan of both of theirs for many years. After cutting the vocal, I sat and played piano for Ali and our engineer John in a spontaneous acoustic concert, if you will. It was the ultimate testament to the power of music as we all really bonded as if we were in my living room. In general, there was great energy surrounding the project. I particularly enjoyed learning the little dance moves to the "Turn your guns into a peace sign…" section. That is my favorite lyric as well, which conveys my feelings beautifully about the message. ALL violence is unacceptable at this point. ALL prejudice is unacceptable. It stems from ignorance, which means people don't know what they don't know. But, they can be taught. I love that there is a shout out to the LGBTQ community as well, as they have supported me from day one and are still fighting to be treated equally in this day and age. It is appalling. I am touched he is focusing on PTSD as well, because emotional instability leads to more violence, and the chain goes on and on.
I understand that you will be performing at Coney Island. Can you talk a little about that?
Yes! I am headlining the Unicorn Carnival at the Coney Island Art Walls on July 8! I was born in Brooklyn, and I started out as such a young girl that I cannot wait to be surrounded by that girl power energy! The acts on the bill are all incredible. I was a fan of Darby Anne Walker on "The Voice," and personally invited her to perform. I happened across Carly and Martina on Twitter and had lunch with the girls and their parents in NYC. I feel like Guru Gibson. [laughs] But, for real, I love young talent and have spent over 30 years in the business publicly at this point and have much to impart in a non-preachy way. If I can save these young girls a little bit of heartache by being candid about my experiences, I am so happy to do that. Lily Lane and I have now exchanged DMs, as well as The Janes. I look forward to meeting Alli Simpson and Justine Skye, and sharing the stage with all these talented little ladies! I will have some live musicians, dancers and will perform my hits and more!
If you could have your ultimate stage fantasy, what would you need to happen?
Wow, great question! It's funny, but after years of seeing shows with tons of bells and whistles, my stage fantasy for the future is a super stripped-down show, possibly in the round to create a really intimate feel, with just my Liberace all-glass and mirrored piano. He was my first concert ever, and I now have his piano in my home! I would love to  do what I do in my living room at home, which is to be spontaneous, take requests from the audience, change the setlist up every night and try new acoustic versions of hits, both mine and other artists. I have done several acoustics that I have posted from my living room with no microphones or sound enhancements. I love things to be raw and real. I do love my dancers Buddy and Eddie so much though, and they are so much a part of my life, both on and off stage, that in my fantasy show they may have to come out and do some cool modern dance to the acoustic stuff. I cannot tell you how amazing it is to turn and see your friends onstage with you!
Are you working on any new projects at the moment that you are able to share?
I have a few exciting concert dates coming up with Tiffany, as well as some other shows with amazing acts that will be announced soon. My U.K. box set, which is a compilation of all my pop albums, DVDs, as well as rare and unreleased material, comes out this fall, and there are other exciting things brewing that you will hear about soon!
If you could say anything to your fans and followers, what would it be?
Thank you for all the love and loyalty over the years. I don't take it lightly! Please support this new single, and most importantly, give every person you encounter your utmost compassion and respect. A little at a time will shift the energy, so that violence and inequality are a thing of the past.