By Jamie Booth

Sherry Vine's gaySVTVworld Returns For a Second Hilarious Season
The Web's favorite queer network returns for its second season this fall with even more gay content, including "Trade2Trade," its first talk show featuring sexy men stripped down to the bare essentials. 
"I couldn't be more proud of my little gay baby," says Sherry Vine from her NYC home. 
gaySVTVworld launched earlier this year. Billed as a one-stop, digital destination for all of the world's LGBTQ entertainment needs, the intention was to roll out new programs, music videos and comedy sketches every few months. With nearly 16 million views, gaySVTVworld continues to exceed expectations.
In addition to several new series, returning with brand-new episodes will be network favorites "Sherry and The Greek" and "Empty Your Sack, Queen." We sat down with Vine to learn more.
Is the Internet strong enough to withstand another season of gaySVTVworld?
Honey, I hope so! We are coming at ya strong with sexy new shows and comedy, and of course tons of music video parodies.
What's the biggest lesson you learned from the first season?
That running a gay network is a lot of work! But it's important to not stress out. I strive for plan A, but always have a plan B ready, just in case.
Is there a lot of pressure to keep growing the viewership?
Yes! If you're reading this, please subscribe. I'll do almost anything to keep viewers tuning in!
What is one thing you are not willing to do?
Full frontal. The channel is comedy, not tragedy.
What are you most looking forward to in the new season?
I am super excited about the new series, "Trade2Trade." We've always wanted a show that featured skin, but in a way no one had seen before. Director David Serrano did a gorgeous job, and I think people will laugh, learn and lust.
Can we expect more of your nightlife pals making surprise cameos?
Totally! We got Jackie Beat, Joey Arias and many more coming up! I'm talking to Bianca del Rio about making a guest appearance.
What about Andy Cohen? You're a regular on his late-night talk show.
Maybe! If something comes up that I think Andy might get a kick out of, I'll ask. He's always super sweet and has been very supportive of gaySVTVworld.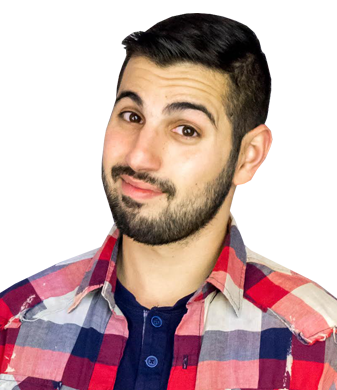 Are you ready to address the rumors that you are dating Chris Semers, your co-star on "Sherry and the Greek"?
Oh honey, Chris is a hot, sexy young man. He's no clown fucker! Our relationship is maternal. And I can't get him off Grindr or Jack'd or Scruff. Please insert the name of the app that wants to support our channel with paid advertising. Someone's gotta pay for it since it's totally free for viewers.
So you and Chris will not be the next Brangelina?
We're more the gay version of Kelly and Michael – before all their drama.