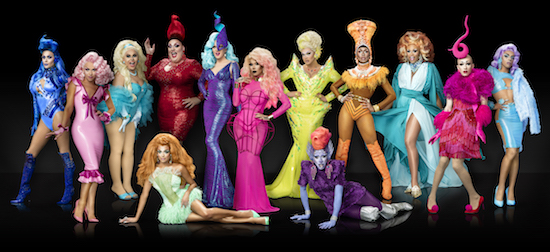 I believe "RuPaul's Drag Race" Season 9 will be drag's finest hour! All of the queens this season are over the top—not a dog in the bunch! Logo, and now VH1, have certainly brought it up a notch. Each of the queens is ultimately, majestic, brilliant, super creative, talented and extremely classy. This promises to be the most audacious and salacious seasons yet.I was impressed over and over again as I visited each queen separately, so much so that I can't even begin to predict a winner, nor can I choose a favorite! The competition has got to be fierce, making it so I almost have sympathy for the judges, even guest judge Lady Gaga. I will truly be devastated upon each elimination.
I considered myself beyond fortunate to have all of this season's queens in one place at one time, just waiting to be interviewed. It doesn't get much better than that! We spoke about every topic from  tucking to sexual confusion and even beyond that. In the small time allotted for each queen, it was totally awesome to walk away feeling that I knew them well after just a short conversation.
On behalf of the Get Out! team, I want to wish each and every queen the very best of luck, victory and triumph! The queens this season celebrate the very best drag has to offer, and win or lose they can all be awesomely proud of themselves.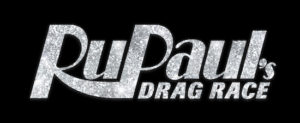 My celebration began with a short conversation from last season's Thorgy Thor, the talented classical cellist from New York, who was playing interviewer/host for Logo and the new set of hopefuls.
What is it like for you post "Drag Race"?
Thorgy: That's not a good question for me. It's a good question for season four, because we had only one year.
Did it change your life?
Thorgy: I traveled a lot. I was always ready for that lifestyle. I had been performing for years and years and years before I was on the show. I tried to get on the show for eight fucking years. Eight years, girl! I auditioned every year. Then when I finally got on, I was like, "Great!" I was booked everywhere around the world, and I was saying, "Yeah, where's my flight?" I was ready to go always, and I really like life on the road. You also have to like life on the road. You're in a lot of planes, you never sleep, you always want to complain, but when somebody picks you up in the airport, you smile, and you say thank you, and where is the hotel so I can get an hour of sleep.
Looking back, what is the most fun you had while on the show?
Thorgy: Literally, I was just talking about this the other day. I enjoyed every second on that show. My favorite thing that I did was probably the street meet with Bob and Acid. We wanna bring back the street meets to New York. We wanna do a whole show. Would you buy a ticket? I'd buy a ticket!
I would buy a ticket!
All right, good to know.
I then moved on to this season, beginning with Jaymes Mansfield, who came out in a pink, fluffy, "Where the Wild Things Are" costume and purse to match, all bubbly and effervescent.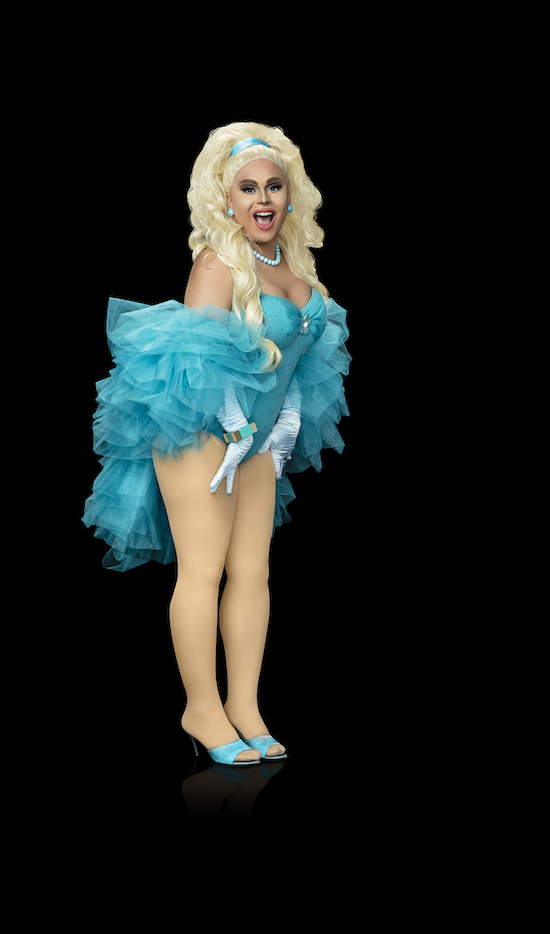 I need to know who created your costume.
Jaymes: I created it. I create everything I wear. I wanted to wear an outfit that would get me sued.
When you found out that you were on "Drag Race," where were you, what were you doing and how did you feel?
Jaymes: I was in a parking lot with my boyfriend, and I screamed. Basically, it took my breath away, and then I had to come back to reality and realize, oh fuck, now I have to sew stuff.
Which judge do you fear the most?
Jaymes: The judge I'm most scared of is probably, none of them. No, it's RuPaul. Her opinion is the only thing that matters. It's more important than our president's.
Well, anything is more important than our president's. If you could say anything to your fans and followers, what would you say?
Jaymes: Subscribe! Give me your money. I need it! And I love you. Mauh! You mean the world to me. Without you, I'm nothing!
Next I moved on to the classy, sparkly and creative Brooklyn queen Sasha Velour, who was adorned in an Asian-type fashion.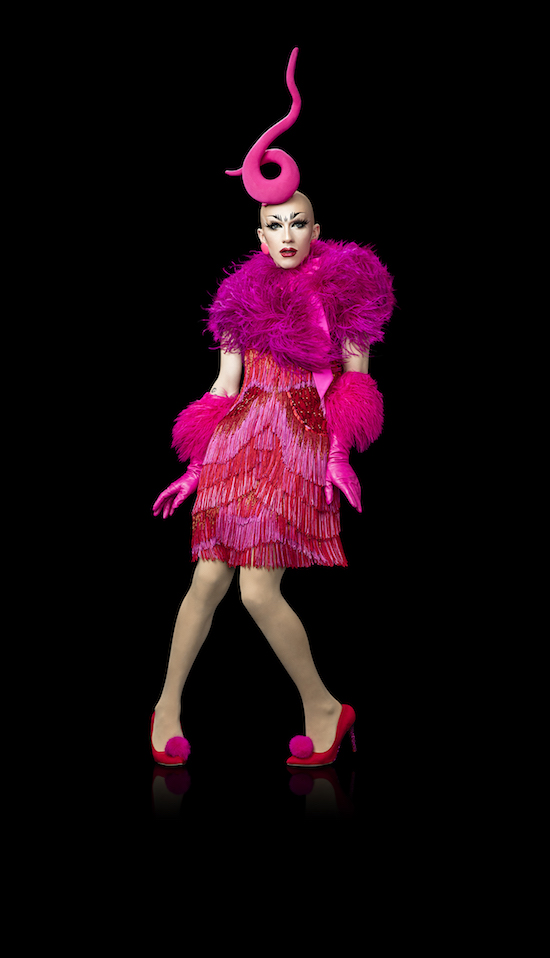 You're so beautiful in person. So you're finally here. How are you feeling right now?
Sasha: Thrilled. This has been such a long time coming. We've been waiting in anticipation. I'm just so excited to get started.
Which judge is most intimidating to you?
Sasha: Probably RuPaul, because we don't necessarily get to hear her critiques. It's hard to know exactly what she's thinking, and of course she's the one we want to impress the most. She's our icon, our idol.
Who's your biggest competition?
Sasha: No one!
That's the best answer possible! Who do you have the most fun with on set?
Sasha: There's so many girls that I got really, really close to. Definitely all of the queens from New York. We formed a strong sisterhood, and not all of us had even met before. I never met Peppermint before I walked into the workroom. Even though we all represent such different aspects of drag in New York City, I think we all share certain ethics and determination, and that instantly bonds us.
It seems to me that you really have it going on with fashion. Why do you think that is?
Sasha: Actually, I'm not specifically interested in the fashion world. I love visual art. I take my references from history, from paintings, from the historical fashion movement, from film, and I think that sometimes allows me to break away from certain trends and do looks that are a little bit more exceptional.
Well you are exceptional!
Sasha: Thank you so much.
Next up was a supremely charming queen, Trinity Taylor, wearing a glamorous, green, slinky, beaded, sexy gown that most of the other queens commented on…in a good way.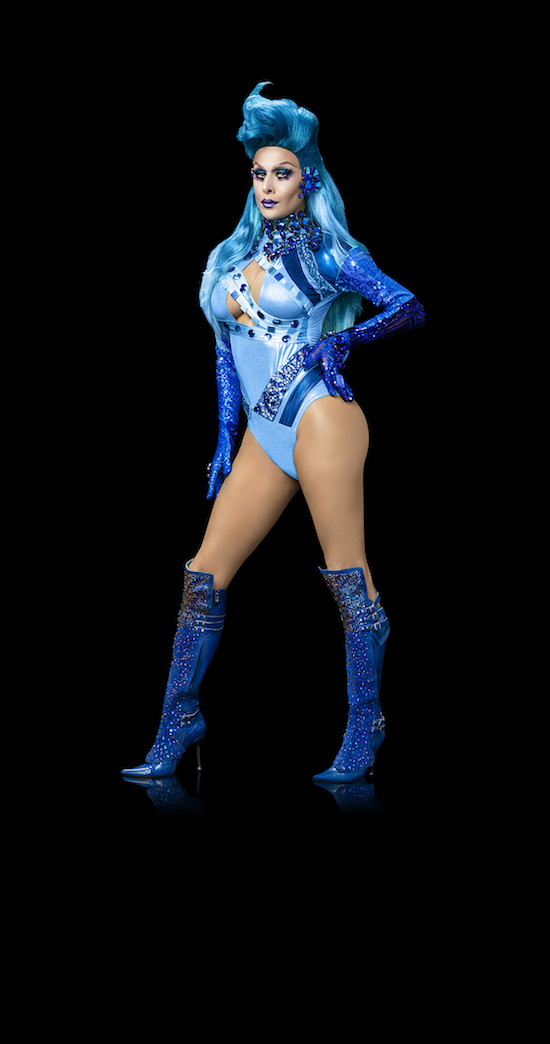 How excited were you when you got that call?
Trinity: Beyond excited! When they called me, I had their number saved in my phone. I was showing my roommate a picture, and as soon as I turn my phone around to show him the picture, it said "Drag Race" on it. We were all shocked!
Where were you at the time?
Trinity: When I first got the call I was driving down the road. I almost had a wreck.
You're from Florida?
Trinity: I live in Florida now, but I'm originally from Birmingham, Alabama.
What does it mean to you to do drag? Why do you do it?
Trinity: I do drag because, when I was growing up, I was never good at anything. Or at least I thought. In high school I found art, drawing, sketching, and later on I found that I love to paint. When I first thought of drag, I thought drag was horrible. I wondered why anybody would ever do that. So I do drag because I love the art. I love the creative aspect of it. I create my own things. That's why I love drag. It gives me an outlet that I wouldn't normally have. It's a way of being a celebrity. I don't have a voice like Beyoncé, so I can't be a singer, and this gives me my 10 minutes of fame.
Which judge are you most scared of?
Trinity: Michelle. Especially right now when I'm all in green. She hates green. She would read me if I came out like this.
You look good in green.
Trinity: Well thank you. I'm gonna tell her to go to hell! This dress was expensive. I usually make most of my stuff, but for this I had a designer out of Dallas named JD Martin. He actually designed it and made it for me. All I had to do was put it on.
What is your drag specialty?
Trinity: My specialty is my TUCK. I'm the best tuck in the business. You're not going to get a better tuck. People say, "That is a vagina!"
Who taught you how to tuck so well?
Trinity: Myself! It's origami in there.
And if you have to go to the bathroom?
Trinity: That's like another whole sport in itself, trying to get into a bathroom when you're taped. Have you ever been drunk, taken home a guy, and you're trying to kiss each other, really drunk? Your clothes are coming off, and you can't quite make it happen. That's like trying to go to the bathroom when you're taped. Tucking is important. No one wants to see all that.
After my lesson in the art of tucking, I made it over to the beautifully feminine, sparkly glamorous Vegas queen, Farrah Moan, dressed as a pink Vegas showgirl, only prettier.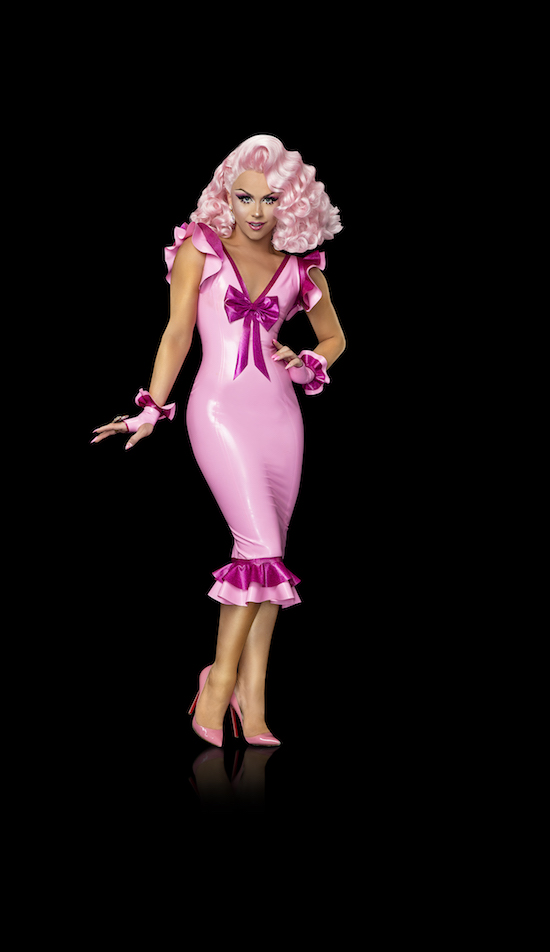 What's drag like in Vegas?
Farrah: We have a very diverse drag scene. I just wanted to add a little sparkle and glamour to it.
What made you begin to do drag?
Farrah: Honestly, I was always a little crossdresser. I mean, when I was two and three years old, I had a little red dress, and I actually still have it now. My grandparents used to hide it from me, and my mom would have to go find it and give it back. I always just loved women's clothing and expressing myself and doing little shows in the living room. You go through that phase of public school where you start to suppress all that stuff, because everyone makes you wanna die for it. Then you actually realize as you're finishing high school that there was a real life out there, a real world, that will accept you and love you for who you are. I could actually live out a dream and not be crucified for it. That's basically why I probably do drag, to express myself and have fun. Isn't that what drag is all about?
It is! It's the most fun thing in life! Do the judges scare you, and which one does the most?
Farrah: Carson Kressley is like a super fun jolly dude, but when he sits on the judging panel he can be a little intimidating. Surprisingly.
Who do you think might be your biggest competition?
Farrah: I hate to be cliché and say myself, but honestly my biggest competition is myself. I always second-guess myself. I'm always scared to go that extra step. I've come out of my shell a lot with this experience, which is proving to be great for my character development. Other than that, I have to say my biggest competition is either Aja or Valentina. We are really close, but they are both so sickening, like who's going to be sparklier and prettier. You never know.
What's your drag specialty?
Farrah: I like to make people question their sexuality. I like to press buttons and really confuse people.
Have you made any life-long friends?
Farrah: I've made a lot of life-long friends. All of these girls are lifelong friends. Actually, on the bus here, I was just looking at everyone, and I couldn't believe that this is the most special thing in the entire world. I can't believe I get to live this.
Next I was very privileged to speak with London queen Charlie Hides, dressed as a Royal Guard. She spoke with an American accent, a Boston accent, a New York accent and finally a British accent, all the way through our heart to heart!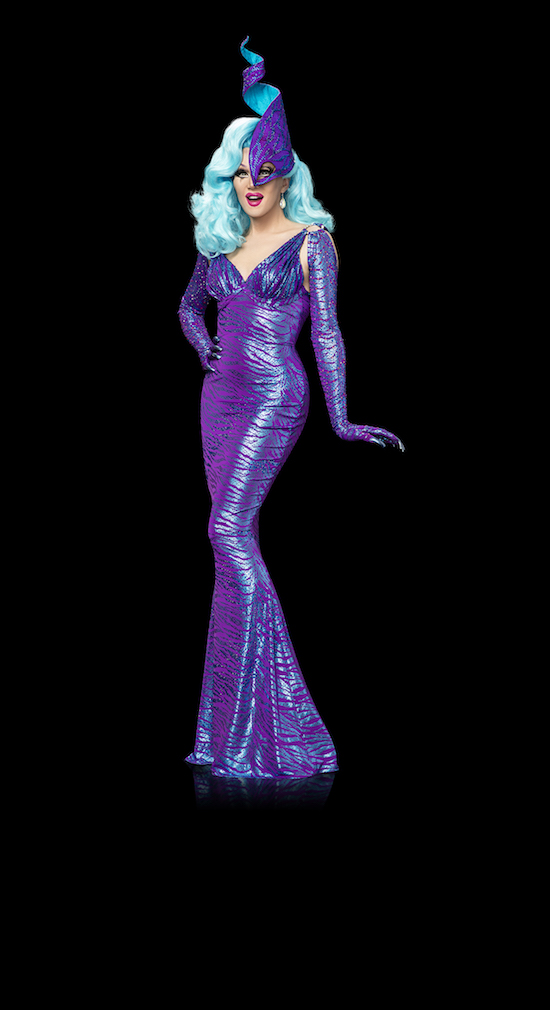 Where's your accent?
Charlie: I'm in America, does it sound American?
Yeah, it does.
Charlie: Yeah it does, darling. All of a sudden I'm doing you now. I was born in Boston, so I can do Boston. Would you like to hear British, darling?
How is it that a London girl managed to get on "Drag Race"?
Charlie: I have three passports: an Irish one, an American one and a British one. So I'm basically the Jason Bourne of drag. They haven't had that yet, and they also haven't had somebody my age.
How…
Charlie: Were you going to say how old are you, how are you still breathing, how are you alive?
No…who are you most scared of as far as judges go?
Charlie: Michelle Visage. She's like a velociraptor. I know she's RuPaul's best friend, but she's scary. She makes my blood run cold. She gives me the heebie-jeebies. Do people still get heebie-jeebies?
I think they do. Will you be going back to London after this?
Charlie: I'm here in the United States for three weeks, then I'm back to London for a couple of weeks, and then back to the United States. Now that the full "RuPaul's Drag Race" has kicked in, I'll be dividing my time three weeks to a month in the United States, and a week in London.
What part of London do you live in? I'm there five or six times a year.
Charlie: If I gave you my specific address, would you come for tea? I live in Hampstead. It was right near where James Oliver used to live. But he sold it, because I played my music too loud.
What is your drag specialty?
Charlie: I'm nothing. I'm not good at anything. I'm good at bribing judges to allow them to get me on the show. I don't know who you have to sleep with, but I slept with a lot of people.
Who did you like sleeping with the best?
Charlie: Michelle, because she had the biggest dick. Huge! Massive!
Why do you do drag?
Charlie: Why? Why not? It's creative self-expression, and I can reinvent myself at the drop of a hat. If I want to reinvent myself tomorrow, I just change the outfit, change the look, change the attitude and just rewrite my own story. Life is too short to go through it as only one person. If I do drag, I could be as many different people as I want to be.
What do you like about performing live?
Charlie: The connection with the audience. I do YouTube videos all the time, and it's kind of a lonely process. You are in a room by yourself talking to a camera. I like people. I like the sound of applause. I was five years old the first time I made an audience laugh. I heard that sound, and I was instantly addicted. I thought, that's it, that's what I'm going to do for the rest of my life. I already have been. I'm 107. Do you know I'm the oldest "Drag Race" contestant ever? It's true.
Well, you're one of the prettiest.
Charlie: Oh I've just been hit on. She's perving over me right now. She's getting moist. She's wearing Wellington boots right now.
If you could say anything to your fans and followers, what would it be?
Charlie: Keep supporting me. Keep cheering for me. Do you remember in Peter Pan, if you applauded for Tinker Bell then she lives? If you applaud for me, I live.
After recovering from Charlie, I moved on to a fabulous and brilliant queen, Eureka O'Hara, who I instantly fell in love with. Her hair was larger than life, as was her personality.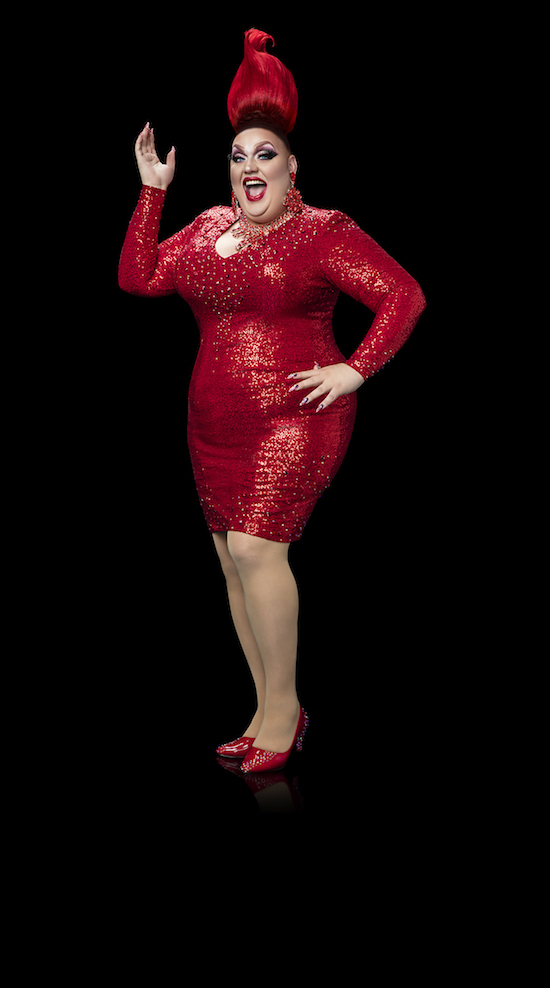 You're from Tennessee; where is your accent?
Eureka: It just randomly comes out when I get excited. It's really weird. My whole life I tried to be really pretentious and uppity, but it was all fake, so now it comes out when I get overly excited. It always comes out of my mouth when you least expect it.
Who do you envy?
Eureka: I don't know if I envy anyone. I really don't. Sometimes I envy smaller girls. I think that life is a little easier for them at times. Sex appeal is so huge in our society, and sometimes I'm not being considered sexualized.  At the same time, it kind of makes me want to eat and gain more weight.
Why do you do drag?
Eureka: It's important to me, because I think then I started doing drag, it saved my life first of all. I had actually a few very low moments in my life, where I would've taken my life. But the creative expression of drag saved my life. So I pushed myself to be an advocate and supporter of the community, and I've been able to help a lot of girls do the same. It has actually made such a difference in my community. It made me love myself, and I love drag because of the power and the influence of it. People see you as a local celebrity or a big celebrity and they want to emulate what you do. If you could be a good example by just being a good person, you see changes in people being good people. It makes you obsessed with that. I'm not God. I'm not a prophet. I'm just being a good person.
So what made you actually start doing drag?
Eureka: For me, I had a fake ID till I was 18, and we only had one gay bar in like a 50-mile radius. So when I turned 18, they wouldn't take my other ID, because it had expired. They already knew me. So I decided that I was just going to go in drag. It worked. They didn't know who I was.
New York's very beautiful and theatrical queen, Alexis Michelle, was my next candidate. She was wearing an extreme outfit, so over the top that it actually looked like she walked with her own table. I have personally interviewed her several times, but I had to go over and wish her good luck.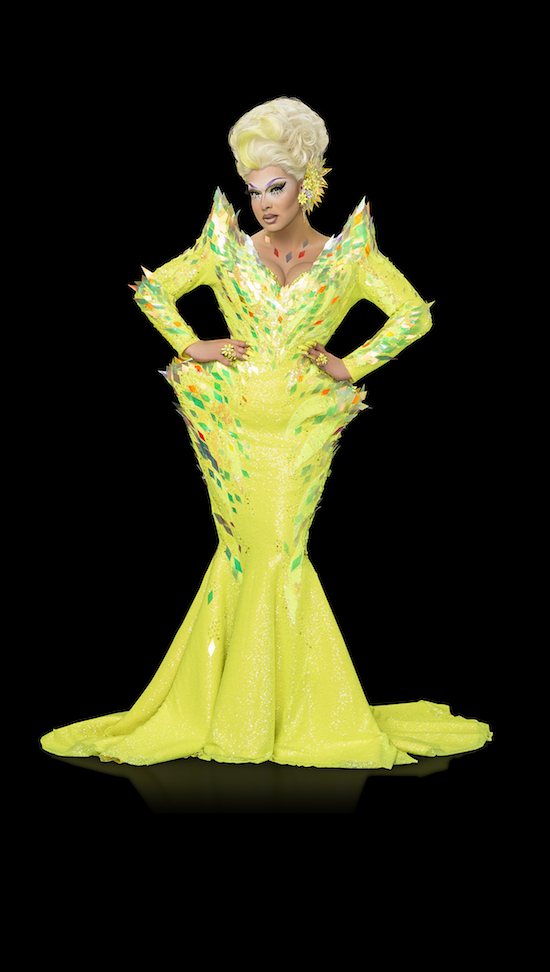 What are you feeling right this minute?
Alexis: Hungry. We ran out of food apparently. No, I'm so excited that this moment is happening. I mean, look around the room, these girls are incredible! Well, myself included.
Who's your biggest competition?
Alexis: If you looked around the room, everyone is my biggest competition. This has to be the best  premiere I've ever seen. I am literally gagging. Everyone looks amazing. I've never seen a gown like the one Trinity is wearing. Stones on stones on stones. It's stunning.
I spoke to Brits yesterday, and she had such nice things to say about you.
Alexis: I love her, my sister.
Which judge are you most intimidated by?
Alexis: I have always wanted to go in front of Michelle Visage. She means everything to me, but she's a very intimidating judge. She takes no prisoners, so she's the one I'm most nervous about.
From there I found myself speaking to Kimora Blac, and she was fierce! What she wore was indescribable: sexy, over the top, and I'm still not sure what it was.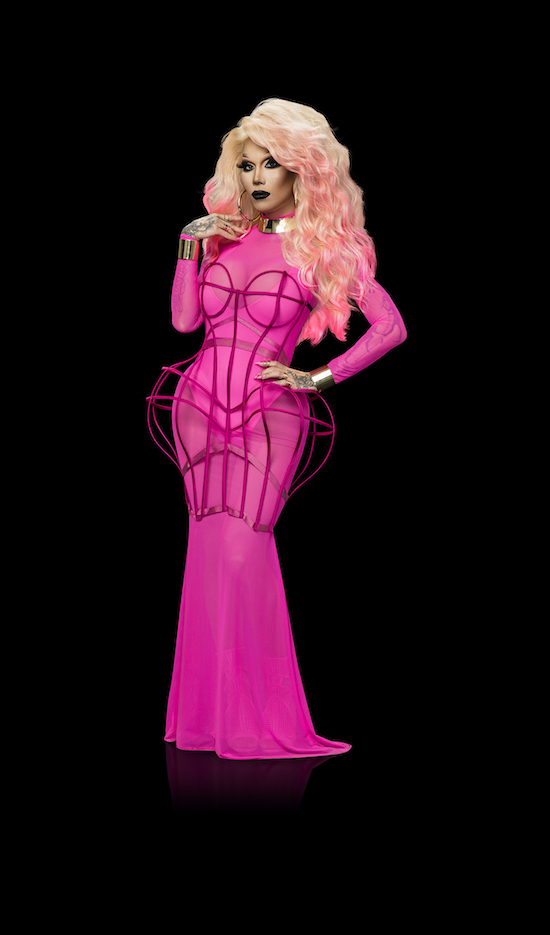 What do you like best about this moment right now?
Kimora: Being able to share this experience with my sisters. We worked so hard to be here. Doing drag is hard. We work for tips, from no tips to this. Being able to share this experience with my fans, and our fans, is amazing.
What does drag mean to you personally?
Kimora: I want it to be OK to be able to do the creative side. I want it to be OK to open up yourself, and create your drag, and live your life. I want people to get to do that.
Which judge do you fear the most?
Kimora: I'm very nervous about Carson. He's a tricky one, because you never know what he likes.
Did you make a lot of friends?
Kimora: I did. Trinity is probably my best girlfriend. Two bitchy queens. We clicked immediately.
If you win, what are you going to do with that money?
Kimora: Buy more drag stuff and share it with the guys.
What do you do when you have to go to the bathroom?
Kimora: I don't go to the bathroom. I mean, I dream about it, but I don't go.
What advice would you give your younger self?
Kimora: Listen to your drag mom.
Do you have a drag mom?
Kimora: I do. My drag mom is Coco Montrese. She trains me. She's my biggest mom. Without her I wouldn't be where I am today.
What were you doing when you got the call?
Kimora: I was watching "Sex in the City" with my two dogs. As soon as they said it, I screamed, and my dogs freaked out.
What were you doing when you got the call?
Kimora: I was watching "Sex in the City" with my two dogs. As soon as they said it, I screamed, and my dogs freaked out.
Did you try out before?
Kimora: I did, three times. I knew this is exactly what I wanted to do.
Unfortunately time was running out so I didn't get to speak to everyone, but I just had to get in a final question to Peppermint, one of my favorite New York queens.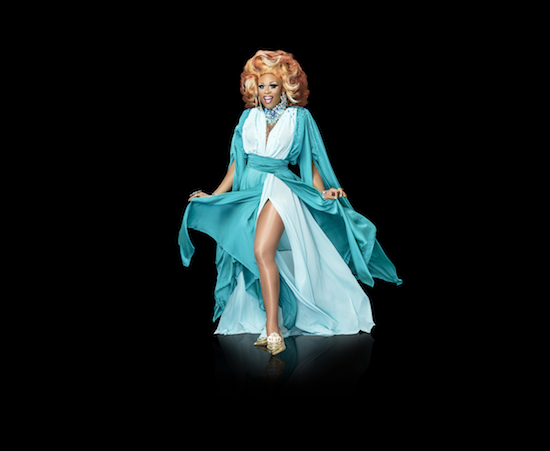 How do you feel right now?
Peppermint: I feel ready! I'm excited! We've been waiting for so long. We've been holding on to this forever, and I'm so happy that we finally get to talk about it. I'm super excited.
All in all it was a night to remember, a night of high spirits and raw excitement, and the show hasn't even begun!
RuPaul's Drag Race Season 9 airs, Friday's 8pm Starting March 24th on VH 1