Brooklyn born-and-raised, Aja is animated, beautiful, talented and truthful. Aja's name was inspired by the Bollywood movie "Disco Dancer," and although she has no idea what it means, she likes the sound of it. Aja is another one of the fantastic queens chosen to compete in season 9 of "RuPaul's Drag Race."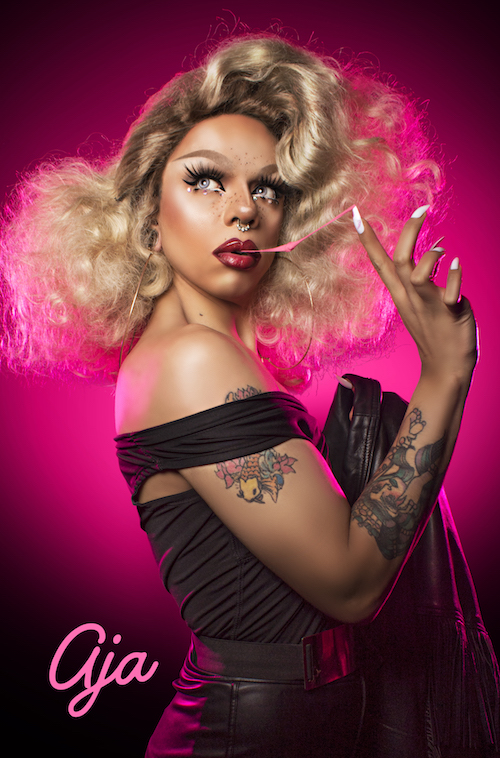 What was your exact feeling when you found out that you would be on this season's "Drag Race"?
I really had no room to react! I was shopping for contact solution at Walgreens, and I was on line, and I had to remove myself from the line, because I was about to have a panic attack. It was intense.
Did you think that you would be chosen?
I feel like when anybody auditions, they have that faith in themselves. I had a kind of attitude toward it, so when I got the final call, I wasn't too surprised. It's like anything in life. You can know something, but when you get that actual validating moment, you just still feel so amazing. I kind of did think I was going to make it, but at the same time I never knew what could have happened.
When did you start doing drag?
I started doing drag when I was 17 years old. I had dropped out of high school to do drag. I had perfect grades, and my family was really mad at me for it. I was going through a lot of anxiety issues and stuff at home, so I started doing drag as like a therapy type of thing to get away from everything. It definitely helped. Look at me now.
How long have you been doing drag?
I've been doing drag for six years.
What is it that you like best about doing drag?
I like doing drag because it's kind of like a portal into the art world, where you can take little bits and pieces from all these different types of art and kind of just be that. You don't have to just be a hairstylist or a designer or dancer or a painter. You can be all of those things at once.
Very true. Do you have a drag mother?
No, I don't have a drag mother. When I first came out in drag, nobody really wanted to claim me. YouTube couldn't teach me anything.
So you were just a trial and error girl?
Oh yes, that's exactly what I tell people. I just tried what I could, and sometimes it came out good, but most times it came out really bad.
What does being a contestant mean to you?
Being a contestant on "RuPaul's Drag Race" for me means that I now have a platform to showcase my art. Also, I feel like I have more of a voice than I had before. I feel like I have the platform to speak up about my life and share experiences with other people who may be going through similar things that I did, and kind of talk people off of ledges that I didn't have someone to talk me off of.
Can you recall the most dramatic experience in your life that might've changed the path of your life?
I think the most dramatic thing in my life was starting to do drag. It was just so different. I just grew up in a place where it was super, hyper masculine. Gender norms were heavily enforced. So for me to start doing drag, I kind of went against what I grew up believing in. I'm kind of happy I did it, because now I feel more comfortable being who I am.
Where are you originally from?
I was born and raised in Brooklyn, New York, and I still live there.
What would you tell your fans and followers if you could tell them anything you want?
If I could tell my fans and followers anything, I'd tell them to follow your dreams and never give up. I came to so many end-of-the-road type of situations where I felt like this is it, I'm done, I can't go any farther, but I believed that I could do it, and I did. Never give up.
Is there anything that you would like to promote for yourself?
Yes. I just want to promote just to be yourself. If there's anything I want people to know about me, it is that I am myself 24/7. I feel like there's nothing wrong with being yourself no matter who you are. It doesn't matter who's giving you crap for being yourself. Be yourself!