Randy — the bald, purple puppet with a quick wit and a sharp tongue — is making his NYC debut next week in his new Off-Broadway show, Randy Writes a Novel.  Previews begin April 18 at Theatre Row's Clurman Theatre with opening night slated for Monday, April 23.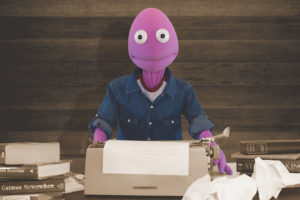 Randy is no felt-faced stage rookie.  He has already headlined with Neil Patrick Harris in Montreal, starred on his own Netflix show in the UK, and has been nominated for the Australian equivalent of an Emmy.   
He says he is now ready to conquer New York City!
Billed as the literary puppet, Randy is unpredictable, quirky and prone to outbursts. His delivery is ridiculously funny.  He welcomes audience interaction in his show and responds with lightning-quick humor to hecklers, turning comments into opportunities for even more funny stories and remarks.
In the past thirteen years, Randy has given birth to half a dozen critically acclaimed solo shows.  His latest is Randy Writes a Novel, where he valiantly attempts a public reading, but is repeatedly detoured by his own philosophical musings and vitriolic ramblings.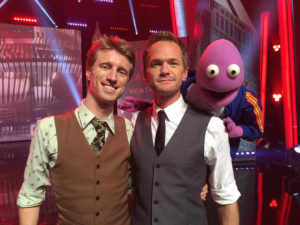 "Imagine a book tour hosted by a sociopathic buddhist monk with a foul-mouth and a Hemingway complex and you're in the ballpark of this show," Randy explains. "It's a real existential humdinger."
In 2016, Randy Writes a Novel was nominated for best comedy at The Edinburgh Fringe Festival and went on to a season at the Soho Theatre in London as well as the 2017 Montreal Just For Laughs Festival, where Randy appeared on the Jane Krakowski Television Gala.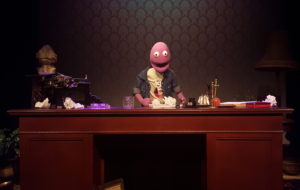 Randy is thrilled to make his Off-Broadway debut this spring. Speaking at a recent press conference he warned, "The city that never sleeps will need a nap after I'm done with it."
RANDY WRITES A NOVEL runs April 18 – June 10 at Theatre Row's Clurman Theatre (410 West 42nd Street, between 9th and 10th Avenues). Performances are Tuesday – Thursday at 7pm, Friday at 8pm, Saturday at 2pm and 8pm, and Sunday at 3pm. Running time is 75 minutes. Tickets are $81.25, available at 212-239-6200 or visit telecharge.com.