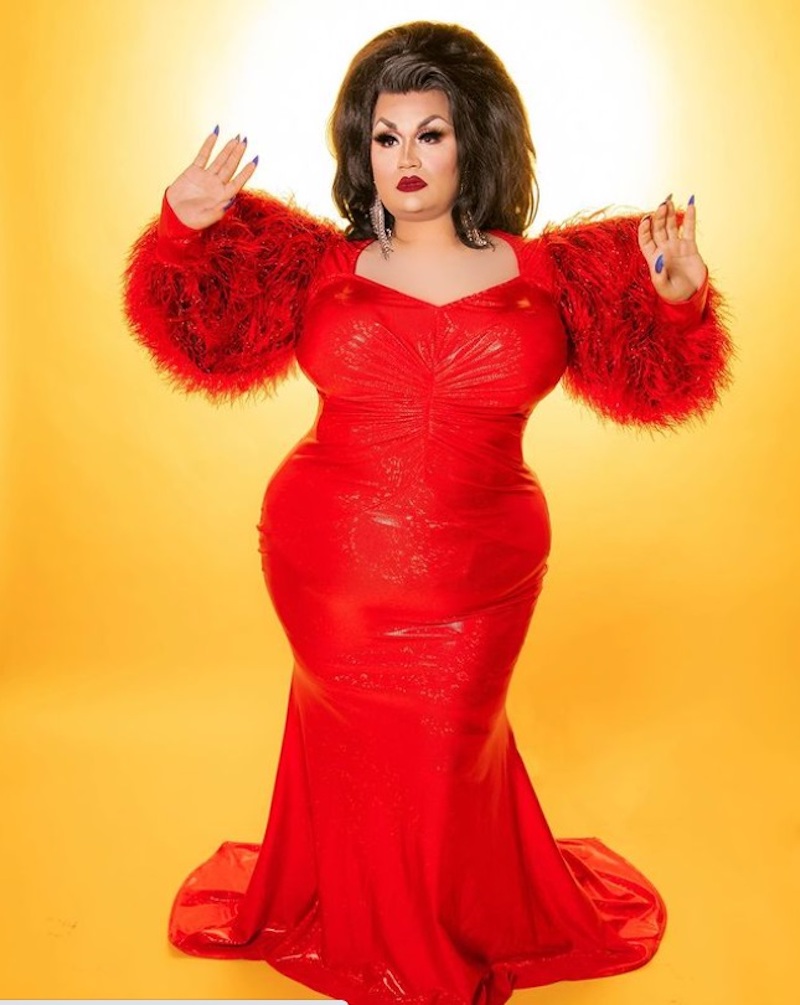 Known for her pristinely powerful vocal chops, Ada Vox–Texas native and star of American Idol and Queen of the Universe–is serenading New Yorkers this summer.
Interview >>> 
Thotyssey: Hey, Ada! It's an exciting time here as we approach the warmer weather, but things of course were looking pretty bleak during the Covid lockdown. What was your experience like, getting through that?
Ada Vox: The Covid lockdown was rough for many different reasons, but the fact that it happened when I was on the verge of making big things happen for myself is what really put a damper on my mood throughout the first half of the lockdown. I was just about to go on my second tour and was in the planning phases of my first album, music videos, a talk show, and so many wonderful things to finally move my life and career in the direction I had always dreamed of. The only saving grace through all of this was that I was lucky enough to have my partner with me, so I didn't have to do it all alone.
As far as TV drag queens go, you have had a really interesting career because you were not on one of the flagship RuPaul's Drag Race shows–but you were on World of Wonder's Queen of the Universe and two seasons of American Idol. And especially because of that latter show's universal popularity, you've probably been seen and are known by thousands more TV viewers than the most popular queens on Drag Race. Do you feel like your fanbase is more mainstream and less niche than the RuGirls?
This is an interesting one and it is something that crosses my mind quite a bit. Being on Idol did allow me to be in front of quite a mainstream audience. And whilst I don't think it makes me less "niche" than the Drag Race queens, I do think it has allowed me more types of opportunities that the Drag Race girls might not get. As we all know, Drag Race has been going on for quite a while now, but I still have people tell me that they had never even seen a drag queen on TV until they saw me on American Idol…much less a drag queen attempting to wiggle her way into the mainstream music industry since RuPaul with "Supermodel."
I think that I have the capability to draw in a much more mainstream fanbase because of what I do as a vocalist and musician, but I do also wish that the huge RPDR fanbase would be more willing and ready to jump on to support queens like me who haven't been on the franchise, but still have been working for years–even before I was on Idol in drag–to make a career for ourselves outside of the franchise.
You are going to be performing in our city this summer, starting with a concert at the soon-to-open, Daniel Nardicio-owned venue Red Eye NY on Thursday, June 30th. Are there any specific New York queens that you know well or have worked with or just admire from afar?
In terms of "know well," I can't say that I'm extremely close to any of them…but I have looked up to queens like Brita Filter, Lagoona Bloo, Jasmine Rice LaBeija, Jan and Rosé for their accomplishments. 
I hope to one day become good friends with all of these fabulous divas and many more in the area. New York is just one of those places where it would be nearly impossible to list all of the queens who I love, and I would feel really bad if I made a super long list and forgot someone…so I'm going to keep it short.
You'll have another great show coming up later this summer: Saturday, July 2nd, you'll be at the Fire Island Pines' Whyte Hall performing a full concert, once again care of Daniel Nardicio. This is going to be the ticket! Have you ever been to Fire Island before?
I'm so fabulously excited! I haven't been to Fire Island before, but I'm going to show up and give it to Fire Island just like I do everywhere I go! I am going to be entirely in my element, performance-wise; I will have just me and a piano to give you a beautiful, intimate show. The meat and potatoes of the show will be me reminding everyone why I am "The Voice of Drag" while performing some of my songs from Queen of the Universe, as well as covering many others by some of my all-time favorite powerhouse divas. I always like to take time to chat with the audience as well–make fun of some people in the front row, usually–and tell some stories of my life!
Finally: if you were invited to be a judge on a TV competition, which one would you like to do: American Idol, Drag Race, The Voice, or something else?
I would absolutely to be a judge on any singing competition, but being a guest judge or mentor for a singing challenge on Drag Race is something that I have wanted to do since I was on American Idol as Ada. However, if an offer ever came in to be a judge on Queen of the Universe, I would absolutely drop everything and jump on a plane. The show really encapsulates everything that I am so passionate about, and I would love nothing more than to read these singing queens down, lol!