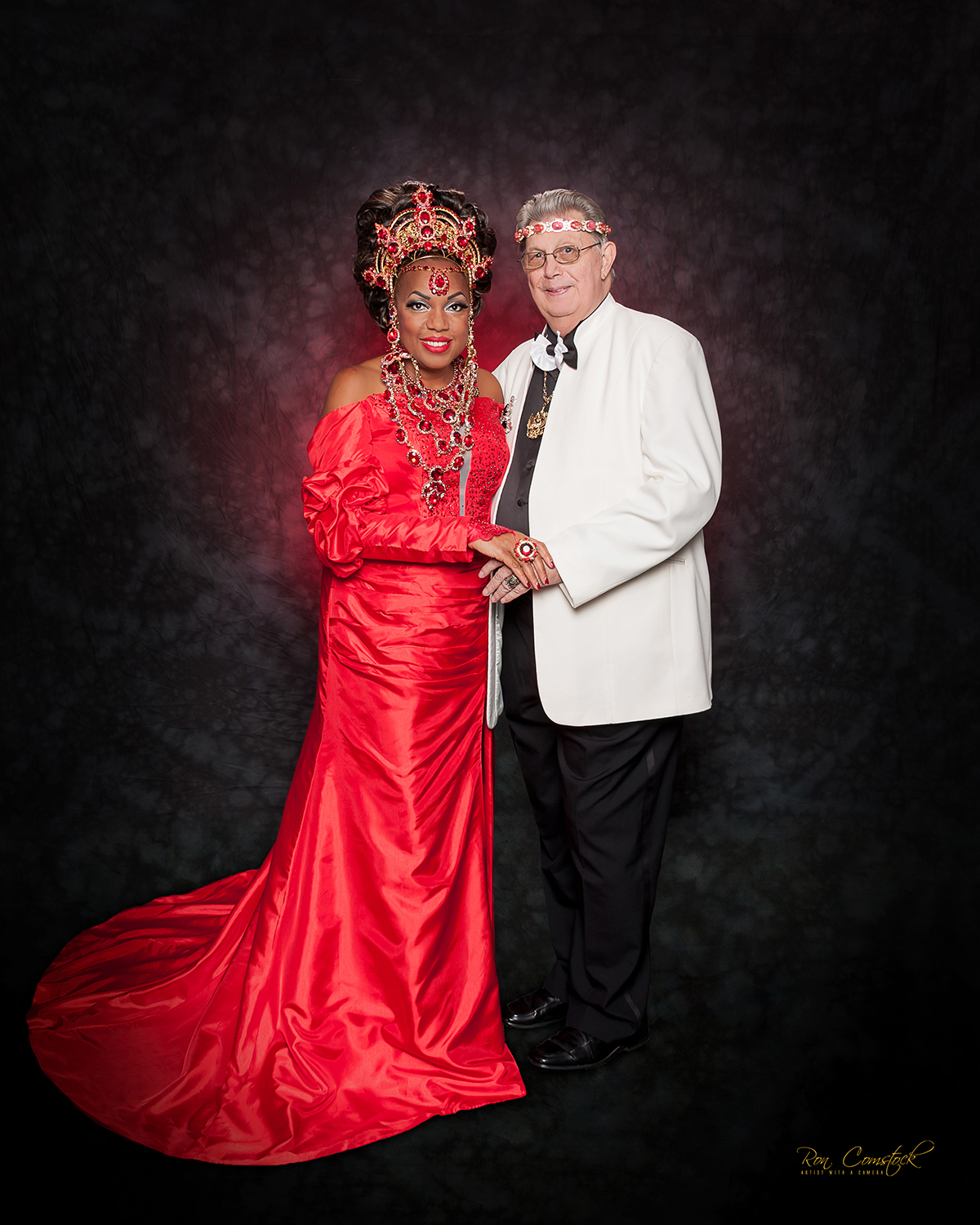 The most glittery night of the year, Night of A Thousand Gowns, will take place at the Grand Edison Ballroom in NYC on Saturday, March 26, 2022 at 7:00 PM, presented by the Imperial Court of New York. Emperor XXV and XXX Sir Tree and Empress XXX and XXXV Sugar B. Real will be stepping down in a night of glamour and opulence.
Empress XXX and XXXV Sugar B. Real (a/k/a Rhonda Potter) has spent a good part of her life in support of the LGBTQ community. She is also no stranger to a crown as this is her second time serving as Empress for the Imperial Court of New York. I had the great pleasure of talking to Sugar B. Real about her experiences with the community and with the Imperial Court of New York.
INTERVIEW
Hello, Sugar. What do you think we can expect this year from Night of A Thousand Gowns?
Because of Covid, because of these crazy times now, Night of A Thousand Gowns will be scaled down a little bit, but you could absolutely, positively expect all the glitz and the glamour and the fabulousness. Our members of the Imperial Court have a way of bringing it and making everything beautiful. It still will be the most amazing night. The most amazing must-attend event for the season.
How do you feel about stepping down?
Oh my gosh, you know, this is my second time. The reason I ran this time was because of Covid. I felt it was important for the figurehead of the organization to be a little louder. It was important that the organization didn't fall to the wayside or it didn't get lost in the madness. While I am an ally, I have been in the LGBTQ community since the '80s, when a very good friend of mine who was a nurse at St. Vincent's and did AIDS research there said that a friend of ours was in the hospital, "and you can go visit him". 
I remember my response to him was, "I can't go there." He said, "Girl, it's not contagious like that." I went to visit this friend of ours, and as I was walking to his room, two things stood out to me. 
You know when you see in the movies all the food trays outside? I was passing rooms with people that I was dancing at the Roxy with the weekend before. Me not grasping the severity of the situation, I was asking them what they were doing there. There were hugs, there were kisses and offering them the food that was out in the hallway because the nurses were afraid to bring it in. Then it turned out to be a thing where I would go just to say "Hey". 
Then I made another friend who volunteered for God's Love We Deliver. So I volunteered in the kitchen for five years. I've been in the LGBTQ community for a really long time. I'm a little loud, super friendly and I've been raising money and being part of the community for so long, I wanted to make sure that the figurehead in what I call unprecedented times would be someone that when they walked into a room, people would know that the Imperial Court is still around and that we are still working and raising money for the community when they needed it the most. We don't want people to be forgotten. 
People like Bailey House and all the places that we raise money for. One of my favorite charities is Citileaf Housing. I went there 16 years ago to do one of our outreach programs called "Hearts and Voices" and I met the Director and fell in love with her. I fell in love with the fact that it was a long-term care facility. One of our beneficiaries is Citileaf Housing, and Bailey House is great. 
We do a Christmas in July for them every year. I just wanted to make sure that the Imperial Court didn't get lost or forgotten.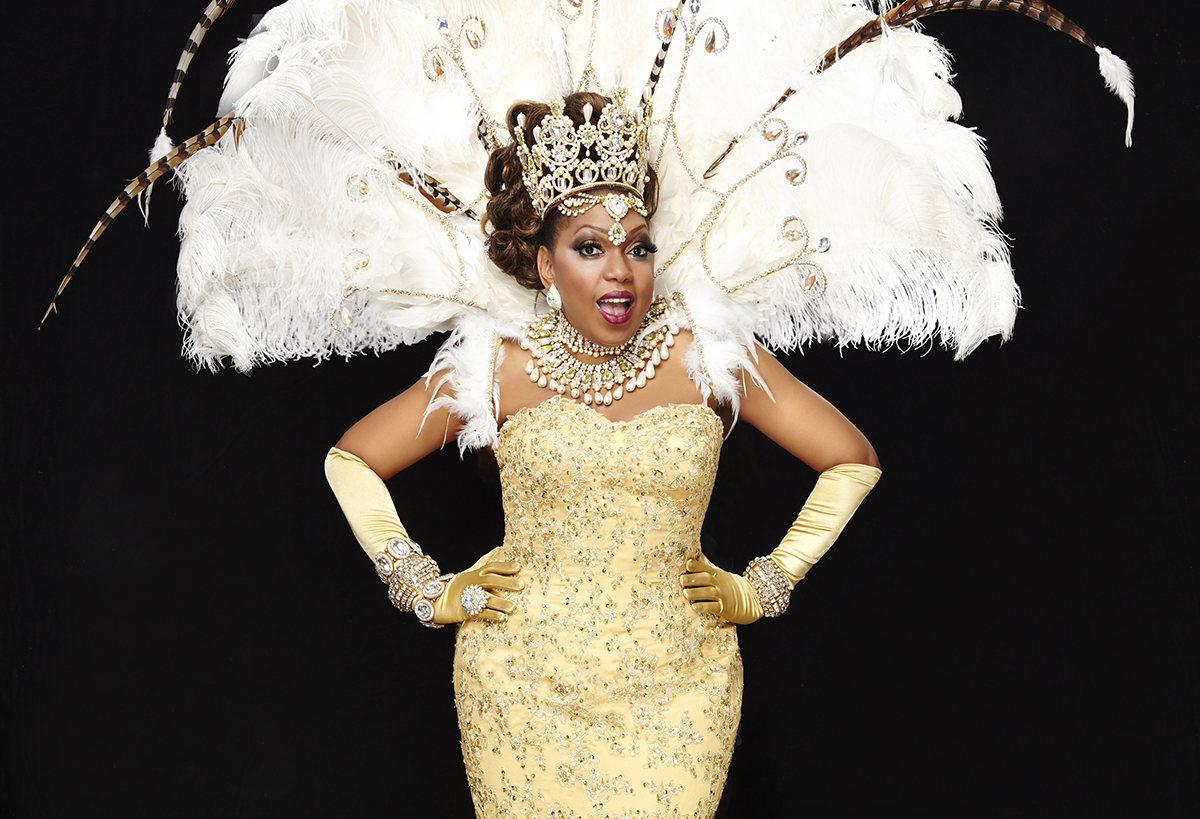 I'm actually very proud of everything that we did in spite of the pandemic. Every event that we tried to do in person had been canceled when the variant came up. But we did a lot of virtual productions this year. I went out and purchased backdrops, lighting and all kinds of things. And not only did we do virtual events– in my apartment in Jackson Heights, no less–but we also did videos that were sent to one of the 72 chapters so that they too could put on fundraisers and raise money within their communities. It was amazing because it gave me the ability to be in more than one place at one time. It gave the ability to help raise money in Vancouver and California and Connecticut. It's like you were everywhere. So, it was very fulfilling. So, while we were not able to do as much as we normally do, I still think it was a huge success this year. We just had to cancel two events, but on March 12th, I'm going to do our first event in Jackson Heights in conjunction with Friends, which is a popular bar here. Jackson Heights has the first Pride Parade every year, organized by Daniel Drumm, and it's the most amazing event ever. The parade is only 15 blocks long and then, after the parade, everyone comes back to my house.
I'll keep that in mind.
I always have an open house and people come and go and come and go. That's how I was raised. I was raised in a family with a very open door policy. There is always room for one more. My father used to say, "You always know you have a little more than the next guy, so you are always able to give to somebody else." My father had a very loving and giving spirit, and he was an amazing man, and I think that he gave some of that to me.
Seems like he did. 
I grew up with two parents, five siblings, and one bathroom, and I don't remember ever having an argument over the bathroom. I'm from Trinidad, but I grew up in Ozone Park in Queens. 
That's a great story. So do you know if Night of A Thousand Gowns will have its usual red carpet and celebrity entertainment?
The entertainment this year is Jeanna de Waal and Denise Weeks. Jeanna originated the role of Diana, Princess of Wales at La Jolla Playhouse and played it on Broadway (and on Netflix). Denise Weeks is known as the Subway Singer turned superstar.