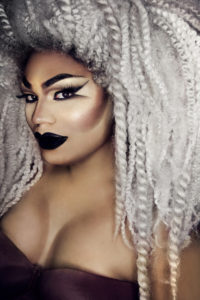 For Brita Filter, seeing herself on stage was always going to happen. From early beginnings in musical theater to touring with shows like Cinderella to being featured on Saturday Night Live with Katy Perry and a gaggle of her New York City sisters, this Broadway baby has only just begun! Between her packed show schedule all over New York City, Brita sat down to chat with me about how she got started in drag (she has two drag mothers!), getting inspiration as a queen, and what is was like getting to recently pay homage to some of her favorite Broadway legends!
Michael Cook: For those that have never seen Brita Filter on stage, how would you describe your performance style and "drag" as a whole?                                                        Brita Filter: I would describe myself as your favorite drunk aunt who always knows how to turn the party! I take pride in my larger than life, high energy, and well thought out performances. I especially love taking topics that are innocent and adding a satirical twist to make them "anything but pure." I also enjoy serving you acting and a tight lip sync with a park-and-bark ballad when my asthma flairs up.
You are known to perform some real dance floor stompers as well as some great mixes. How do you choose your material? Any favorites that really stand out?                                                                                                               My love for over-the-top production numbers started with the Britney Spears and *NSYNC performance at the 1999 MTV Video Music Awards, where they used a high school class room as the setting. It was essentially a drag number – literally, count the number of whip cracks. Since then, I've been inspired to take pop music out of context, and perform it with the flair of a full-fledged Broadway showstopper.
My favorite performances always include dancers, fierce lighting, and special effects of some kind. They also MUST tell a story. My favorite number I've created is called "Don't Mess With Brita Filter!" After my performance on Saturday Night Live, there was a lot of gossip around town about me. I felt the best way to confront these rumors was to make a number about it. You can watch it here!
How did Brita Filter get her start in the extremely competitive New York City drag scene?                                                                                                     I went to school for musical theatre and have been performing professionally as an actor since I was a teenager. After college, I did a touring production of Cinderella as one of the evil step-sisters; that's how I caught the drag-bug. I decided I wanted to become a drag queen when I returned to New York City. Truly, I was tired of being cast as Polynesian Ensemble Member #3 in South Pacific. I wanted to be my own artistic director, so I came up with the name Brita Filter on closing night of Cinderella, and memorized my first number on the flight back to New York. Two weeks later, I made my debut at the legendary Stonewall Inn, and I never looked back! My five year drag anniversary is this January.
My two Drag Moms (they share custody) are Lauren Ordair and Ari Kiki. In the beginning, they really took me under their wings and introduced me, not only to the glamour and eleganza of drag, but also to the importance of giving back to our LGBTQ+ community.    
The first drag show I went to was Paige Turner's SLURP! at Vlada, and from that moment, I was in awe of drag. I also loved seeing Bob The Drag Queen every Monday at Barracuda way before Drag Race snatched her up. I learned so much from watching her work the room. Going to drag shows is essential if you want to be a great drag queen! Find the people who inspire you the most!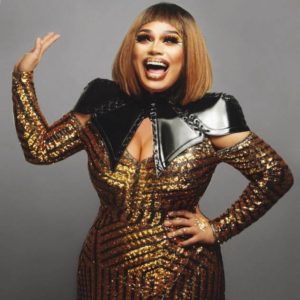 It's so hard to stand out in New York City and in drag; how have you carved out your own niche?                                                                                           I've carved out my niche by always giving high energy performances and by always being kind. I give 112% (it's drag, we're suppose to be extra). I was put on this Earth to entertain, and I'm very lucky that my full-time job allows me to create these crazy, over-the-top performances.
What are some of your career highlights so far?
I feel like my career really exploded after performing with Katy Perry on the season finale of Saturday Night Live. Shortly after, I was asked to headline London Pride with Impulse Group and was cast in a twelve episode reality television series called SHADE: QUEENS OF NYC on the Fusion Network.
I'm so lucky to have performed internationally and on television, but winning the GLAM Award for Entertainer of the Year has been my career highlight. This award is voted on by people working in queer nightlife, and that's why it means so much to me. I started drag because I love performing and creating my own art, but I found my true passion came from connecting with those within my community. Sometimes, you have a shitty day and you really need someone to help you laugh/escape for a couple of hours. I love being that person for my community.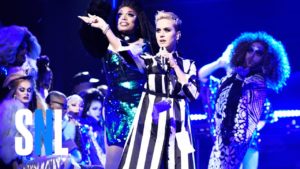 What is left that you want to achieve as Brita Filter? Any aspirations to be on "RuPaul's Drag Race" perhaps?                                                                    What is left? Baby, I'm just getting started! I'm turning five years old… I haven't even started kindergarten yet! But I want to do it all. A lot of people ask me if I want to be on RuPaul's Drag Race and I say "absolutely, I would love to" but truth be told, I want to build an empire like RuPaul. Dream big, or go home baby!
Speaking of Drag Race several New York City girls have won. How do you think the show as a whole has been for the drag community?                                      I think RuPaul's Drag Race has been amazing for the drag community. #1 – those girls ain't here no more, so I can snatch up their gigs. #2 – it has given my sisters incredible opportunities to spread their light worldwide! #3 – it holds the art of drag to a higher standard.
You are part of a great group of ladies who are bringing a fresh and new perspective to drag in New York City. Who are some of your favorite sisters to perform with and why?                                                                            Lagoona Bloo, Rosé, and Jan Sport are my family. They are each so talented. I'm always learning from them, and they keep me on my toes. I also have an incredible relationship and special bond with my sisters from SHADE: QUEENS OF NYC. It is the ultimate kiki when we get to work together.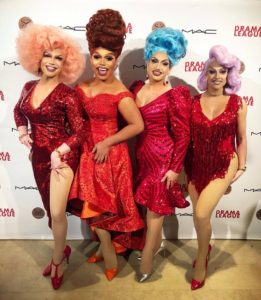 You just performed at an amazing event for Nathan Lane and were featured with some truly legendary people. Tell me about that experience.                               I was truly honored to perform amongst Broadway legends. When I was a young musical theatre actor, I idolized Norm Lewis (B'way: Once On This Island, Miss Saigon, The Phantom of the Opera), and there I was backstage in full drag, cracking jokes with him, and drinking champagne. I always knew I would work with him, but I never thought it would be while I was wearing orange high heels. It was one of the coolest experiences of my life, and I was so honored to have been asked to give tribute to Nathan Lane, a gay actor who has also inspired me immensely.
The gay community has had a very trying year and politically things are very dark. What do you think are the biggest issues facing our community and what do you see as your part in helping to address them?                                                           I think the biggest issue we're facing is the current administration's full-scale attack on transgender rights. I started drag because I love performing, but now that drag has become more mainstream, I've been given a platform where thousands of people can see me: from my weekly shows, to television appearances, to my social media presence. Besides speaking up about these horrible acts and attending resistance marches, the most important thing I can do is tell people to VOTE, and to register to VOTE. We have to turn Washington blue to protect our LGTBQ+ rights.
What does "pride" mean to you?                                                                        I had never felt true pride until I became a drag queen. Drag has taught me how to be proud of myself. Pride is loving yourself no matter what.
Most importantly'-where can people see you perform?!
You can get updates on all my performance and appearances on my Instagram at @thebritafilter.
Here's my weekly performance schedule:
Tuesdays: "The Brita Filter Show" – Hardware Bar, 9PM
Thursdays: "Soaked" with Lagoona Bloo and Rosé – Therapy Bar, 11PM
Fridays: RuPauls Drag Race Viewing Party – Boxers WaHi, 8PM
Fridays: "Frisky Fridays" with Ruby Roo – Pieces Bar, 11:30PM
Sundays: "Skinny Brunch" with Jasmine Rice – Hardware Bar, 7PM
(Photo 1 courtesy of James Michael Avance)