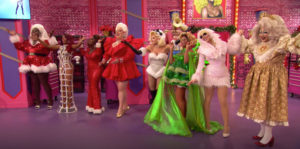 Not since Bea Arthur sang "Goodnight But Not Goodbye" in the classic Star Wars Holiday Special as the bartender in the Creature Cantina has a holiday special been as anticipated as RuPaul's Drag Race Holi-Slay Spectacular. Combining some of our favorite queens from past seasons of RuPaul's Drag Race along with RuPaul's kitsch-tastic holiday albums, we have a recipe for festivity! The Drag Race workroom is adorned for the holidays, and the ladies each enter with their own patented kind of holiday catch phrases!
The format of the special is a classic RuPaul's Drag Race episode; signature workroom entrances (with a holiday flair of course) and the queens are given their challenge, which of course surrounds both of RuPaul's most recent Christmas albums, "Christmas Party" and "Slay Belles". It combines some of the best Christmas songs from Mama Ru's catalog as well as some true festive moments, reminiscent of a true classic television holiday special (holiday puns and sing alongs abound)!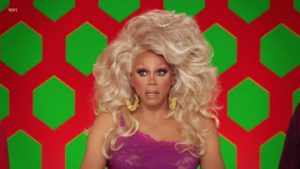 The runway challenges though, are where everyone gets to shine like the brightest lights on the Christmas tree. Without telling too much, I can assure you that the quintessential "Lip Sync for Your Life" absolutely does happen. The final lip sync however, is something that has never happened on Drag Race before and there is not one fan of the show, be it veteran fan or new watcher that will not revel in this lip sync between two legendary performers. While the point of the show is to help crown America's first "Drag Race Christmas Queen." the fans are the ones that are the ones that are getting an early Christmas present, direct from RuPaul and the Emmy winning gang at World of Wonder.