The vivacious and very friendly stage and screen actor, singer, writer, director and cabaret sensation, Nathan Lee Graham, answered his phone with a tantalizing "Good morning," well prepared to speak about his role in the new off-Broadway hit, The View UpStairs. That is, after he turned off his classical music. Graham was extremely well spoken and a magnificent personality.
Graham is known for his role as Todd in Zoolander and as Miss Understanding in the original Broadway cast of Priscilla, Queen of the Desert. Amongst his many other credits are his roles in "Absolutely Fabulous," "Scrubs" and "Law and Order." He also has accepted awards including the Los Angeles Drama Critics Circle Award for Best Feature Performer in a Musical in The Wild Party and a 2005 Best Classical Album Grammy Award for "Songs of Innocence and of Experience."
Having started his career at seven years old, the handsome actor portrays Willie, a role created especially for him by Max Vernon, writer of The View UpStairs, which will open on February 28 at The Lynn Redgrave Theatre at The Culture Project on Bleecker Street in New York City.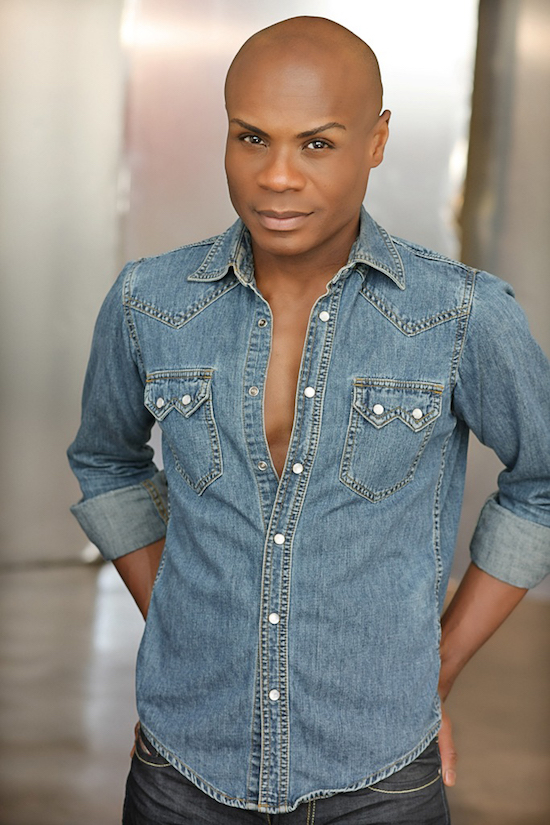 I want to know all about the character that you play in this fabulous, flamboyant musical.
I play the character of Willie. I like to call him the Dolly Levi of The View UpStairs, because he's a little bit of a matchmaker, makes things positive. He has a lot of effervescence. He's the life blood of the musical. He brings people together. I'd even go as far as to say, sometimes to a fault, he really might be in a constant state of denial. One might call it alter affect if you will, but he does it for all the right reasons. So that's who he is, and that's what he does.
How did you get selected for the role?
Actually, Max Vernon, the composer and writer, actually wrote this part for me. He was in the last stages of getting his degree at NYU in composing, and that wonderful program is one of the few programs like that in the country. They always ask people who are professionals to come and help out with the graduate students, if they have time. As a matter of fact, I'm doing it again while I'm doing the show. So that's how that started. Thankfully, and gratefully, he was a fan of my work, and he wanted me to do this role. That's how it happened. I said if it ever came into fruition, and if it ever went into production, that I wanted to be part of it, and every reading that it had, and every workshop, I tried very much to be available to play the role of Willie. It's a role that I have a long history with the past several years, and it's just a fabulous role in the truest sense of being fabulous. At the same time, it's such a celebratory role in a very dark period of LGBTQ history.
What time period did this take place?
In 1973, New Orleans, at The UpStairs Lounge.
Does the bar still exist in some way?
The bar, I believe, does not still exist, but there is a marker where it was. It did burn down, and I don't believe it was ever replaced. There is a marker there to mark where it was and how it happened.
How long will the musical run?
We have previews beginning on February 15, and we open on the 28th of February, which happens to be Mardi Gras, apropos for a show that takes place in New Orleans, and then we have an open run at least until June.
That's fantastic. Nathan, I just have to tell you that you sound so Broadway. How long have you been acting?
Well, that's what I am. When I got into the business I was about seven years old. I started out in Los Angeles, and I was the glorified extra in "The Bad News Bears of Japan," then I was a munchkin in the national tour of "The Wiz." When they came to Los Angeles they would hire kids locally. So that's when I started. I'm 48 now. I'll be 49 in September, and I've been doing this a very long time. I've been very fortunate to keep working in films and stage off-Broadway and on Broadway. It's not an easy ride, but it's fulfilling, and if I didn't love it and didn't think I had something to say, I certainly would've quit many years ago. It's been a wonderful ride.
Aside from the musical, is there anything else that you wish to promote or talk about?
I am working on an album. It's going to be called NLG, my initials, "NLG Le Jazz Classique." I'm doing a classic Jazz album. It's going to be mostly Cole Porter, but there will be some Irving Berlin in there, George Gershwin. So that's on the horizon. That will be my debut album actually. After all these years being on everyone else's albums, finally I'm going to be doing a solo album. There are a couple of projects that I wish I could tell you about. I'm always doing stuff.