Michael Longoria " The View UpStairs"
'The only way to get through this is by loving each other in any way we possibly can'
Michael Longoria, the audaciously talented and strikingly handsome star of Broadway, television and New York City nightlife, will be appearing in what promises to be one of the most sparkling and glittery sensations to hit Manhattan. The View UpStairs will be at The Lynn Redgrave Theater (45 Bleecker Street, NYC) on February 28. This glam rock musical production is based upon the real life gay bar in New Orleans, in the 1970s, which unfortunately burned to the ground. Written by Max Vernon and directed by Scott Ebersold, it includes an all-star cast including Longoria, Jeremy Pope, Taylor Frey, Nathan Lee Graham, Frenchie Davis, Benjamin Howes, Ben Mayne, Nancy Ticotin and Randy Redd.
Longoria himself has an impressive array of credits, consisting of the starring role on Broadway as Frankie Valli in the Tony Award-winning Jersey Boys, in Hairspray as well as performing solo in Times Square for thousands for Broadway on Broadway. He has also appeared on various television shows including "Broadway Under the Stars," "A Tribute to Harold Prince" and the finale of "America's Got Talent" season nine.
Having recently released his new album, "Broadway Brick by Brick," Longoria has also performed at "Joe's Pub," "The Cutting Room" and "Carolines on Broadway." He is also in The Midtown Men and performs nearly every summer at Cherry Grove.
Although I have interviewed hundreds, Longoria's words were some of the most expressive experiences I've ever had. His answers painted the most vivid pictures and feelings, and he caused me to feel what he was feeling.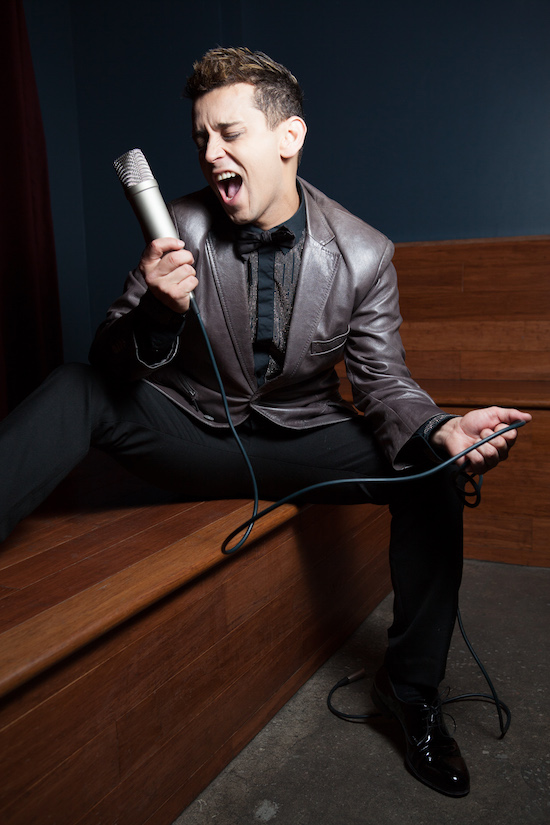 What role will you be portraying in The View UpStairs?
I play Freddy, who is also the bar's drag queen. As a drag queen, my name is Aurora Whorealis. There are a few generations in the bar when we flash back in time, into 1973. I play a young and rebellious drag queen, and my storyline is really about a mother and the love for her child. You meet my mother in the middle of the play, and you find out that although her son being a drag queen wasn't necessarily her dream for her son, she's comes to love him, and love the gay bar, and comes to frequent it. You see this woman from Puerto Rico, who came to America with her husband, who wanted this American life, and has all these challenges because she has a gay son, which is a challenge that many parents have to deal with. Obviously we as gay people go through so many trials before we realize that we have the strength to come out to the people that we love, because we are afraid we're going to lose them. But, as an adult, I look back, and I think about my parents and what they had to go through. The fear of the unknown, and the knowing of your child all of a sudden, but really getting to know them deeply in a way that they didn't know them before. Their sexuality all of a sudden, and what that means. For me, I was a Mexican American. My parents were Catholic Mexican, my father was machismo, so coming out to my parents was similar to Freddy. My father didn't accept me right away, and Freddy's father doesn't accept him because he's gay, and he leaves his wife and Freddy. So with all that drama in their life, you see the joy that they get from coming to this place, where they meet these characters and these friends from different generations. Nathan plays this wise, fabulous, crazy queen of the bar. He sits there in judgment and tells everybody about the way it was. Freddy is the kind that wants to moon everybody outside and wants to be who he wants to be, no matter what. Even though Stonewall happened, they were still living in a lot of oppression in the South.
I think there still is to a degree.
Absolutely. Even now, I'm sometimes challenged on the street by some asshole who wants to feel manly. That definitely still happens now. The sensation that you get when you first go to a gay bar, I remember that very well. I was a teenager. Even though I was underage, being in a place that all of a sudden you know you're not supposed to be in, but you want to be in, and you know you belong. All of a sudden all that hunger and fuzz, without even having a drink, because I was underage, but the feeling and the high of being yourself, of saying anything you want, being anything you want and having everybody in the bar not give a shit. Of course, those times aren't that true anymore, with the shadiness that's around in our days. But for a young queen who doesn't know about that shadiness, being able to go to a space that's like a utopia. You can really be who you are inside. For Freddy in this play, this is his playground. Not only can he prance around in his bellbottoms, but he can get in his dress and be fabulous, and look like Marilyn Monroe, and really live who is inside, which is this woman, this inner being. So that's who I am, and I get to put on a fun drag show within the show.
I just bet you do…
It's really fun, and I've never done drag. It's an amazing experience, and a learning experience too.
Did they assign you a drag mother?
No, not yet. I've had a lot of drag inspirations from going to Fire Island and hanging out at the Ice Palace. You see all of those drag queens perform, and throughout the summer I've gotten to know them both in and out of drag. What's interesting about playing a drag queen now, I've had crushes on drag queens for the past five years. Interesting, weird, like "Why do I like you?" I really admire them, especially the funny ones. The ones that are beautiful, and then all of a sudden they are hilarious. You have to admire someone that can make a crowd laugh, especially in times like these, when we're laughing and crying at the same time. It's like that nervous laughter that turns into tears. The message of The View UpStairs, is that ultimately, you had these places in the '70s that were secretive for a community, and it was everybody, everybody within each other, and they had each other's back. That's what we really need to remind each other of now, because in the eight years with Obama we've made so much progress and have felt very liberated in a sense. The fact that we could get married to anyone we wanted, and now all of a sudden it's like, psych, just kidding. It's like the carpet being pulled out from under you and your heart being ripped out of your chest from an America that you thought was finally understanding you. We have to remind ourselves that we have each other, not just in gay bars, but we are all around. We have each other on Facebook, we have each other in these magazines that I'm talking to right now, in these relationships that are forming, and the only way to really get through it is by loving each other in any way that we possibly can. That's by supporting each other, going to the drag shows and telling them they're fabulous, even when sometimes they might not be.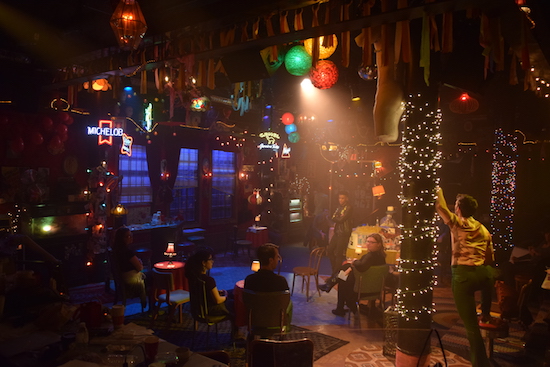 Rule one, never insult a drag queen. Too much work goes into it.
Ever, ever, ever. It takes a lot of balls…literally…and it takes a lot of courage and heart. Those people have a lot of heart. Those drag queens that I know have both sides. They are evil in a sense; they have to have that hard shell of protection from bullies while growing up a lot of times. But they also have this enormous sensitivity that is very loving in nature. Maybe that's why I fall in love with these drag queens, because I see both sides, and both sides are beautiful. They bring out the best in all of us, because they make us laugh.
I love drag queens more than life itself. I used to own a gay bar.
So then you know the community that can form, the drama that can happen and all of the relationships that happen. These characters are loosely based on some of the victims that could've been there. Like me: If I was living at that time, I would've gone to that bar. In fact, this was the biggest killing of the gay population before Orlando. I've been to Pulse, I've been to Latin night, I tour, and I've been to those specific parties. So, it could've been me. So to know that it happened, and those souls were not allowed to be grieved for, a lot of those parents couldn't claim those kids that were in the fire because they were afraid that they would get blacklisted or lose their jobs because they had gay family. It was so weird and so heartbreaking. One of the characters is based off of someone who might have been one of the three unidentified bodies that was buried in a mass grave. So it's sort of a story that needs to be told, and it's very bold of them to be bringing this right now. It's scary, but it's also liberating.