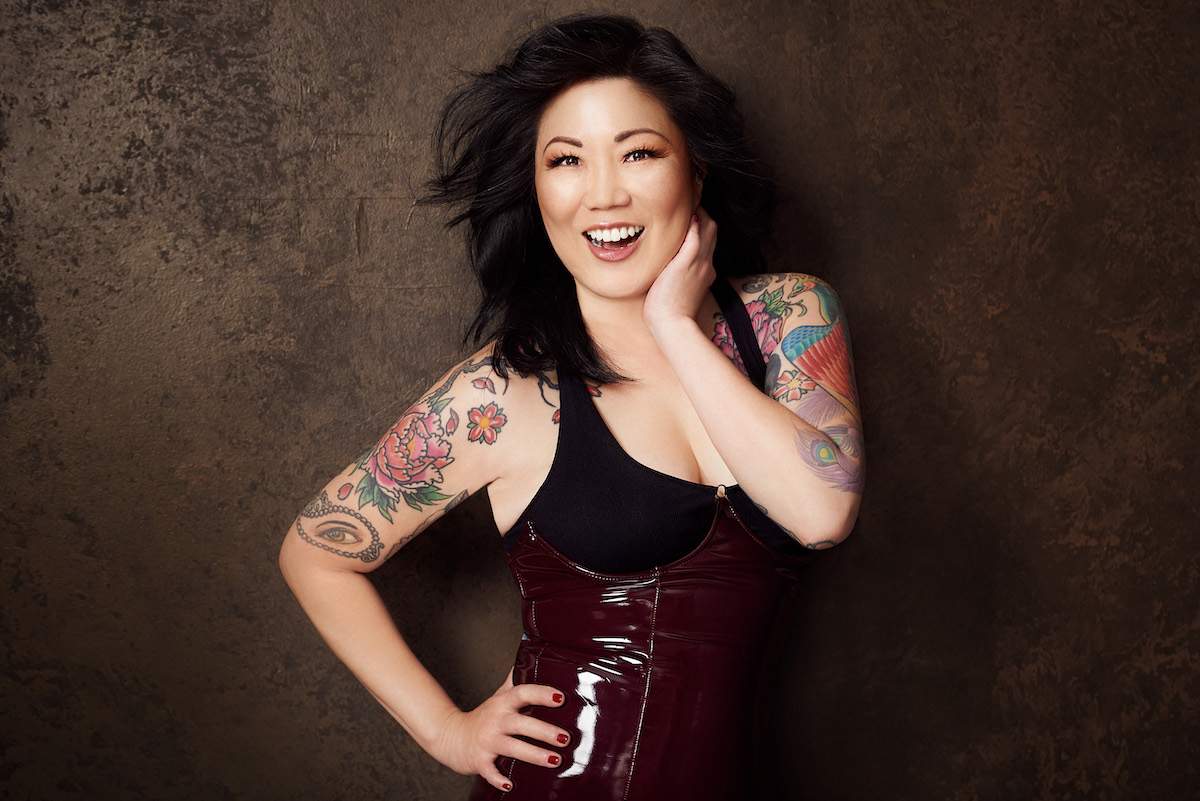 Emmy nominated actor, comedian, and designer Margaret Cho is excited to co-star in the upcoming romantic comedy Fire Island, set to release on Hulu on June 3. The movie was directed by Andrew Ahn and was written by Joel Kim Booster, who is also starring in it. Fire Island was inspired by Jane Austen's Pride and Prejudice. The film accents two best friends who have set out to celebrate an iconic, weeklong summer vacation with the aid of some cheap wine and a cascade of eclectic friends. 
Margaret Cho stormed the ramparts of success in the 1994 ABC sitcom All American Girl. Shortly after her one woman show, I'm the One That I Want, became an off-Broadway hit, it was followed by a national tour, a best selling book and a feature film. In 2009, Cho starred in the series Drop Dead Diva, which aired for six seasons. The following year, she received an Emmy nomination for Outstanding Guest Actress in a Comedy Series for 30 Rock. In recent times, she has appeared on The Masked Singer, HBO's High Maintenance, and has starred opposite Iliza Shlesinger in Good On Paper. She is also the host of the podcast "The Margaret Cho" while being an anti-racism, anti-bullying, and gay rights activist.
Margaret talked to Get Out about Fire Island and whatever else she is up to.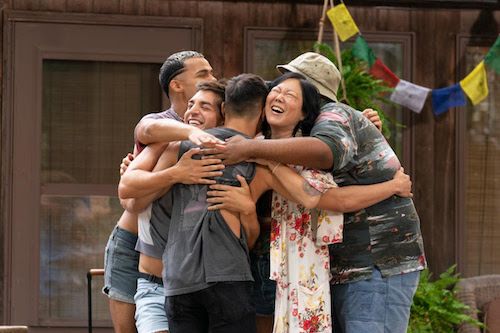 CONGRATULATIONS ON YOUR ROLE IN FIRE ISLAND. WHAT BETTER PLACE ON THE PLANET IS FIRE ISLAND…AND ARE YOU A PINES GIRL IN THE MOVIE?
I think that in the movie, I'm a little bit across the Meat Rack. I'm an outlaw in Cherry Grove and it's a long back story. It's so beautiful.
DID YOU ACTUALLY FILM ON FIRE ISLAND?
We filmed one week on Fire Island. Most of it, we actually shot in different locations on Long Island. So we did the exteriors on Fire Island and some of the interiors were in Brooklyn, Manhattan and Long Island.
WHAT KIND OF ROLE ARE YOU PORTRAYING AND WHAT, IF ANY, PREPARATION DID YOU NEED?
I really didn't have to prepare. I've had a lifetime of preparation. I'm like the mom of all of these wonderful, beautiful guys who are coming to the island. It's a familiar role for me–to be the sort of mother figure, mother hen to all of these kids. I'm very glad to bring that to this film.
THE LGBTQ COMMUNITY FELL IN LOVE WITH YOU EARLY ON. WHAT DO YOU THINK THAT'S ATTRIBUTED TO?
Well, I'm gay ….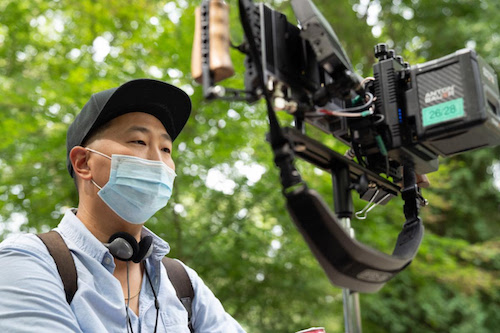 THAT HELPS.
Yeah. My first Gay Pride was like 1978. So I've been in and around the community since I was a little kid. Growing up in San Francisco, growing up in a gay bookstore around people who were very supportive of Harvey Milk and then being there throughout his assassination, being a part of this community that was really struggling and so many of us dying of AIDS and living through that was really a traumatic and devastating time. But it really taught me about resilience. It showed me that we really could survive through anything. It's really powerful and it's amazing to see how we've really grown up and changed. It's really moving.
CAN YOU RECALL A MOMENT THAT ACTUALLY CHANGED THE TRAJECTORY OF YOUR LIFE?
I think probably in the early '80s, being a stand-up comic, being a young teenager and doing comedy shows in gay bars and doing AIDS fundraising. In the early to late '80s and doing a lot of drag shows and doing comedy was really different. It was really exciting. I got a lot of support from so many different people. It showed me that you could speak to people like they were your friends. I sort of continued with that throughout my entire career.
THE FILM WAS INSPIRED BY PRIDE AND PREJUDICE. IN WHAT WAY ?
I think it is the basic story of a group of sisters going to find a suitor. But instead of it being girls, it's boys. It's about these men going to find other men to court them…In gay society in Fire Island, it is similar to society in the 1800s. You have class dominating everything. In a way, that's very evident in today's society too. Class is very prevalent, as is race, as are ageism and body issues. We have so many things that we sort of look through before we see the actual person. The film sort of goes deep into those issues, but still remains a comedy, a romantic comedy. And a very realistic one. So I think it's the very best exploration of gay society, of Asian American queerness and the modern gay world at large.
DO YOU HAVE A FAVORITE SCENE?
Oh, I love tea which is served in the afternoon party before you get ready to party. That to me is very real. It's very much like the big social center of the film and where everything gets started. I love that.
HAVE HAD YOUR ULTIMATE STAGE FANTASY YET?
I don't know…maybe. I really love performing at the Ice Palace on Fire Island. To me, it's really, really fun. I'm more of a Provincetown lady. I do the Town Hall there. I love the summer day experience. For me, it's really the ultimate because then I just go and hang out with my friends. Provincetown is very exciting because after the shows and all the drag shows are over, we all get on our bikes and ride all over the cemetery, which is really fun. Riding a bicycle in the cemetery at midnight is really cool. Provincetown is similar to Fire Island, but there's more bicycles.
SO WHAT'S NEXT, AS FAR AS PROJECTS FOR YOU?
Just stand-up comedy, touring, doing some shows and doing some different things for Netflix in the next couple of months for the "Netflix is a Joke Festival." I'm doing a couple of shows in Los Angeles. And also, I'm getting back to just doing stand-up comedy on the road.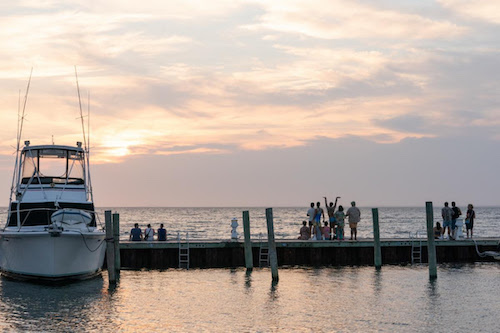 IF YOU COULD HELP ME ASK YOU ANY QUESTION ON THE PLANET, WHAT WOULD IT BE AND HOW WOULD YOU ANSWER IT?
You could ask me about the loves of my life with my dog and my cats. I love my dog and my cats so much. My dog's name is Lucia Katharina and she's actually in the movie very briefly. You only see her in pictures on the wall. She's not physically in the movie, but you can see her in photos that we've captured on the walls of my house. She's three years old and she's a little chihuahua and she's really sweet. I have three cats. One is deaf, but she is the bravest of all of them. She's really, really beautiful. Her sister is really beautiful and then I have one that's my wolf cat, she really looks like a wolf. We are a happy family.
IS THERE ANYTHING THAT I LEFT OUT OR THAT YOU WANT TO COMMENT ON?
I'm just really looking forward to the movie and to everybody seeing it….