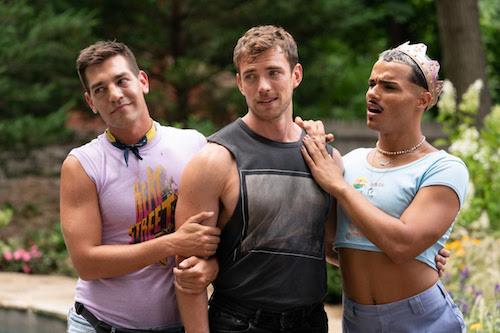 Broadway star Nick Adams is starring as Cooper in the new romcom Fire Island, set to premiere on Hulu on June 3. The film is directed by Andrew Ahn and also stars Joel Kim Booster, Bowen Yang, Margaret Cho, Conrad Ricamora, James Scully, Matt Rogers, Tomás Motos, Torrance Miller and Zane Phillips. The film follows the journey of a queer group of friends who gather on Fire Island for the annual week of love and laughter.
Nick Adams is a singer, dancer and actor who scored success when he appeared as Adam/Felicia in the epic Broadway production of Priscilla, Queen of the Desert and as Whizzer in the Lincoln Center revival of Falsettos. He is the winner of two broadway.com Audience Choice Awards, for "Favorite Breakthrough Performance" and "Favorite Diva Performance." 
As one who has always played the good guy, Nick's role of Cooper, a not so good guy, was fun and exciting to him. Get Out spoke to Nick about Fire Island, as well as his career….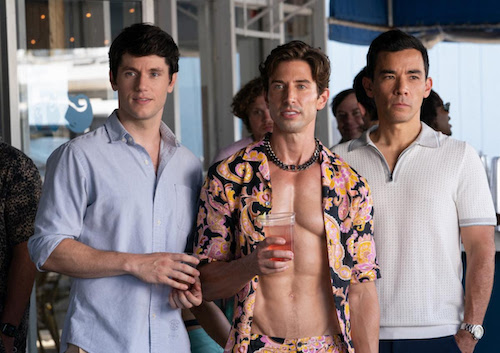 INTERVIEW:
CONGRATULATIONS ON FIRE ISLAND. I SAW THE TRAILER. TELL ME A LITTLE BIT ABOUT YOUR CHARACTER. 
I play Cooper. As you probably have read or maybe it's even in the trailer, it takes its inspiration from Jane Austen's Pride and Prejudice. We've got sort of contrasting homes of the different gay social classes on the island. I come from the more upper class, affluent home of what we call the Ocean Walk house. Cooper owns the Ocean Walk house, and I have two friends that are with me, Conrad Ricomora and James Scully, who play Will and Charlie. Scully is my best friend and I am just getting to know Will better on this trip. So, the opposition comes to the Ocean Walk. Joel Kim Booster, Bowen Yang and Margaret Cho are in the film–that's like the Bennett Home.  There are pursuits of love and romance, and I get to play an antagonist, my first go at being a villain, which is fun. I try and sabotage any of the attempts made by the Ocean Walk house to make a love connection happen. Cooper is materialistic; he is all about vanity and status and appearances. Our costume designer, David Tabbert, did an exceptional job establishing that finesse of class distinctions, where everything that I'm in, even though always very miniscule, is very high end, expensive designer.
I think that at the heart of Cooper, validity is kind of contingent upon the gaze of others and how others perceive him. So, he is always trying to be in control and have the upper hand, and I think that motivates a lot of people throughout the film. I think that stems for all gay men, stems from his deepest insecurity to be loved, which is the theme of the film. So that is Cooper in a nutshell. It was great fun to get the opportunity to play a villain. Most of my career has been the nice guy, a prince, a likable drag queen that has a great heart, and I think that maybe Cooper does have that somewhere in there, it is just covered up with a lot of exterior guarding. It's a romcom, so we had a blast doing it and I got to be surrounded by such great comedians–titans in the industry. So I learned a lot.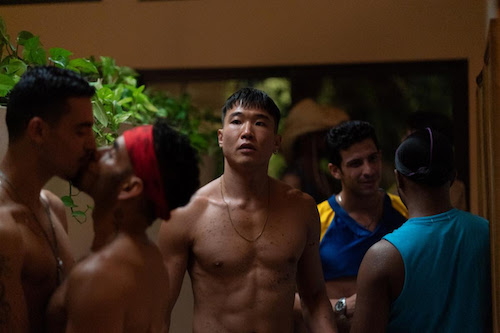 SO HERE'S MY NEXT QUESTION: HOW SIMILAR ARE COOPER AND NICK?
I feel like
people are surprised that I'm playing a mean girl.
There were so many people after the trailer that were like, "Oh, you're playing a mean girl. We didn't expect that from you." I think because I try to be optimistic, I try to lead with my heart in life, and I think that Cooper doesn't necessarily do that. I've met Cooper before on Fire Island. I've met him in gay culture. I know that person, I know who he is. I think I tried to bring some of myself, so that the digs and the insults are done through a smile, and I think they gave me the kind of freedom to bring my own spin to what the villain is. We are not that alike in regards to how we treat others, I don't think. I think that was why it was so much fun to play because I got to say things I would never say and do things I would never do. That was the delicious part of bringing him to life. Joel Kim Booster's script is just wonderful.  I knew at our first table read that our recipe of actors playing these characters was really spot-on. The energy in the room was tangible and I knew we were part of something special walking out of that first read. Our director, Andrew Ahn, was so lovely in allowing us to make choices to find these people and really give us gentle guidance to kind of shape them. A lot of what was in the script, I brought what was on the page to life. I played a character on The Other Two, which is on HBO Max, and he was kind of a vapid Instagram influencer. He was very sweet and very kind-hearted. The visual of the characters, you might think they are the same because they don't wear a lot of clothing. 
But they are very different in their intention and their moral compass. I think people will be surprised to see this side of me.
SO, IN REAL LIFE, ARE YOU A PINES BOY?
I like both the Pines and Cherry Grove. I can appreciate what both have to offer. I have probably spent more time in the Pines throughout my time living in the city. I do love the Pines side, but I think the more I appreciate the peace and quiet, I'm more drawn to Cherry Grove. I like the more laid-back energy. It almost reminds me of Ptown on that side. It's more accessible and it's a little bit more relaxed. That's what I love about Fire Island–it's sort of choose your own adventure. I think the film is a love letter to that aspect of the Island.  
YOU HAVE BEEN IN A LOT OF REALLY COOL PROJECTS. HAVE YOU HAD YOUR ULTIMATE STAGE FANTASY YET?
Growing up, I just wanted to be in a Broadway show. That was my ultimate goal as a kid. I just remember thinking, "If I just do one Broadway musical, I can leave New York, die happy–oh, I just want to make it!" That was my idea of what success would be. As you get older, you set your sights on new things. I was really fortunate when I first moved to New York. I really made a big impact as a dancer. I got to live that life and learn and grow. When I felt like I was ready to take on an opportunity and step out of the ensemble to play a role, Pricilla Queen of the Desert came along. That was the ultimate dream because it was this giant, splashy, queer musical that celebrated our community and individuality, but also was just a really good time. I got to originate a starring role in that. I grew up loving that film, and I just couldn't believe that life took me there. I remember thinking, "I will never top this. I will never do anything better than this." It was a blast to do. My co-stars were incredible. Everything was so over-the-top. 
My first entrance, I got lowered onto the stage in a giant shoe over the audience. It was a really special moment. It changed the course of my life. I walked through Times Square and my face was on a billboard over the Palace. It just was so many things, all-encompassing into one experience, that I thought, "Well, I'll never be able to top this." Each opportunity after this, I felt sort of overwhelmed in the same way–"Well, nothing will ever be better than this." With each chapter, I think, I come away with a new family. I come away with new insight. I've grown as an actor. My ultimate goal at this point in the theater world was I always wanted to do Falsettos. I fell in love with that show when I was in college. And I got the opportunity to play Whizzer, which was my dream role. To be in a room with those people was just so special to the fabric of LGBTQ theater. A friend pointed out to me that I kind of crafted this career in a very queer-forward way. Without intentionally doing it, I think I just leaned into who I am and what my strengths are and tried to be honest with myself. I never had a moment of coming out in the business or tried to hide that about myself. It caused many obstacles, but it also opened up so many opportunities. To have this groundbreaking, first-of-its-kind film, I get to be a part of that, too. I think it reassures me that I have been putting my efforts into the right place. I am working on a new musical. It is called Drag, the Musical. I used to feel I did not want to be typecast as a drag queen. I've played a drag queen in three Broadway shows now, but you know what? Apparently, I'm good at playing a drag queen. So I don't need to shy away from it, I need to embrace it.