Lola Lennox – Interview by Lovari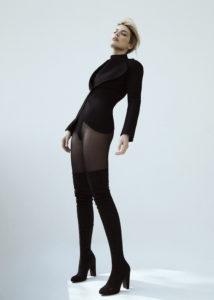 Interview by Lovari
When I first heard Lola Lennox singing via an Instagram post, I was astounded at the various textures and tones that resonated through her vocals with each phrasing. To say that I was impressed is an understatement. With the release of her single "In The Wild", it solidified my appreciation for her as both an artist and songwriter.
Lovari: The Discovery Channel's six part series "Serengeti", created by Simon Fuller (American Idol), includes your vocals as lead on the title theme, along with other scenes in the entire score. It's very unique as it also reflect's the animal's emotions. Tell me about that experience.
Lola Lennox: "I worked with Will Gregory of Goldfrapp on the song. We used different sounds along with the lyrics to depict what the animals were going through. The music was the key to the stories. Each animal goes through an individual journey. It is quite emotional. Their struggle for survival is real. It's brutal."
Lovari: Your song "In The Wild" is the first of four singles you are planning to release this year. What is the concept behind the music video?
Lola Lennox: "Elements of the video depict the concept of the song. For example, the grey colors indicate the suffocation in a relationship. The element of water in it is to cleans our sins, so to speak. As the video continues, the coldness and complications get replaced with flowers, a garden, and again, places of water. The song is based on a previous relationship."
Lovari: How are the new tracks shaping up? Any working titles?
Lola Lennox: "We are in the studio working on some tracks, most recently "Pale" and "Back At Wrong". Each of them have different spectrums of emotion, varying from mid tempo and uptempo. They are all original and the lyrics come from my life experiences.
Lovari: Your tone is amazingly unique in each phrase of your two single releases. That being said, who are some of your musical influences?
Lola Lennox: My musical influences are emotionally raw and honest women, including Etta James and Dusty Springfield. In regard to current vocalists, I love Adele, Lana Del Rey, Florence Welsh, and Sia."
Lovari: Obviously, music is inclusive and universal. Would you like to shout out a message to our readers?
Lola Lennox: I want to send out my love to the LGBTQI community. You rock guys! I am grateful for your support.