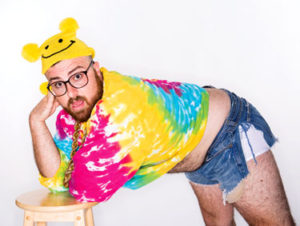 Everyone's favorite furry hip hopper, Big Dipper, launches his new talk show tonight at 9pm on GROWLr Live, the in-app live video broadcasting feature on GROWLR.
"With bars and clubs still closed and members continuing to follow government guidelines of sheltering in place, we decided to bring the colorful world of gay nightlife entertainment to men in their homes," says Phil Henricks, Senior Director of Marketing at GROWLr.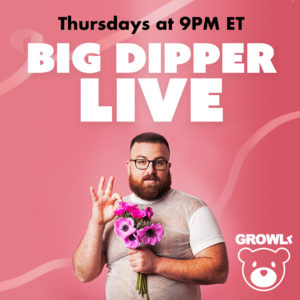 Big Dipper Live will air every Thursday, with the rapper introducing fun guests and discussing his unique take on body positivity and digital dating.
But wait… there's more!  This Saturday at 9pm, GROWLr will air drag queen comedian Jackie Beat's one woman show,  Shelter in Face.  It will be performed live and in full drag from her home.  Then next Saturday, May 16, comedian Varla Jean Merman continues the stand-up with her one-woman comedy show, performed live and in full drag from her home.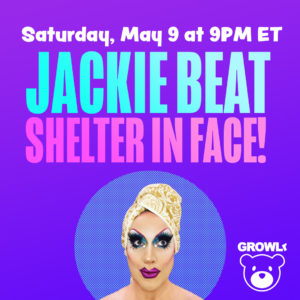 All shows are free to viewers, but what makes GROWLr's programming even more special is that it supports queer artists.  While others are asking performers to donate their time, the popular app is paying Big Dipper, Jackie Beat and Varla Jean Merman for their shows, just like a brick and mortar bar or club would do.
"LGBTQ performers are an important part of the fabric of our community.  We value them as artists and are thrilled to compensate them for their participation in our programming," Henricks adds.
To tune in to Big Dipper Live and the drag shows, download GROWLr.