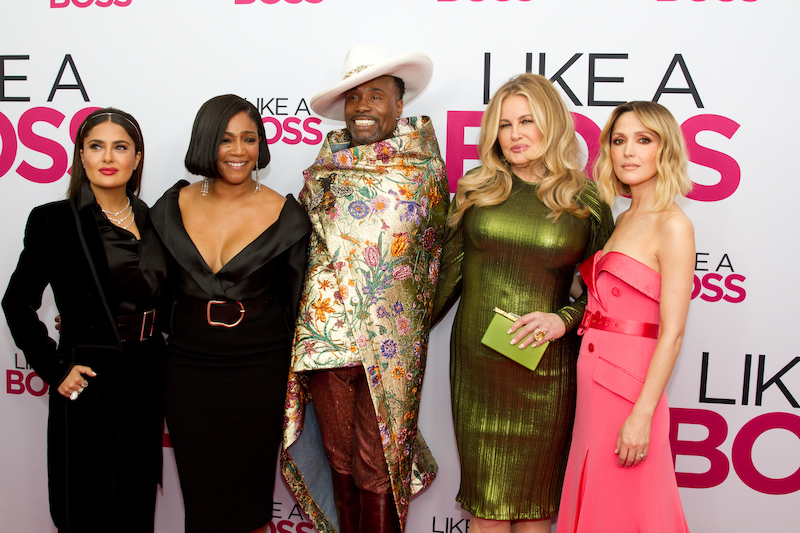 The world of beauty is about to get ugly when best friends running their own cosmetic company realize they are financially underwater in "Like a Boss," in theaters now. The prospect of a huge buyout offer proves too tempting to pass up, but puts Mel and Mia's life-long friendship in danger.
Directed by Miguel Arteta, the film stars are some of the funniest people on the planet, including Tiffany Haddish, Rose Byrne, Salma Hayek, Billy Porter, Ari Graynor, Jessica St. Clair, Natasha Rothwell, Jennifer Coolidge, Jacob Latimore, Karan Soni, Jimmy O. Yang, Ryan Hansen and Caroline Arapoglou.
The premiere soirée included all of the superstars in the film sashaying gracefully down the pink carpet, stopping to pose and talk to the media. It was one of the coolest red carpet events—even though it was really pink—that I've ever attended. There was an excitement leading to the grand premiere, and a sense of fun and gaiety throughout the evening. The costumes were over the top, especially Billy Porter's adornment. The vibe was lively and colorful.
As a prelude for the appearance of the movie's cast of characters, the carpet was flooded with social media influencers and former "RuPaul's Drag Race" contestants. I spoke with Laganja Estranja from Season 6 (the not-to-be forgotten Bianca Del Rio season), who was wearing a rainbow-sequined jumpsuit and turquoise lipstick.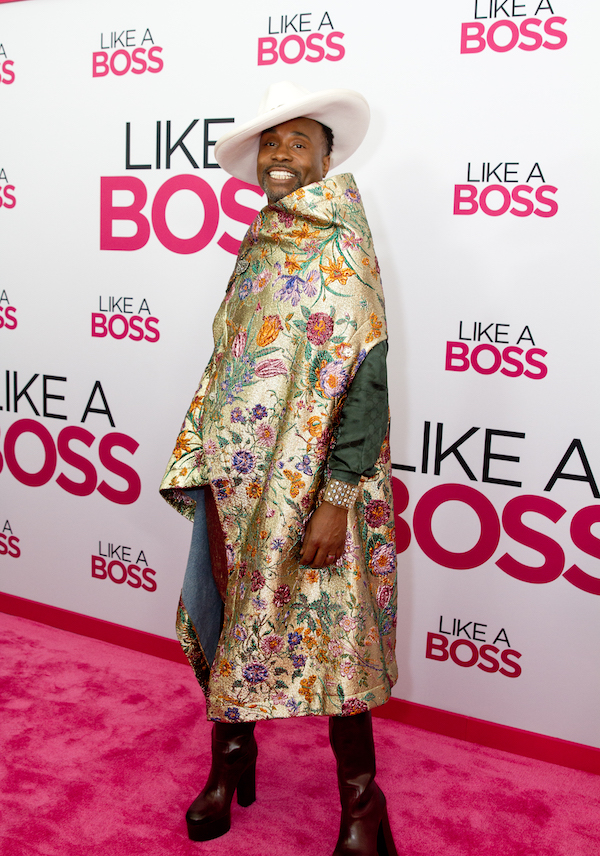 You are fabulous, my type of girl. My name is Laganja Estranja from Season 6 of "Drag Race" and "So You Think You Can Dance." I'm honored and very excited to be here. We've been doing a whole weekend with the "Like a Boss" team, and they have been treating us like we've been in the movie. 
We are here at this awesome movie premiere of "Like a Boss." So who is your favorite boss? My favorite boss is Missy Elliot. She's incredible, the things that she does with women of color and also just by being fun and popular and being out there, still creating pop culture but having a meaning to it. That's what I want to do with my life.
Who was the scariest "RuPaul" judge for you? That's definitely Michelle Visage. She and I definitely got into it on my season, but behind the scenes she's really nice. It was an intense experience, which is why I've never returned to "All Stars."
You should. That's what everyone says, but hey, I'm on this red carpet without it, so I'm doing pretty good. It's an incredible gift being able to be a drag queen in 2020 and to be able to promote such a cool movie that's fun and raunchy. I mean, that's right up my alley. I'm excited to finally see it. We have been doing all this promotion all weekend, and we haven't seen it yet.
–
The first of the talent to cascade down the decadent, plush, pink tapestry were identical twins Veronica and Vanessa Merrell, adorned in Christian Dior gowns.  The twins portrayed models in the film, and I stopped them because they were just so excited to be part of the festivities.
Veronica (Lola) & Vanessa (Layla) Merrell
It must have been interesting playing roles together in a film. There aren't many parts for identical twins, so yes, it was a lot of fun. We play models in the movie.
How did you get these roles? You two look so excited to be here. We started putting things out on YouTube, and we still put things out on YouTube. We are very excited! 
–
Next was the vivacious Jacob Latimore, wearing a tan suit and white turtleneck sweater.
Jacob Latimore (Harry)
How much fun did you have making this movie? Oh, too much fun. I got to just not worry about a thing and be goofy like my normal self. Do you know that inner goofy that you don't want people to see? That was the goofy I could be.
What was your biggest challenge during the movie production? I don't really think I had any challenges. I think maybe the most challenging thing was keeping up the energy through each take. It's a lot, to be giving yourself that energy through every take, to be screaming and yelling, getting hit with a spatula on the ass.
And your biggest triumph as your character? I can't really say I had any triumphs. It was more so being able to do this part, because I had such a busy schedule doing my TV show. I worked like four days, so I was able to squeeze in these couple of scenes. That was my triumph.
Tell me about your TV show. The TV show is called "The Chi" on Showtime and will be airing Season 3. I play a young kid named Emmett who is dealing with a lot of baby mama dramas. He's got a lot of kids, and he's also a young entrepreneur. He's trying to make it in the world without doing anything illegal.
You look like a kid yourself. Exactly, that's why I play it.
–
Following Jacob were Jimmy O. Yang and Ryan Hansen, who walked down the carpet together as they were clowning around and looking as though they were having great fun doing it. In the film they play business partners in the cosmetic industry.
Ryan Hansen (Greg) and Jimmy O. Yang (Ron)
Look at the fun you two are having. Who's who? Ryan: I think your hair is having the most fun!
Jimmy: I'm not sure who's Ron and who's Greg.
Ryan: We are douchey guys.
Are you friends in the movie like you are now on this carpet? Jimmy: Business partners and friends.
What was your biggest challenge? Ryan: Acting like friends. We hate each other. We are great actors. We should win an Oscar for that.
What was the most fun working together? Ryan:  Working with this guy!
Jimmy: I was going to say working with Tiffany, but since he said that, now I have to say working with him. Working with the ladies and Billy Porter…OMG. I feel like people are rushing us through these interviews just to get to Billy Porter. I would do the same thing.
Ryan: I feel like standing near you and asking Billy some questions. All you need is an iPhone. 
What are you most excited about tonight? Ryan: You're looking at it. This carpet. This is the most fun part. The after party seems like it would be pretty fun.
–
Star Tiffany Haddish looked elegant in a sexy, black, silky, provocative, cleavage-driven dress. She wore long, dazzling silver earrings and looked absolutely beautiful. She came to the premiere only days after her appearance at the Golden Globe Awards. In the film she portrays Mia Carter, whose lifelong friendship with Mel is threatened during an offer to buy out the cosmetic company that the girls started together.
Tiffany Haddish (Mia Carter)
As a boss, what would be your best advice to become successful? Keep showing up every day. Do whatever it takes. Do the time.
What's a boss to you? You get yelled at if you don't show up on time. That's a boss.
You had a little cooking soirée during the film. Salma made these potato things. I don't know what they were, and Billy…he made these green beans that was off the chain. He made asparagus that was off the chain. Billy can cook. 
What advice would Mia give to someone who wanted to own a business? Believe in yourself. If you fail, so what? Do it again. Do it a different way. You learn from that. That's how you become stronger. If you are afraid to make mistakes then you will never move. You weren't afraid when you learned how to walk. You've got to move, create, create, create. Do not be afraid to have your own.
Have you ever had your ultimate stage fantasy? No! Wait, wait, wait. It's my fantasy, I don't have to tell you. It might be too freaky for you all. I would love to do a burlesque show, stand-up comedy show in lingerie, but have like three super sexy men, like my favorite men that I like to watch and come out and tell me how beautiful I am in front of all of those jealous bitches. It feels good to be able to share my talent with the world.
–
Also almost straight from his nomination at the Golden Globe Awards, Billy Porter made his way down the carpet wearing a huge white hat….and a flowered gold lame "something"…..possibly a shawl or cape, with thin ribbons of metallic fiber throughout. Definitely a signature Billy Porter style, whatever it was. Always flamboyantly animated with a sparkling persona and a dazzling vibe, Billy swayed slowly down the Pink runway willing to stop for everybody who wanted to talk..
Billy Porter (Barret)
Billy, I interviewed you regarding Kinky Boots a few years ago. Since that can you tell me how your career has changed in one word? In one word? [The superstar stands speechless, with his mouth open, yet nothing coming out of it.] Can somebody help me here?
Billy, if anyone can answer that, you can. Don't put me on the spot. What would that one word be. Help me with that one word. How about extravagant?
Yes, that's a good word… or opulent? Opulent! Yeah, I like that word. Use that one.
He then posed for some pictures and walked on.
–
Rose, the Australian-born actress, sauntered down the carpet adorned in a chic  rose, coral gown. She portrays the other half of the friendship with Mia Carter. She has won two Golden Globe Awards and a Primetime Emmy.
Rose Byrne (Mel Paige)
I just asked Tiffany her ultimate stage fantasy. Do you have one as well? Where am I?
Anywhere you want to be. I don't know. This has been pretty fun, this one. Your hair is amazing.
Thank you.