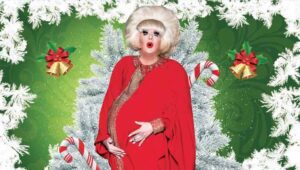 Lady Bunny didn't waste her nine months in quarantine; she conceived her long overdue Christmas special! Taped in New York City at the legendary Stonewall, What Child Is This? is over 45-minutes of naughty holiday parodies that put the X in Xmas.
Everyone's favorite demented drag diva and her co-writer Beryl Mendelbaum have re-worked all the holiday favorites into depraved silliness. Songs include "Rudolpho The Uncut Reindeer" and a timely remake of Mariah Carey's "All I Want for Christmas (Is a Vaccine)." A joyous version of "'Twas The Night Before Christmas" envisions Santa in the White House as its current occupants prepare for the arrival of the new administration.
In addition to stockings full of laughter and dirty ditties, Bunny will don several glitzy, festive costumes along with her patented giant coiffures.
"It's been a long, soul-sucking year and until a vaccine is available for all, laughter remains the best medicine," says Lady Bunny. "The naughty What Child Is This? also makes the perfect gift to horrify prudish relatives with," she adds.
Lady Bunny is best known for creating Wigstock, downtown NYC's outrageous festival of love, peace and hair grease which became the subject of two documentaries: Samuel Goldwyn's Wigstock The Movie in 1995 and HBO's Wig in 2019.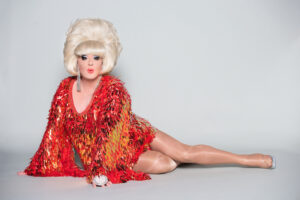 The New York Times calls Lady Bunny "the city's reigning drag queen". Vogue Magazine says Lady Bunny "represents the heart of what drag is all about."
While her routine may be rooted in the gutter, Lady Bunny's quick-witted humor is authentic, smart, irreverent, and topical.
Since the pandemic, Lady Bunny has appeared virtually at Boulder's Fringe Festival, the Palm Springs International Comedy Festival and in Amazon Prime's LGBT Pride. She and Flotilla DeBarge recently released "DAP," their video parody of Cardi B's "WAP." In its first week, it received over 100,000 views on Instagram and was cheered by comedians Margaret Cho and Jenifer Lewis.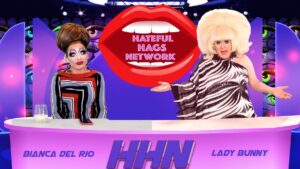 Lady Bunny also stars in HHN: Hateful Hags Network, a new on-demand duet special with Bianca del Rio, and will soon launch Ebony & Irony, a podcast program with RuPaul's Drag Race All Stars 4 winner Monet X Change.
Lady Bunny's new holiday show, What Child Is This? is available for streaming through Monday, January 4. Tickets are $9.99 and available at VossEvents.com.