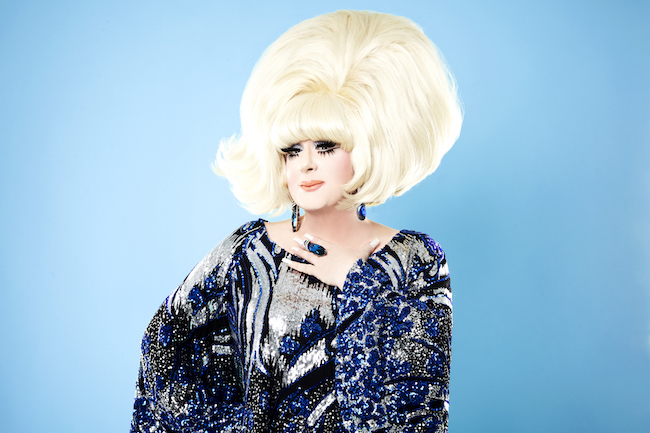 The hysterical master of comedy, inventor of fun, actress, producer, DJ and over-the-top drag queen Lady Bunny will be featured this year at The Winter Rendezvous at Stowe Mountain Resort. She will be performing at Stowe High Auditorium on Saturday, January 26, 2019.
This year's Rendezvous will take place from January 23 to January 27, 2019, at Stowe Mountain Resort in Vermont. The week is packed full of events, including skiing, pool parties, massages, dog-sledding, cross-country skiing, bonfire bashes, meetups, delicious food, entertainment and perhaps finding the love of a lifetime.
I shared questions and answers with Lady Bunny, and for sure this is a performance you can't afford to miss.
What are you most looking forward to at the Winter Rendezvous Ski Week in Stowe, Vermont? And do you ski?
You mean ski as in Craigslist "skiing"? Eileen, you naughty girl! You know I can't discuss that on a public forum. As far as the actual sport, I have never tried it. I ice skated as a kid, and basically sat down and chopped at the ice with my skates. Although I do have such big feet that one friend refers to my pumps as skis!
The Winter Rendezvous offers a lot of activities including skiing, hot tubs, pool parties, massages, dog sledding and many other activities. If you could choose to do one, which would you choose and why?
I'd love to try the dog-sledding—as long as the sled I'm pulling isn't too heavy! I do love a massage. Sometimes I get so relaxed that there's a crappy ending. Pools tend to empty out as soon as I jump in. Not the people—all the water!
Have you ever done anything similar to this before?
I DJed at Aspen Gay Ski Week and had such a blast that I barely remember much. Of course, weed is legal in Colorado, so I laughed my ass off at comedians like Fortune Feimster. I did enjoy seeing the drag queens skiing and found it to be very cosy and fun. I grew up in Chattanooga, Tennessee, where there are lots of mountains but not so much snow. And I always look forward to trying new things. This will be my first performance in Vermont, ever!
Aside from the Winter Rendezvous, what are you up to for Christmas and the New Year?
I'm performing an Xmas show called "A Very Bunny Xmas" at Stonewall Inn starting the day after Christmas. By the time my show starts on 12/26, everyone will be so sick of Christmas music that me parodying carols is a holiday hoot.
Any new projects on the horizon for you for 2019 that you can share with us?
I would love to record more original music and put out an EP or album.