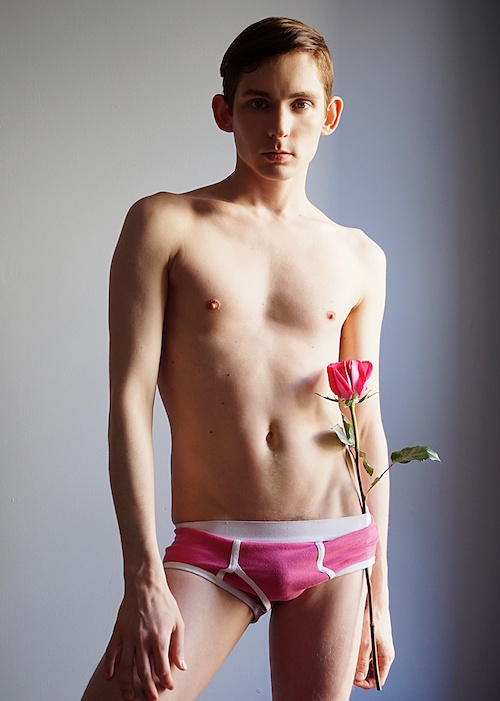 I met A at NYC Pride years ago, when I was dating The Ex Fiance?. He was sarcastic and a little pretentious, so of course I got along with him perfectly. I got drunk and spent the whole day trying to hook him up with a friend of mine, who wasn't interested in him at all, but the effort didn't go unnoticed.
We became casual friends – we'd see each other out here and there, say hello, catch up. We didn't start to actually hang out until the new season of "American Horror Story" started. We both loved the show, I had cable, he didn't, so he started coming over on a weekly basis.
He'd always bring something sweet for us to share, usually this delicious chocolate chip pastry that he'd pick up fresh from a bakery down the street. It was always still warm when I took my first bite.
That winter I got sick, and A watched the progression – one week I had a runny nose, the next a sore throat, the next an unmanageable cough. I had to cancel our TV night it got so bad, but I still heard a knock at my apartment door around 7:30.
Nobody was there, just a package at my feet.
I brought it inside and opened it on my bed. It was a care package: cough drops, NyQuil, chicken noodle soup, Vitamin C gummies (I hate pills), garlic, the whole deal. Right at the bottom was a small white paper bag, and inside of it our chocolate chip pastry.
"I'm in love with him," I thought, snot running down my chin. It seemed such a big, important gesture: Would I ever take a 20-minute subway, put together an expensive care package, only to leave it at their door and take the train home? Would my first thought, if someone else cancelled on me, be, "I have to help them get better" or "How will I watch American Horror Story now?!"
The next week, feeling refreshed and nearly back to perfect health, I bought him a single pink rose as a thank you, but an
hour before he arrived I second- guessed myself. A was, perhaps, my only real friend at the time – was I really going
to put that in jeopardy? Furthermore, why do I find myself falling
in love with any man who shows me a single act of kindness?
I filled an empty bottle of merlot with water and put the rose in it, placing it on my bedside table. "Pretty rose," he commented as soon as he walked in. "Just because?"
"Just because," I nodded. I wonder if things would have been different if I gave it to him.