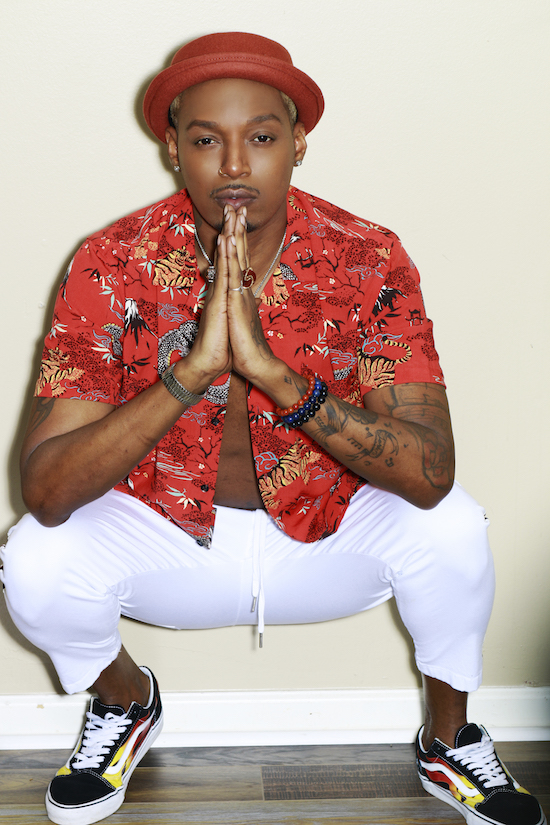 From 'Sunday Best' to 'Idol' to 'Your Husband Is Cheating on Us'

You might recognize "Out" reality star Jermaine Sellers from his recent visibility on Bravo's "Your Husband Is Cheating on Us." If not, perhaps you have seen him on BET's "Sunday Best," or on "American Idol" season nine. However, if not, the singer/actor/reality show mogul is here to stay, and be assured you will hear of him soon.
Having had to keep the fact that he was gay very low-key because of the TV shows that he appeared on, Seller is now ready to be who he is and share his story with the world. His soft, velvet voice is a force to reckon with, as well as his fun, outgoing personality. I spoke with him intimately and in depth and have already adopted him as my newest sister. He is inspiring and nearly prophetic and hopes his story can inspire others.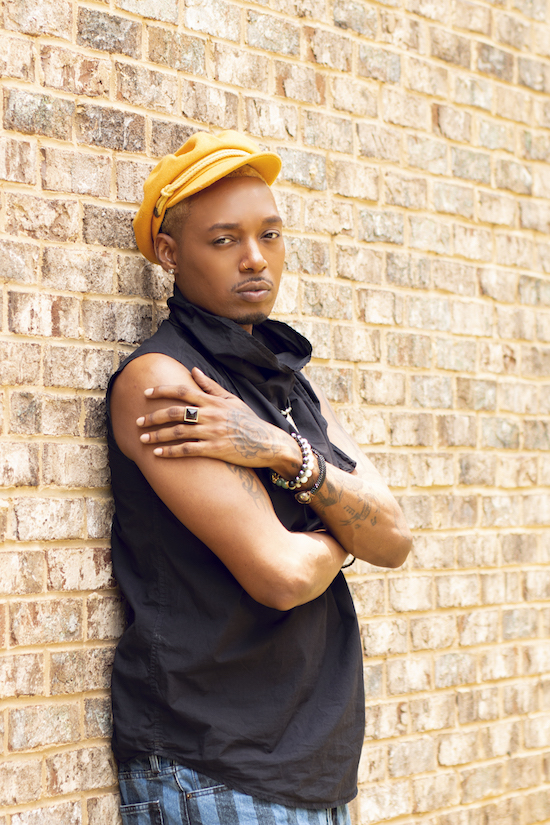 You have a great voice.
Thank you so much.
And a great story.
Lord, the story, Eileen. Where are we digging in at?
I don't even know where to start with you. Let's start with "Idol."
"Idol" was a great experience. I have no negative things to say about "Idol." I was the first to hit both platforms as far as "Sunday Best" and "Idol." It was one reality show after the next.
How did that happen?
Oh, God. I didn't win for "Sunday's Best." I wasn't the typical, average gospel singer. I went against the grain. My whole thing at the time was that the Bible doesn't come the way we want it to; it says come as you are. I was working with the fact that some people don't have the money to buy suits and ties and the fancy dresses with the big hats. Some just maybe have a t-shirt and some jeans. So it was basically me trying to bring people to Christ the way they are. With that being said, it was kind of like, that's the reason why I felt I didn't win, because to the average church person I feel like gospel singers always end up being a Mahalia Jackson. It's always a plus-size black woman.
That's kind of true.
It's the truth. So I didn't fit the realm of what they were looking for. So I went ahead and said, well, I didn't win that, so I'll try out for "American Idol." I had tried out for "American Idol" the same season that Fantasia won, but I didn't get picked. So then I tried out a second time the same year that I got on "Sunday's Best." I went to audition for "American Idol" first, and the week after was the "Sunday Best" audition. I did really want to get picked for "American Idol," but I didn't the first time, so the doubt was there. My cousin told me about "Sunday's Best," but I didn't really want to do gospel, because I didn't want the church judging me. That fear was already there, but I went ahead and did it, because I needed to pay my bills. When I got there I was the last in line, and I came out top three on the show. Then I got to "American Idol," and I was first in line, because I slept outside that night. I didn't practice anything that day, because I knew I had to sing from my heart. At the time there was a lot going on for me, because I was dealing with a bad relationship break up, dealing with not knowing where my next meal would come from, the whole nine yards. So I went ahead, and the song that came to my heart was, "What If God Was One of Us." That was the song that I sang for the preliminary round. Once I got past that, they told me that was one of Simon's favorite songs.
It's got to be really stressful doing all that.
It is. But to me, I feel like it's also a chance to share your gift. A big percentage of people in the entertainment business just want to do it to be famous. For me, it's about sharing my voice, sharing my gift with people, letting them know if I could do it coming from a little small town of Joliet, Illinois—which wasn't much more than a cornfield—then anyone can. You'd be shocked, because Lionel Richie is from the same town. When you leave from a town that's like crabs in a barrel—are you familiar with that term?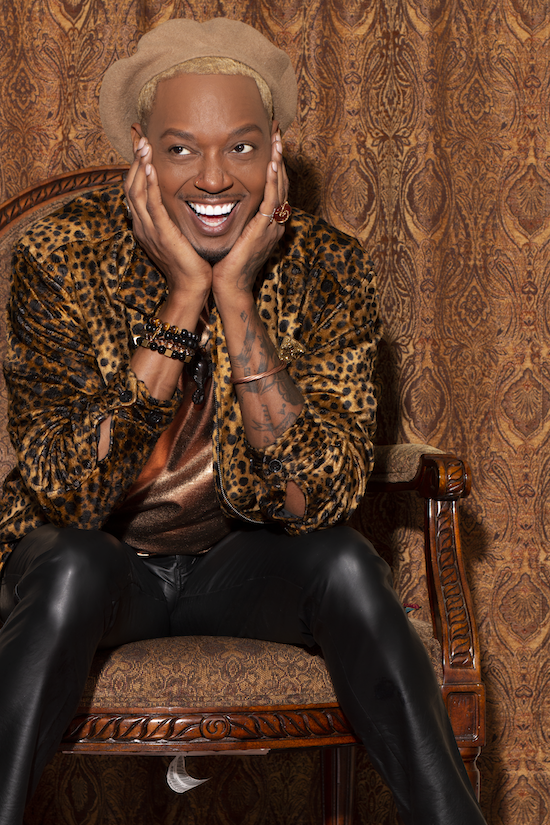 Nope.
It's like, the higher you see people going, the more that they will try to pull you down. That's how Joliet was. For me, each and every show that I went on I represented Joliet, because half of my high school class is deceased, and for the girls, if they're not deceased, they have about seven kids. For the other guys that aren't deceased, they have criminal records. I didn't want to be a part of that. I dealt with being called faggot, being called sissy, my whole entire life. It started with family members, then it trickled on down. This is just me. I always wanted to be like my mother. My mother is my life. She walks in excellence. If my father cheated on her, she was going to stick with it, so her children had both a father and a mother in her house. I came from the projects, and my grandfather died from cirrhosis of the liver. He was the town drunk. But my mother broke the curse. So seeing my mother, I could deal with people talking about me. I could engulf myself in my music. Then just proving a point to everyone who talked about me while I was younger—everything that was said about me when I was younger just pushed me harder to want to be more successful. The more you speak negatively about me, the more you are going to see me do something positive.
I love that attitude. What's it like growing up gay in a small town?
I had to have it! For me, I had to basically find a way to make myself somebody. I didn't have a lot of friends, and my mom immediately put me into "The Soul Children of Chicago," a famous children's choir. I started traveling with them. I made friends amongst them. I didn't have them in my hometown. Then, getting kicked out of school because you were gay, because you were openly gay—that's what happened to me in high school.
Hey, I don't think they are allowed to do that.
They aren't, but had we known back then what we know now, it would have been different. My mother probably would have sued them. I didn't do a lot of the same things my peers did. I go home to get a reality check and to see that the majority of people that were there are still there, and they look twice my age. I'm like, OK. I am thinking of sugar plum fairies, musical unicorns, and I'm not going to let anything stress me out. I have $5 in my pocket, but good God, that's enough to go to McDonald's and to get myself a cheeseburger and fries and buy me a dollar bottle of water. That's just how I feel. I can't stress about things that I can't make different. It's a part of life, and I think that the biggest issue that we have as human beings is we try to be the authors of our own futures. We can't map out what it is that is happening to us. We have to look at it as God is the author. You might wake up one day and not have a job, and then two weeks later someone calls you with an opportunity. If you sit there and stress out about it, you're going to make yourself sick. And the doubt will literally make you want to kill yourself.
You are a lot of fun though.
Honey, you haven't seen anything. We have to go out for drinks!
We do! I love that gay gene!
We created everything. If it wasn't for us we wouldn't be sitting next to each other in school. The man that put together Martin Luther King's speech was a gay man.
I didn't know that.
Honey, I do my research. For me, I felt for so long that there were so many things wrong with me, like my dad not loving me. I never heard my father say "I love you." I never had a hug from him. So I went out and looked for it from older men, thinking that they were going to love me. It didn't do nothing but break me even more. When you get into that broken state, it's kind of like now for me with relationships. He better be on a white horse and have a crown on his head and all of the above. I don't know what it's like to be in a real relationship, because all I looked for was just a man to love me. At that point in time, that's all I knew about homosexuality.
Hey, wait, I have someone for you. My best sister Aaron Paul. I know you will hit it off.
You're about to adopt me; I'm a new member of your family! I'm one of your new daughters. I'm loving you already. I'm a bundle of fun. As long as I can make someone laugh, I'm doing the right thing, because laughter makes you stay young. Me making someone smile is like giving life back to them.
I knew I would love you!