Interview with Alexis Michelle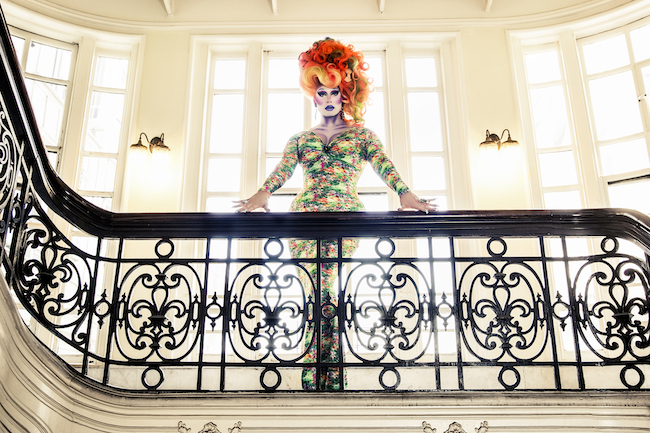 Photo by Matt Murphy
New York City just can't seem to get enough of drag sensation, actor, cabaret entertainer and host of Therapy's new show "Head Game": Alexis Michelle.
Going on her 14th year in drag, Alexis graduated from The University of Michigan's musical theatre program and has been entertaining in one form or another since. She is funny, philosophical and extremely well spoken.
Beyond her new show, which will debut on Thursday, January 26 at 11 p.m., Alexis also will be debuting at 54 Below on January 31.
Congrats on your new show at Therapy Bar. What can we expect?
It's going to be a really fun thing. We're launching the 26th of January. I guess in a nutshell, it's a sexy, new, Hell's Kitchen game show, with everything from dildo races to suck n blow, cash prizes.
I wanna be in a dildo race.
Right! There will be lots of prizes, all hosted by yours truly.
What's the name of it?
Head Game.
Who came up with the idea?
It actually was something that they've been dreaming up over at Therapy. They approached me about hosting it, and I don't know if they knew it or not, but they came to the right place for a perverted game show. That's very much on brand for me.
What made you first decide to do drag?
I come from a theatrical background, and the baby stages of it were watching all the musicals, and just wanting to be those women, like Judy Garland, Julie Andrews, Audrey Hepburn. I just idolize them.
Are you a Broadway queen?
I'm such a show queen! I'm an old show queen.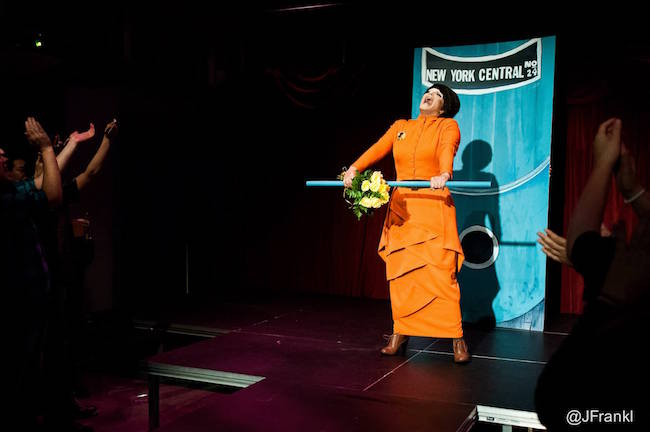 What's the one moment that you had that changed the trajectory of your life?
There were two really. I always say that Halloween is the gateway drug to drag. That's where everybody starts. That's the night of the year that men feel that they have permission to express themselves that way. I think that probably nine out of 10 queens started on Halloween. So that's how it started many years ago. This year it will be 14 years since my first paid gigs, which were at Stonewall and The Monster. The thing that I think really kicked things in the high gear was more recently. It was about three years ago. I went through some big life changes, and all of a sudden I had some spare time on my hands and dove headfirst into doing full-time drag.
I never met a queen that I didn't like.
Oh, I have.
What kind of impression do you think you have left thus far on the world?
My goal was always to entertain. That's the #1 thing. I want people to have fun. I want not just to distract them from their real lives, but even embrace it, take the bad with the good, and make the most of it. I remember one of my favorite quotes was when Hedda Lettuce said, "If life hands you lemons, make lemonade, and if you add a little vodka to it, you're all set." Sometimes it's about just putting a different outlook. I find myself having to do that a lot. I had my first show after the election, the very next night. I wasn't in the mood to do a show myself, but I said, "I gotta do this. The people need it." It saved me that night, and it saved everybody there. It was just what the doctor ordered. Like I said, I'm an entertainer. That's the mark I want to leave on people. I also want to leave them, especially with the climate today, leave them maybe a little more thoughtful. I call myself a clown, entertainer and activist, and it doesn't hurt that I look stunningly gorgeous.
Yes you do! You are also a very cute boy. Who are your favorite queens out there?
On the local level, Dusty Ray Bottoms is my best friend and someone I am so inspired by as a queen.  Brita Filter is really fantastic. Pixie Aventura is just one of the best, the way she dances. The way Brenda Dharling dances, so inspirational. Nobody dances like Brenda and Pixie. Nobody dresses like Monet X Change. She's just got the greatest style. Brita and Dusty are my sisters. There's nothing like New York drag. There's just so much to offer and so much variety. On the more national level, I've always looked up to queens like Chad Michaels, Alaska and of course Bianca Del Rio.
Bianca is amazing.
And kind. For her level of success and the amount of annoyance she must get, she could be a real C U Next Tuesday, but she's really nice.
So what dreams have you been sitting on?
I've had some great luck and some great success here in New York locally, but I aspire to reach a wider audience. Getting to travel more is a dream of mine, both in the U.S. and internationally. I'd like to see that happen. What's interesting, my aspirations really started working in the theatre, and it's really been drag that brought me back around. This past year I've had three different plays that incorporated my drag. So it really brought me back to acting. With all of my dreams, and there are many, if drag somehow brought me back to the theatre, on to a Broadway stage, that would be the big moment, that everything came full circle, everything happened for a reason. This is how I was suppose to do it.
I'm actually doing my 54 Below debut on January 31, my solo cabaret debut. The name of the show is "It Takes a Woman." The theme is really all about that. It took dressing like a lady to take me to these new places. I'm very excited. I've seen a lot of shows there. I've done hair and makeup for a lot of ladies there, and to get gussied up and do my show there is something I've been dreaming about for a long time.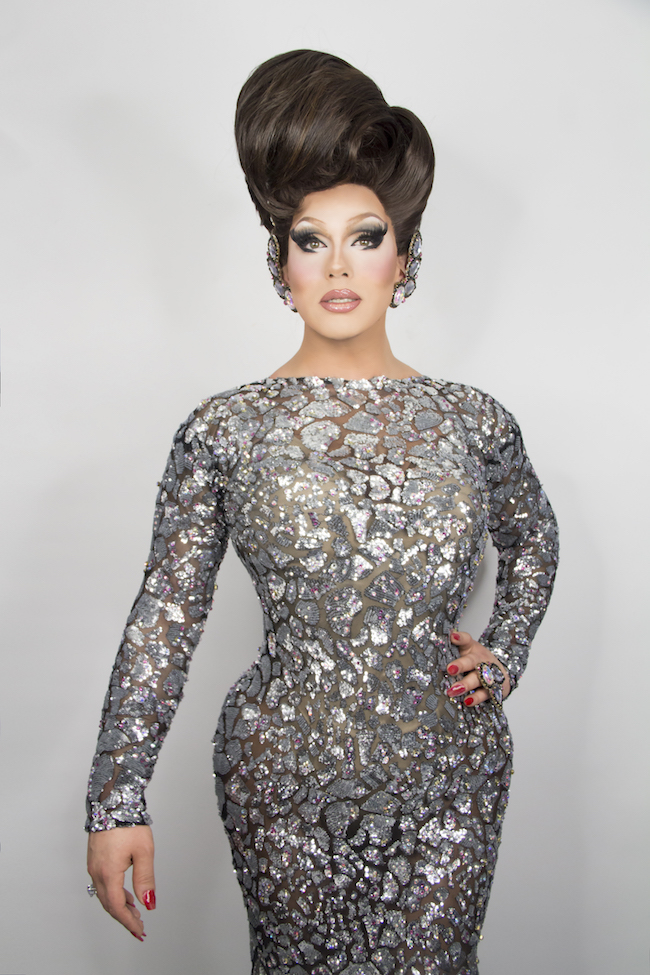 Photo by Davide Laffe
How do you handle your mistakes while performing?
Coming from the theatre, it's a strength of mine, because that is live theatre. Live theatre is not perfect. It's ever changing, there are constantly mistakes, some so small that the audience doesn't notice, and sometimes they are bigger. They are more noticeable. Especially when they are more noticeable, that's the time when you embrace them and not try to apologize for them or even try to hide them. Let them all hang out. Another thing I've heard of in the past is that a lot of people are afraid of drag queens. I like to be as approachable as I can. I think that when somebody sees that you make a mistake, it only makes you more human and more approachable.
Anything else that you'd like to say?
I'm just so thrilled joining the Therapy family, a legendary spot in gay nightlife here in New York City!