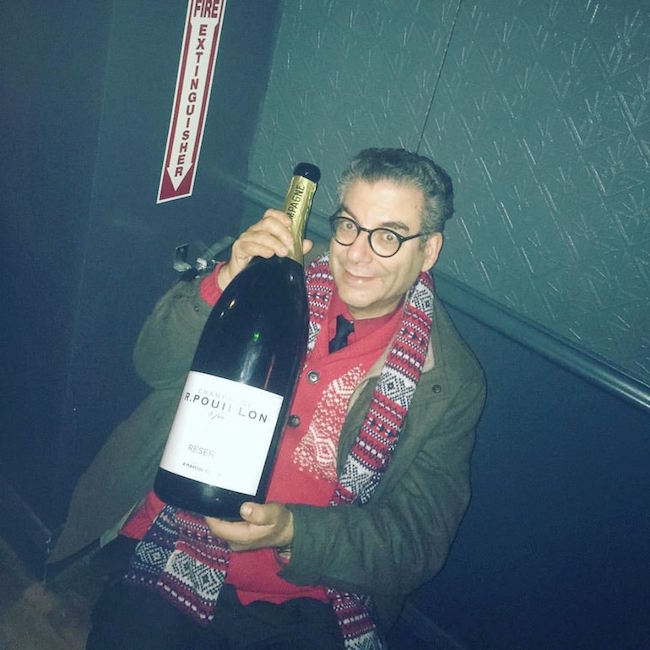 Photo by Erzen Krivca
I was stalking Facebook the other night and couldn't help but notice a pair of familiar eyeglasses and a flamboyant bow tie, accompanying a rather funny post: "Oh, My Gay God!!! I'm now officially a recording artist, on Trax Records!!!"
I felt immediately compelled to listen to world-famous journalist Michael Musto's brand-new single, "I Got Ur Back." To my sonically particular, surprised palette, I was completely obsessed and in love with it, and couldn't resist playing it again and again.
The highly charged, upbeat, reggae-flavored, pop-infused, soulful, worldly tune is quite identifiable to New York's nightlife Messiah, and to those who know him, as it makes reference to deadlines, bicycles and late hours. It's also possibly the first song ever to sing praise to Ubers.
Written and produced by Tyler Stone on Trax Records, it's a song that is hard to dismiss from one's consciousness. Once again, I defied temptation and emailed Musto for an interview at 2 a.m., because the song said I could.
Michael, so beyond journalism you are now a movie star as well as a pop recording artist?
I had a band in the '80s called The Must, and we did Motown cover songs, and I used to sing in revues called Downtown Dukes and Divas at the Limelight that Gabriel Rotello put on. It is in my background. Even before that, at Columbia College, I joined the glee club, because there was a free trip to Mexico. Somehow I got in.
I just love the song!
Isn't it cute?
Yes!
It's got a little bit of a reggae feeling to it.
Now you're a rock star, a movie star, a writer…
Everything. I mean, it's all intertwined, because it was on the "Vampire" movie that Screamin Rachael and I were singing "I Love the Nightlife." It didn't make it into the move, but Rachael said, "Oh, you have a good voice. I should do you as a recording artist on Trax Records." So she hooked me up with Tyler Stone, and he wrote and produced the song based on an idea that I had.
I heard that you were the surprise star of that movie.
I was a main star. It was pretty much my movie.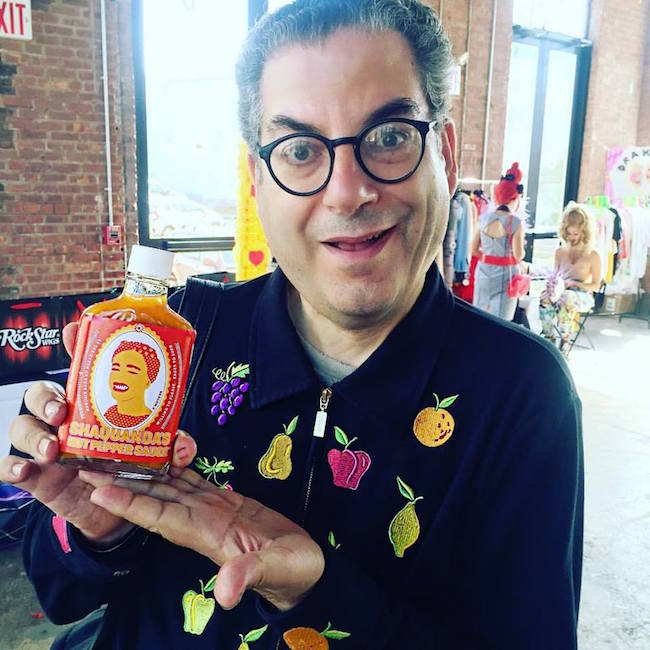 Photo by Brian Christopher Cummings
That's what I heard from Eric, the writer/director.
I walked away with it. But, everybody was good. They were all very good. I channeled Frank N. Furter from "Rocky Horror." That was my inspiration.
So what do you hope will happen with your new smash single?
I want that Grammy Award. Or at least an MTV VMA. I'll take anything.
How did the actual song come to be created?
Tyler Stone asked what I would like to do a song about. One of my ideas was something like, "I've got your back," about being there for somebody, sort of like Rihanna's "Umbrella" song. He then took that idea, and he totally wrote it. He put a reggae flavor to it. It's kind of reggae, pop, R&B, it's everything mixed together. There was one line where he wrote something about a taxi, a bike and a train, and I added Uber into the ad-lib. This has to be the first pop song that has Uber in it. It's really time that somebody took note of it. It's a bizarre phenomenon. It's very me, because in the song they talk about deadlines, my bicycle…it's very personalized. At first I was thinking about doing something where I dished on New York nightlife, but that would be too cute and inside. It would only appeal to some people, whereas I wanted to make something broader in scope where it was just like a pop song that everybody could like.
This recording had to take some time and effort going into the studio and all.
I did a single in the '80s with Cindy Bullens, who transitioned, and he's now Cidny, a Grammy-nominated artist. Back then she was Cindy, and she wrote a song called "Jimmy Give Me Your Love." In the '80s she produced me and my band singing that song, and we did a video for it. It wasn't released as a single; it was released as a video. This is really my first single. We were asked to sing "I Love the Nightlife" by the director of the "Vampire" movie. So we were together on the beach at Coney Island singing, and it sounded really good. When Rachael said I should do a recording on Trax Records, I told her to hook me up with Tyler Stone. I actually got Tyler Stone his contract for his band on Trax Records when Rachael was looking for artists. I ended up in Tyler's Brooklyn apartment, which became the recording studio. I felt very comfortable with him, and I learned the song right there on the spot. I just sang bits of it, background and everything. Tyler loved it. He kept playing it.
I put it on my playlist.
It's so infectious.
It is, but I wish it were longer. You kind of have to keep playing it over and over.
It should be longer. I'm sure we'll have an extended play. Richard Johnson from "The Post" loved it. A lot of people don't know that I can sing. They just think of me as a writer. They don't know that I'm a Renaissance Man.
I know! Recently you were in a show.
Oh yeah. If I thought I was terrible I would not put myself out there. It would be too embarrassing.
But you actually can sing! Mike Todd, our publisher, said you sound so young in the song.
So maybe I should get someone else to do the video.
No, no, it's gotta be you. There's nobody like you, and people will expect it to be you and be disappointed if it isn't. What do you plan to do next with this?
This is a launching pad. Next I'm going to do a whole album. I'm definitely a Trax recording artist now. I'm definitely going to have radio play.
Do you have any shows planned?
I wish they still had the Limelight or the Roxy. I'll just play Nassau. Not the Colosseum, just the borough. I also like the fact that's it's illiterate. It should be "I've got your back," but I like the fact that a writer is promoting something totally ungrammatical.
I also like the spelling of "Ur."
When you think of some of the great songs like "I Got You Babe" by Sonny and Cher, it should be, "I've Got You Babe." It's totally illiterate.
Well, when I write, I really write that way…so.
Me too. I write in sentence fragments.
Do you recall the exact moment in your life that changed the whole trajectory of it?
When I was admitted to Columbia University, because I lived in Brooklyn at the time with my parents. People always say if you lived in Brooklyn, you grew up in the city. Back then Brooklyn wasn't really part of the city. It felt like a long train ride over the bridge to Manhattan. I felt at that point my transition into adulthood and creating a life for myself.
What's the one thing you would die for and be alright with it?
I guess this guy that I've been crushing on for eight years. The more supercilious he is, the more you love him.
Would you rather be liked or respected?
I'd rather be respected. I actually like the fact that when I enter a room half the people run away. I think that means they actually respect me.
I was scared of you for 10 years.
Good, I like that. I wish people would be more scared. I'm like the Wizard of Oz. I'm really a creampuff underneath.
I know that now, but most people don't.
They don't; they think I'm that such a horrible bitch.
Are there any songs or musical passages that never fail to make you emotional?
My band was based on Diana Ross and the Supremes. I worship Diana Ross. To me she is the ultimate icon. I was so happy that her daughter won the Golden Globe Award. The other singers from the '60s that give me a thrill are Aretha Franklin, Dionne Warwick and Lulu.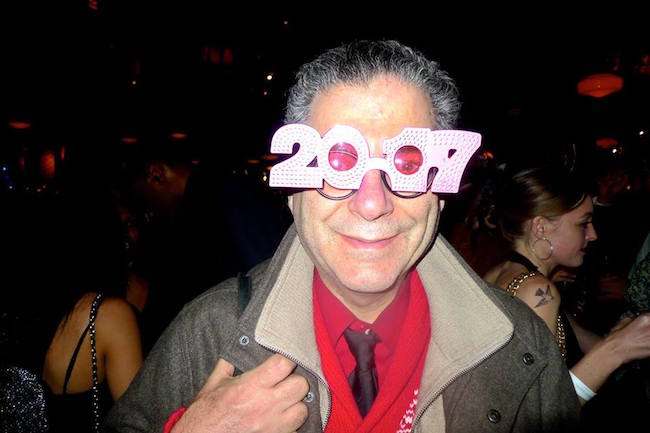 Photo by Kenny Kenny
"To Sir With Love."
Exactly. I just worship her. And they resonate today much more than Mariah Carey.
You resonate more than Mariah Carey.
I'm better than her already.
What do you do when you make a mistake on stage?
You make fun of it. That's the best way to get through anything. You make fun of yourself, and people love you for that. Then you keep going.