HAVE A BEARNAKEDHALLOWEEN!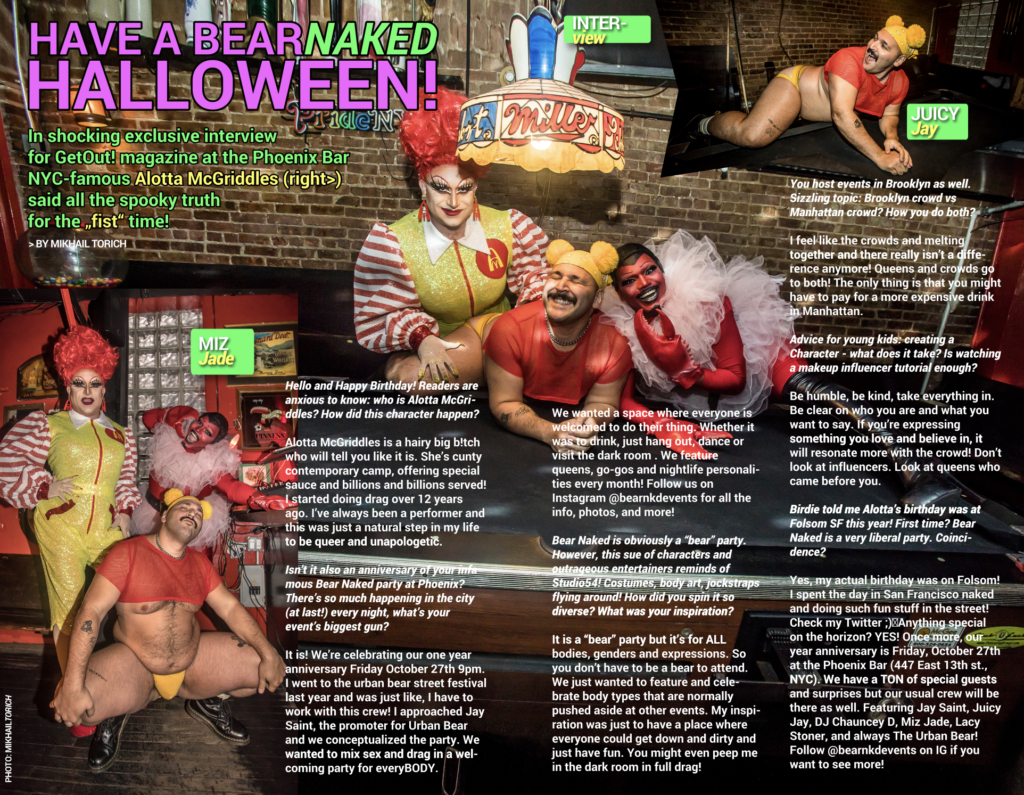 In shocking exclusive interview 
for GetOut! magazine at the Phoenix Bar 
NYC-famous Alotta McGriddles (right>) 
said all the spooky truth 
for the "fist" time!
Hello and Happy Birthday! Readers are anxious to know: who is Alotta McGriddles? How did this character happen?
Alotta McGriddles is a hairy big b!tch who will tell you like it is. She's cunty contemporary camp, offering special sauce and billions and billions served! I started doing drag over 12 years ago. I've always been a performer and this was just a natural step in my life to be queer and unapologetic.
Isn't it also an anniversary of your infamous Bear Naked party at Phoenix? There's so much happening in the city (at last!) every night, what's your event's biggest gun?
It is! We're celebrating our one year anniversary Friday October 27th 9pm. I went to the urban bear street festival last year and was just like, I have to work with this crew! I approached Jay Saint, the promoter for Urban Bear and we conceptualized the party. We wanted to mix sex and drag in a welcoming party for everyBODY.
We wanted a space where everyone is welcomed to do their thing. Whether it was to drink, just hang out, dance or visit the dark room . We feature queens, go-gos and nightlife personalities every month! Follow us on
Instagram @bearnkdevents for all the info, photos, and more!
Bear Naked is obviously a "bear" party. However, this sue of characters and
outrageous entertainers reminds of Studio54! Costumes, body art, jockstraps flying around! How did you spin it so
diverse? What was your inspiration?
It is a "bear" party but it's for ALL bodies, genders and expressions. So you don't have to be a bear to attend. We just wanted to feature and celebrate body types that are normally pushed aside at other events. My inspiration was just to have a place where everyone could get down and dirty and just have fun. You might even peep me in the dark room in full drag!
You host events in Brooklyn as well.
Sizzling topic: Brooklyn crowd vs
Manhattan crowd? How you do both?
I feel like the crowds and melting
together and there really isn't a difference anymore! Queens and crowds go to both! The only thing is that you might have to pay for a more expensive drink in Manhattan.
Advice for young kids: creating a
Character – what does it take? Is watching a makeup influencer tutorial enough?
Be humble, be kind, take everything in. Be clear on who you are and what you want to say. If you're expressing
something you love and believe in, it will resonate more with the crowd! Don't look at influencers. Look at queens who came before you.
Birdie told me Alotta's birthday was at Folsom SF this year! First time? Bear Naked is a very liberal party. Coincidence?
Yes, my actual birthday was on Folsom! I spent the day in San Francisco naked and doing such fun stuff in the street! Check my Twitter ;)?Anything special on the horizon? YES! Once more, our year anniversary is Friday, October 27th at the Phoenix Bar (447 East 13th st., NYC). We have a TON of special guests and surprises but our usual crew will be there as well. Featuring Jay Saint, Juicy Jay, DJ Chauncey D, Miz Jade, Lacy Stoner, and always The Urban Bear! Follow @bearnkdevents on IG if you want to see more!
Photo, Cover & Interview: Mikhail Torich / VanitySolutions.NYC
Mikhail Torich, MFA
Music Video Production, Studio Photography, Video Art
Expensive. But affordable.
Queens, NY
http://VanitySolutions.NYC
+13475008032 (US)
+50369724181 (SAL)