Emperor XXVl – Harrington Henry Bastos – Wood
On April 7, The Imperial Court of New York (ICNY) will be hosting its annual Night of a Thousand Gowns. For the past year Henry Bastos-Wood has served as emperor XXVl Harrington for ICNY, the first Latino elected in 31 years.
I spoke with the emperor about his incredible reign and what it meant to him. We also spoke about the upcoming event and what everyone could expect.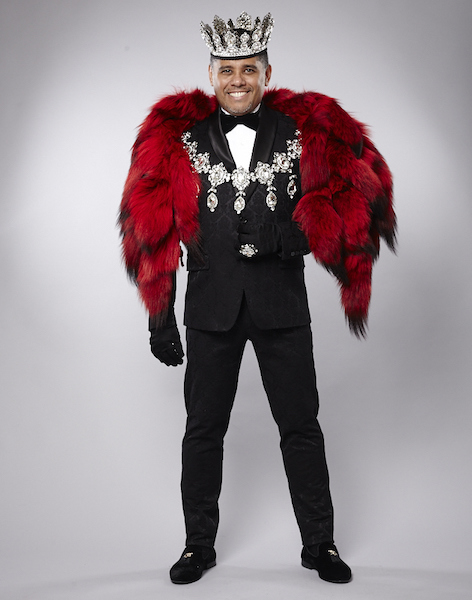 What was the highlight of your fabulous year of your reign as Emperor of ICNY?
?The first was being elected as the first Latino emperor in our 31-year history here in New York. Then it was being able to travel throughout the United States and Canada with my biggest support and my husband, Billy Wood-Bastos, representing this amazing organization, the ICNY.
What are you most proud of doing this year?
I believe it is the amount of support and successful fundraising our members did this year. Everyone worked together, either through outreach programs or holding events throughout the city and Long Island. Because of this, we are able to help out other non-profit organizations.This was my goal when running for emperor of the ICNY, to help and support as many non-profit organizations as possible.
What did it mean for you to be emperor, and how did it change your life forever??
Being elected emperor was so special to me. It meant that the membership of the ICNY had confidence that I would do an amazing job and represent them. As the emperor of the ICNY, you are asked to attend many events both from the ICNY and other organizations throughout New York City and Long Island. You meet so many people and hear stories of struggles and success and how non-profit organizations have helped them out. Being able to help raise monies and support some of these non-profit organizations means more people can tell their stories and get the help they need. I am so proud that I was able to do this. This also gave me a voice in my birth country of Costa Rica. They are going through many struggles trying to pass LGBTQ rights, and they have called or emailed me for my advice or comments for their struggles and how to approach other political organizations on these matters. That is what the International Court System is all about, helping when and where we can get laws passed for the betterment of our LGBTQ communities.
What are you most looking forward to at this year's Night of a Thousand Gowns?
As always at NOATG, it is the support of the community and our membership coming together to celebrate our successful year.
Also, seeing so many of my friends from the Imperial Court System attending from all over the United States, Canada and Mexico, and some of them being part of my stepdown, is exciting. As always, we have some great entertainment, special guest and surprise performances. Also, this year's theme will be Carnival, so we have some amazing costumes this year. As always, it will be full of glitz and glam and celebrity guests in attendance.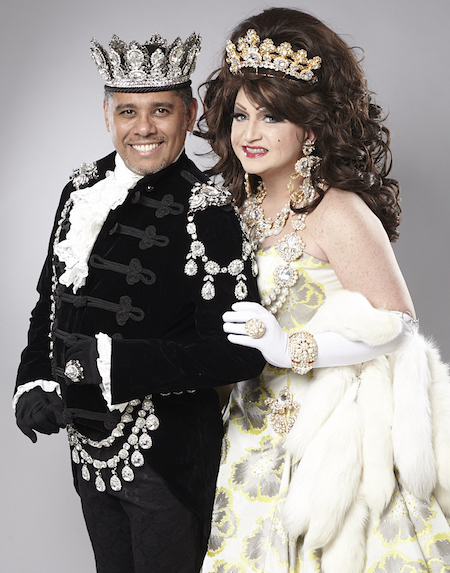 Tell us about some of the work you did this year.
This year we held over 50 events, either by fundraising or outreach programs.
This helped out our LGBTQ communities here locally. I was also invited to many other non-profit organizations where I was asked to attend and represent the ICNY. This was an amazing experience to see how other organizations operate and fundraise. Being part of the NYC Heritage Pride Parade and riding in the most beautiful float that was designed and decorated by our court members. Then the traveling throughout the United States and Canada; I attended nine coronations during my reign, the furthest one being Hawaii. So I stayed pretty busy throughout the year with either fundraising here in NYC and Long Island or traveling representing the ICNY.
Where and when will Night of a Thousand Gowns take place, and how would one be able to attend?
This year NOATG will be held at the Marriott Marquis Times Square on April 7, 2018, starting with cocktail hour at 6 p.m. This year's beneficiary is God's Love We Deliver. So if you would love to see some amazing entertainment, [the event will feature] international recording artists Dawn Tallman and Beth Sacks and performances by Ginger Snap Deluca and Destiny B Childs. Also, we have a surprise command performance you won't want to miss, so make sure you get your tickets. It is not too late! They can purchased at icny.org.