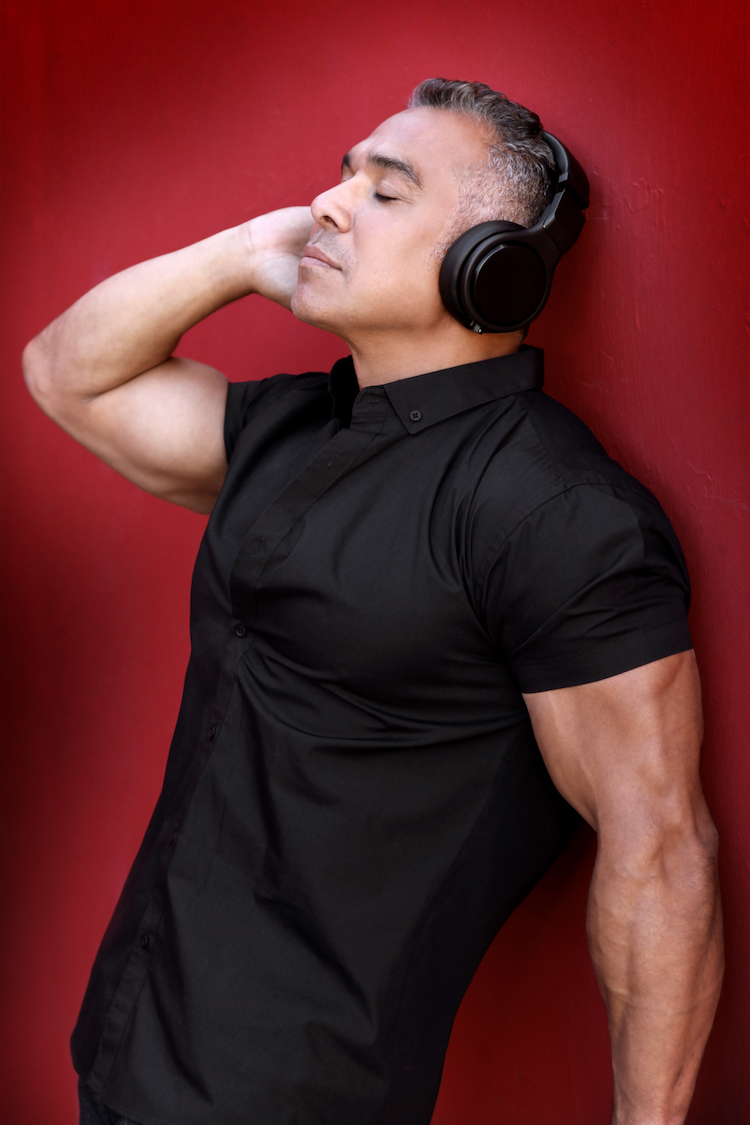 The remarkably dynamic and titanic vibrations of the vibrant and effervescent DJ Tony Moran resonate globally. Indeed, they have made him one of the most desired and sought-after remixers, producers, DJs and talents on the planet.
With the force of a raging tsunami, DJ Tony Moran has flawlessly and elaborately embellished some of the world's largest circuit parties, including Ascension Party, White Party, Mardi Gras/Sydney, White Party/Palm Springs, Carnival/Brazil, Miami and across Asia. He's performed in nearly every major city from São Paulo to Tel Aviv. With the confidence of a crashing avalanche, as a remix/producer he has worked with some of the most incandescent superstars, including Cher, Madonna, George Michael, Mariah Carey, Whitney Houston, Rihanna, Michael Jackson, Amy Grant, Janet Jackson, Selena Gomez and others. The impressive list continues endlessly. As a songwriter and singer, he celebrates his own high-spirited sense of freedom and creativity.
This Grammy-nominated phenomenon escalated to stardom after he and his friend Albert Cabrera formed The Latin Rascals. They enjoyed frequent airplay on New York's dance radio station, WKTU. They were contacted by Fever Records and commissioned to write a song for one of their new artists, The Cover Girls, resulting in Moran's first Top 40 gold record, "Show Me." Moran is also responsible for ushering in the era of freestyle music. In December 2016, Billboard ranked him as the 92nd greatest dance club artist of all time. He has had more than 50 #1 hits on the Billboard Dance Club Songs music charts in the U.S., four of them recent.
I found it a complete honor and a total blast to speak with Moran regarding his music, his career, his visions, his upcoming projects and his life. It was also fabulous to talk to him about his new remix of "Common Ground," an anthemic salvation written by Mike Greenly, Gil Polk and Sam Stevens, featuring vocals by U.K. Solo Artist of the Year, Sam Stevens. The remix was just released via TRAX Records and will be followed shortly by a video directed by celebrity photographer Billy Hess. The video will feature Moran while including Sam Stevens and lots of surprises.
INTERVIEW
How do you work on music? You're home at the moment, so what are you doing musically, aside from talking to me?
I'm behind the synthesizer, multiple computers and related gadgets, reviewing many of the songs I am working on as a writer and producer. I work on them with different instrumentalists and put them together all in my studio. My collaborators then rely on me to help to arrange our songs. I always hire top professionals in any craft, whether a violinist, piano player, technician, singer, whatever. Even in the case of Sam Stevens' song, I had to kind of re-do the melody from scratch in order to make it conform to something I thought that would work within the dance genre. So I just went in and sang it. I'm not a jack of all trades. I'm just a person who believes in getting it done. As long as it shows that I put effort into it—that standard applies to everyone that I work with—then it works, and people get the point. That's just has been my method, in regards to getting stuff done.
You are world renowned. Everyone knows you—your style; you're unique and you're identifiable.
I think that everyone has signatures. It's so beyond the sound. It could be tribal, it could be house, it could be this or that. I can name you several house/circuit music remixers/DJs that are all amazing at what they do. Even if many of those artists played many of the same songs in one set, how they exchanged energy with their own audience would special. Their way. There is this "magic something," a distinctive style that identifies one DJ artist from the other. I think in the music club world I adore, it's not about being better or worse than anybody. But when I hear in the distance, "I know that's Tony Moran," I feel as blessed as anyone can be. Having one's own unique style is a blessing that we work at.
Though, there have also been times in my life where, just because of the extreme overload that comes with being popular and busy, people could sometimes tell if I am physically worn out. They might say or think, "That's Tony, and it's good… but it's not full-on Tony."
It's difficult to get that critique from people, but I've experienced it at times, but that's how you learn from it. I recognized that based on having to give a project with half the time I've been able to give to others. Along the way I had to recognize that it's OK to not do it all. I also respect that reaction in my work overall, because I am focused, which is why I'm now taking on less, even though the money can be tempting. I learned from it. I need to know that I'm giving the very best of me… the very best effort I can. People can feel my personality and my enthusiasm about music in everything I do, so I'm now focused on giving my utmost every time!
You certainly are enthusiastic! The past few years people come to see the DJ as opposed to the actual artist or singer or entertainer. It's who is DJing that matters these days. How and why do you think that happened?
I think that it's all the things I've mentioned to you before. Something comes from the way a DJ/artist chooses to express not only their music but other people's music in a way that becomes identifiable. It doesn't become identifiable with one song. It becomes obvious through a set. That is when the relationships begin.
We go out there because almost every time we go, the house is packed. It's good energy, and we generally have fun, but that doesn't really matter. We go because it's packed, and you want to have fun, see friends and set yourself free. The DJ has not and is always not the reason. I get that. But then in my case—after the first time, second time, third time, fourth time, fifth time, sixth, seventh, something happens: "Oh my gosh… I love DJ Paulo. I love his style. He's so sexy." Something happens, and boom! You can hear 10 Madonna songs in a row, and then she sings "Like a Virgin," and all of a sudden, you love Madonna. There's just something special that brings it out.
In this day and age of music, it's all too easy to sound recycled. Can Ariana Grande sing a song by Britney or Rihanna, and so on and so on and so forth? The same applies to DJs. A lot of them can play the same music, but my feeling is it's not what you play but how you play it. So when I play my music, I play with something inside me that's attached to it. I don't know what that is, that X factor, but I'm grateful that people are drawn to it.
Sometimes I do after hours parties. People aren't used to hearing me where it's really dark. Even so, they will bring the desire to feel what I do, because of the way I've made them feel in the past. That's not just something that just happens; you earn it. You earn that trust, because people know that you're doing it because you want to.
With some of the DJs such DJ ABEL, Nina Flowers or DJ GRIND, we have great DJ relationships. Great and lasting friendships. We go out and support each other on the dance floor when able. We don't really discuss topics like "What makes one of us better than another?" That's not the point. We respect each other's gifts. We share music on occasion. A lot of these people have that commercial touch, but a particular song may not always come in their own flavor.
Honored by producing artists such as Cher, Gloria Estefan, Barry Manilow, Donna Summer, Deborah Cox, Martha Wash, Kristine W, Jason Walker, The Cover Girls, Barry Manilow or Luther Vandross, those experiences have allowed the freedom to fully express myself as I am also so ready and open to the commitment of giving it all you have to make that artists and connecting song worth it. Producing, conveying, writing and making my own music may be some of what sets me apart from others, though we still all do it for the love, and we are all equal in spirit.
When people go out to the club, they may want to take a picture with you or get your autograph, because they know that you've worked on a lot of popular things. But when they go for the purpose of just listening to you and enjoying it, they still appreciate past achievements, but I think that even more, they're glad you took them to a place where they were able to release themselves from something other than the issues they brought into the club that night, issues they really didn't want to feel during the evening.
I've watched you DJ, and you are extremely effervescent and animated. You are a show within a show.
I don't know what that means, but…
It's a good thing.
You know, sometimes I move around, and sometimes I don't, because I don't want to look like a jumping bean. And sometimes I just don't give a fuck. I'm 54 years old, and it's like, maybe I feel like taking my shirt off sometimes, if I get into a tribal moment. Sometimes it's just that you're feeling the moment that way—like going to church and throwing your hands up in the air when other people aren't. You're just doing it because it's in you. I dance when I DJ, because it's in me. I'm not going to let age be a factor that limits me, or worry about who's got more abs or if I have abs at all.
The consensus of opinion is that you definitely have abs, and that you're one of the hardest DJs around.
I appreciate you saying that. For me, I take care of myself physically. You're playing with a brand. Like I said, I'm 54 years old, and I want to do this as long as I want, not as long as I can. I feel like there are messages left for me to communicate. So with that I feel good about going out there.
I loved The Latin Rascals!
Again, you know, that's an example of art happening without direction. All I knew at the time was that expressing my feelings, my thoughts and sounds… well, for some reason the sounds I heard in my head weren't "typical" of what was working in the current art formula around me at the time. I was just trying to express myself.
I don't know, I just can't explain it. I just found myself in the "luckiest guy in the world" category, in that I was constantly surrounded by people who supported my desire to be free. If it weren't for them, I wouldn't have had top records or ever have become the grandfather of freestyle music, or any of that stuff, if it weren't for the encouragement of all those people!
Personal support is something so rare to have these days, which is unfortunate. A lot of it has to do with people communicating with each other exclusively through the social media universe, which can be like putting a piece of ice into the heart of a conversation. That doesn't make it bad, but it just takes some of the warmth out of it. Not that brilliance can't result. But it's just so much better for someone to be in the room and to see their eyes light up when an idea happens and is brought to life on the dance floor. That's what happens for me, and I love it!
What inspired you to remix "Common Ground"?
I have to say that the first thing is I love Mike Greenly. I love all of his work. All the things that we have just discussed about what makes you admire creative people, Mike really epitomizes that to me. His enthusiasm towards a project is what leads me to direct my focus on what he happens to be interested in working on at the time. In the case of Sam Stevens, that led me to discovering Sam and trying to see what it is that I could do with whatever it is that you call my sound. How I can use it to most benefit what Sam is looking to do for himself.
So I went in there, and I heard the ingredients for a really great song. I found some challenges with trying to interpret it directly in a way that I could share it on a dance and rhythmic level. When that happened, Mike and Sam gave me the freedom to go and work it out in my own way—without judgment, without criticism, without external critique. There's nothing wrong with the original song, I just couldn't make it into what they wanted it to be if they wanted to hear it on the dance floor.
I didn't have Sam available in the room with me, so I called the engineer and said, "Turn the mic on, I'm going in!" I don't consider myself to be a great singer, but I was trying to get a point across. I thank Sam and Mike for letting me do my own, authentic thing.
So what is Tony Moran up to?
I'm working on a lot of projects right now with a lot of DJ collaborators out of the U.K., out of Israel, out of a bunch of different places. My goal is just to write and produce as many quality tracks as possible, many of which have been done with Mike Greenly, because he's part of my A-list team and a really great collaborator. Right now, DJing provides me an outlet in a laboratory to go and test my music in the best-case scenario with people who are already coming to hear me play my music. So this is working for me. I'm saying it like it's a little thing, but it's really me working 20 hours a day, every day, putting my music together. Not 100% of what you write is a hit song. Everything is hit or miss. That's the creative process, and it's worth using up the whole day to give everything my best!