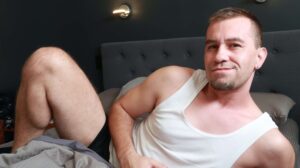 May is Masturbation Month and the team at BateWorld is celebrating with a brand new competition series.
On The Great BateWorld BateOff!, six handsome devils are competing in six weekly challenges to determine who is 2022's Master Bator. Sponsored by Cybersocket, the competition begins this Friday on BateWorld.com.
Challenges will include "morning wood", "bating with food", "self-milking", "favorite bate toys", and the "hands-free orgasm."  Episodes are free to watch for all members on BateWorld.com. Basic members will be able to vote once for each episode and premium members can vote twice.  The final winner will be revealed during the show's finale, streaming live on June 17.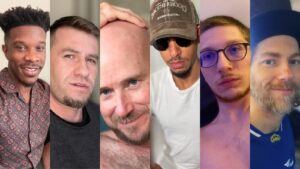 "Our BateWorld original programming normalizes an activity we all enjoy," says BateWorld founder Peter R.  "With the rise of inflation, it's the only entertainment left that is fun, safe, and free!"
"What better way to celebrate Maturbation Month than with The Great BateWorld BateOff!?," says COACH, the host of the competition.  "We've brought together a diverse group of super users from the BateWorld community for this first-of-its-kind contest and the competition is going to be stiff!"
Competing in The Great BateWorld BateOff! will be BateWorld members Atlas420, BigStiffy, BrotherBator, DragonPuppy3, MasturOfMyBate, and ProudBator.  "I discovered BateWorld in 2020," says Atlas420.   "My favorite part of BateWorld is the community, just a bunch of bator bros all together getting to talk, chat, and share pictures.  It's a lot of fun!"
Contestants BigStiffy and MasturOfMyBate agree.  "I was super happy to find a place that was completely dedicated to people like me who love to masturbate," says BigStiffy.  MasturOfMyBate adds, "There are a lot of men out there who feel ashamed about bating and do not realize there is a community that is for and by them."
BateWorld launched in 2009 with a mission to promote and encourage men's masturbation as a fun, healthy and vital part of life. Members interact with one another through instant messaging, chat rooms, video, and other features which focus on both individual and communal masturbation activities.  The site currently has over 80,000 active members.
"Whether a man is an avid masturbator, identifies as a solosexual, or lives for daily edging and endurance sessions, there is a place for all within BateWorld," says COACH.   "This Maturbation Month, we invite all men to join BateWorld and participate in voting for The Great BateWorld BateOff! Once they join, members can learn tips, toy tricks and new techniques for their own bating lives while being wildy entertained by the erotic batefuel."
The first National Masturbation Day was held on May 7, 1995, in honor of Surgeon General Joycelyn Elders, who had been fired in 1994 by President Bill Clinton for suggesting masturbation be part of the sex education curriculum for students.   The annual celebration officially moved to May 28 in 2005.
The Great BateWorld BateOff! premieres this Friday.  It is free and open to all men over 18.    Visit BateWorld.com.  Follow on Twitter @BateWorld and Instagram @bateworld_official #BateOff