DOGGY STYLE, THE FETISH LINE, REVEALS ITS TECHNICOLOR COLLECT
By John Stein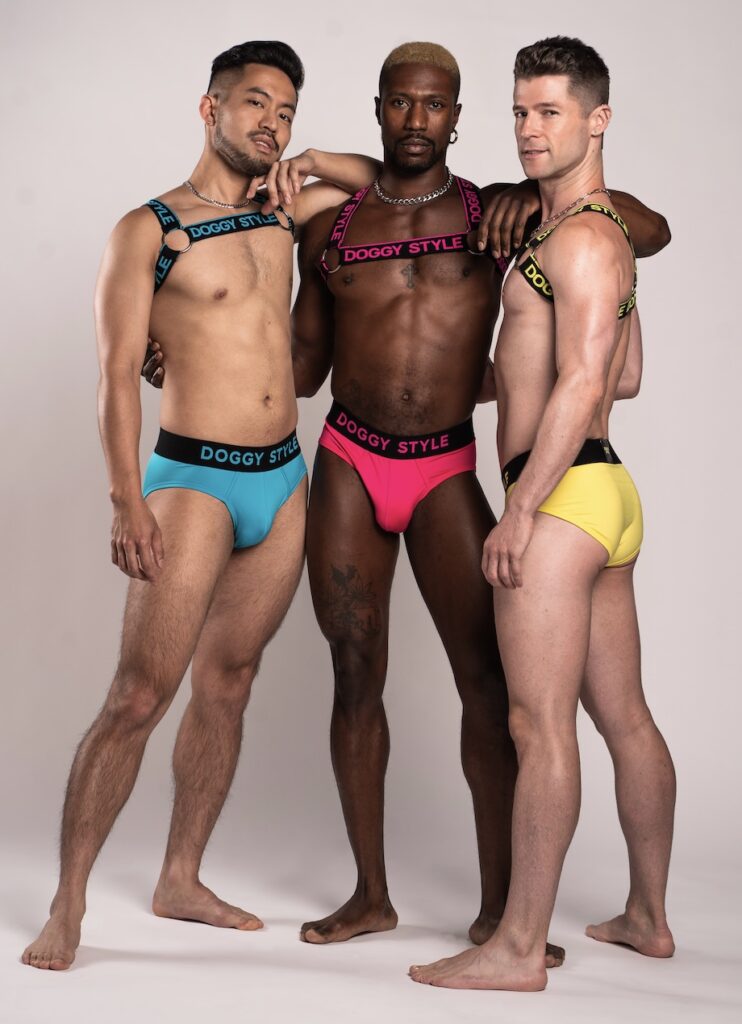 THE TECHNICOLOR COLLECTION REPRESENTS THE NEXT STAGE IN THE EVOLUTION OF DOGGY STYLE, THE LGBTQIA+ UNDERWEAR AND ACCESSORIES BRAND THAT LAUNCHED EARLIER THIS YEAR WITH MONOCHROME, THEIR LINE OF GEAR IN BLACK AND WHITE. FOUNDED BY REAL-LIFE PARTNERS LEVI WOODS AND MANU BAUTISTA, THE NYC-BASED FETISH BRAND STARTED SMALL, WITH TWO BRIEFS AND JOCKSTRAPS, FIVE HARNESSES (INCLUDING TWO VEGAN LEATHER OPTIONS), FOUR STYLES OF STAINLESS-STEEL NECKLACES AND TWO STYLES OF TEES. IT WAS AN INSTANT HIT AROUND THE WORLD, THANKS IN LARGE PART TO THE SUPPORT OF THE KINK COMMUNITY AND THE PUP-AND-HANDLER ENTHUSIASTS, OF WHICH THE FOUNDERS ARE A PART.
WOODS AND BAUTISTA ARE EXCITED TO EXPAND DOGGY STYLE THIS FALL WITH NEW GEAR IN PINK, YELLOW AND BLUE. IN ADDITION TO BRAND GROWTH, THEY HAVE BIG PHILANTHROPIC GOALS. A PORTION OF ALL DOGGY STYLE SALES ARE DONATED TO COMMUNITY CHARITIES AND ORGANIZATIONS, SUCH AS THE TREVOR PROJECT. LEVI WOODS EXPLAINS MORE.
Take us back to the beginning. Neither of you has a fashion background, correct?
Levi Woods: That's right, no formal fashion background per se, just a love for all things fashion and a willingness to jump off into an unknown adventure. We've always wanted to have a fashion line and knew it would happen at some point. We kept playing with different ideas, toying with our muses, until we landed on our Doggy Style concept.
Can we discuss the name? I mean, could there be a better name for fetish gear?
It's one of those serendipitous things, really. The phrase Doggy Style came up in casual conversation, as it naturally does, of course. One of us said, "Wouldn't that be a great name for an underwear brand?" The name is fun, flirty, silly, naughty, sexy, provocative: all those things.
What did you know about creating fashion designs and cuts?
It's definitely been a fun learning process. Luckily, we have a knowledgeable and skilled team who help make the brand the firecracker that it is. As far as cuts, we always knew that we wanted to have jocks and briefs as the nucleus of our brand. They're our favorite styles of underwear. It's the fabric that we really needed to learn about. We searched for the softest, most comfortable fabric we could find.
You chose to launch with a black-and-white collection.
For the brand's introduction to the world, we wanted it to have a sleek, classic and timeless feel, and a monochrome black and white palette seemed to be the perfect way to accomplish this. White and black works seamlessly alongside any other color our target audience might wear, so we knew it would be easy to coordinate. It was our version of the Little Black Dress. It goes with anything.
Why color? Why now?
Now that we've gotten the black-and-white basics out of the way, we wanted to introduce a pop of color into our lineup. What better way to do that than with the colors du jour: pink, blue and yellow? These hues are super hot right now, and we wanted to give our customers some fun options to choose from.
Putting the logo on the back of the jock is pure genius.
Yes, as Manu likes to say, the rear view of a jockstrap is one of its best assets. Pun intended. The back is the focal point. So, moving the logo to the rear? Well, that's just good marketing!
The logo harnesses are color coordinated in the same pink, blue and yellow as the brief and jock.
Yes, it makes for an ideal opportunity to create an entire look. You can wear all the same color or mix and match, as desired.