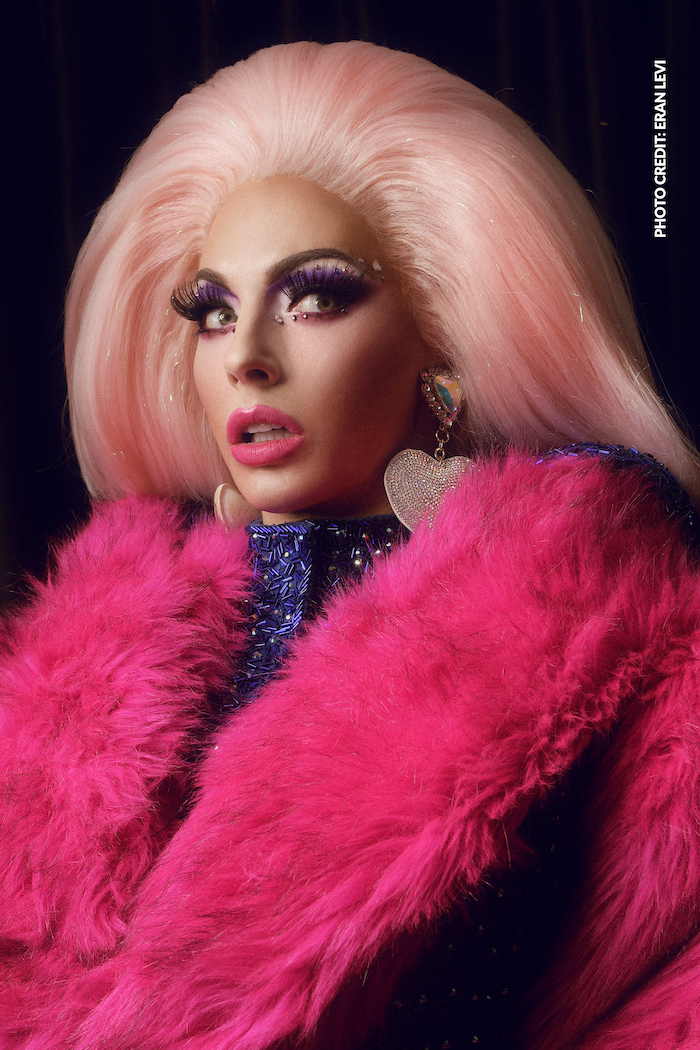 The venerable and effervescent RuPaul star Alyssa Edwards is bringing her show Life, Love & Lashes–Memoirs of a Queen directly from London's West End to New York City on May 19th at Town Hall, as well as touring all over the nation. It's a true to life, must see, tell-all story about her life, drag and love quest.
Alyssa Edwards (aka Justin Dwayne Lee Johnson) is one of the most notable drag queens on the planet, having starred on the Emmy winning RuPaul's Drag Race, Season 5, as well as having competed in the Miss Gay America Pageant. She also appeared on Season 2 of RuPaul's Drag Race All Stars and celebrated her own web series, Alyssa's Secret. Alyssa also had her own Netflix documentary series called Dancing Queen. And Alyssa is a vibrant choreographer and business person who, in 2021, appeared on America's Got Talent.
Get Out talked with Alyssa regarding her up-and-coming extravaganza, as well as her career and life story, and believe us, she is a true entertainer!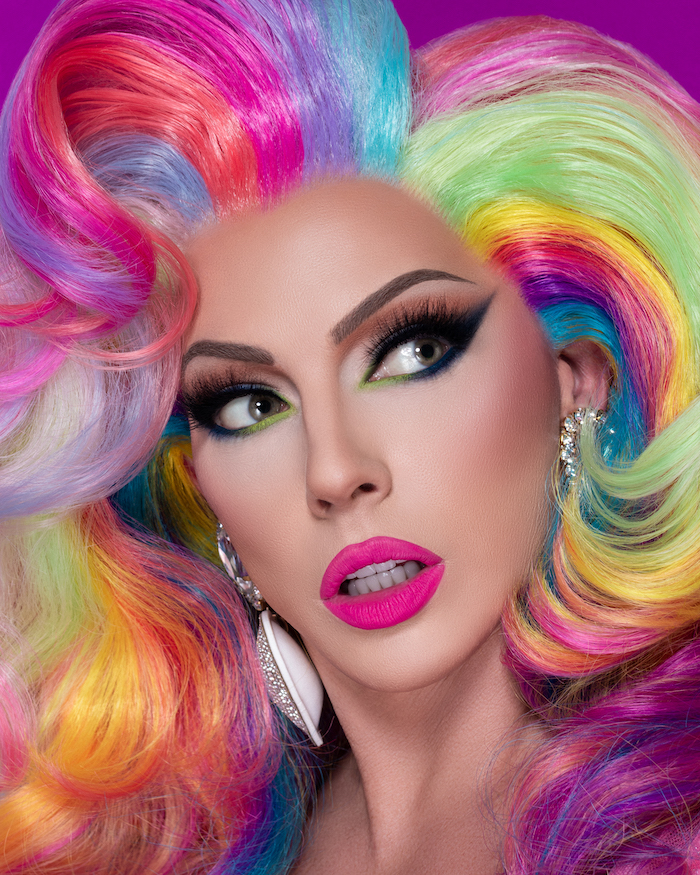 Hey, Alyssa! I'm excited about your show, and I bet you are too?
I am, truly…I think the excitement, all of the feels, are now just out and about in my world because I have been working on this since pre-covid. I remember meeting with Murray & Peter probably two or three years ago when all of this was being conjured up. I knew that this would have to be bigger than big. I shared a little bit of my life on my Netflix docuseries Dancing Queen. In the last 11 years, I appeared on RuPaul's Drag Race and since then, I touched so many incredible, beautiful, powerful moments and so much ground. Many airplane seats. So this is the emancipation of Alyssa Edwards. The journey of becoming the Alyssa that everyone knows. I'm so grateful that I've been supported and celebrated by so many. I felt that, having the opportunity when covid lifted and I was able to travel over to London, to the West End to do The Memoirs of Alyssa, which was a very small snippet of what this show is going to be.
So what can your fans expect?
I said I would not do my fans the proper justice if I did not travel this show. This will be the hallmark of my life. This is me sharing some of the magic I feel that I've always held onto. It's like pulling back the curtain a little bit. Peeling that layer that maybe we didn't know existed or that we didn't know we had the strength to do. Behind all of the glitter and the glam is a story. I can't wait to share that story. It's going to be all the things that everyone's expected, and the wigs will be bigger, the performances are more fabulous. And I definitely am feeling like I'm going to be a combination of Elvis Presley and Liberace…or at least Shania.
How many shows did you do in the UK and how did the UK fans respond?
The UK people loved it. It was a packed house every night. I'll tell you, I was one of the first shows to be back on stage. It was nice to be in the theater and see people in my element, because my gosh, I tried to do a drag show over Zoom and that didn't work. I tried to do a dance class over Zoom during covid, but that didn't work. And I thought, "You're going to have to be creative, Miss Thing." So I started hosting drag bingo, which kept me connected with all the fans. But I'll tell you, being over there, the fans were lovely. I am very grateful because they have celebrated me from day one. It was a huge success. I think I did a total of 16 or 17 shows and that was a preview of what I wanted this to be. And I'm sharing the journey of the shy gay boy, puberty, a coming out story that I told my grandmother, especially in a time where there wasn't social media. I'm not saying I am old–I am established–but that was a minute ago, when I had that conversation with my grandmother. I think that everyone here is in for a treat. One queen, one night and a spectacle that one will never forget, hopefully.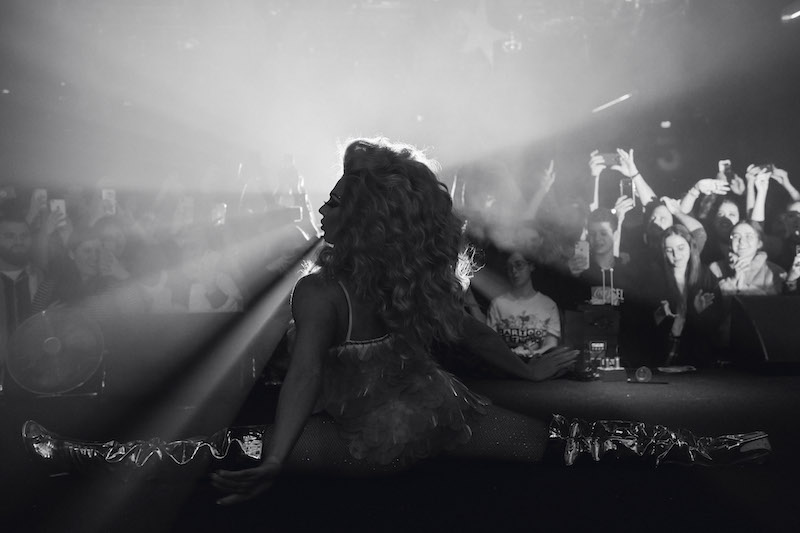 Looking back, what was the absolute highlight of your career?
OMG, you really got me today on a Monday. There's been so many. I'm going to give you a handful, top five. I don't know how to number them just yet. But I do remember the first time I met RuPaul. The very first dance I choreographed was to "Party Train." I remember watching him on television and I remember asking my mom, "What is this?" I was a very shy kid, but I was so enamored by this, I remember I would just giggle. I thought that person was larger than life. So when I finally got to meet him, I didn't realize that it was day one of the show and I forgot that we were filming a television show. I walked in and I said, "Oh, my gosh, RuPaul, I've been dying to meet you." And I went into this whole monologue and she was just looking at me. I'm saying all this and the director is saying, "OK, OK", and I kept talking over the director. It was hilarious. 
Also, I remember the day when World of Wonder called me and Netflix had green lighted Dancing Queen. I was at a CrossFit class and I left and sat in my car and cried. I just thought, "How did this happen?" I knew I manifested greatness, but there was still a part of me that didn't understand that I was destined for that. That was a big day for me. I remember the day it premiered. I remember performing for the troops. It was a very interesting moment in my life because I didn't know how it was going to be received. I have so many, so many moments. Oh my gosh, Eileen, you've got my wheel spinning now…You know, I went on television 11 years ago. I remember the trailer coming out for season five. I remember thinking to myself, "What am I going to tell my dance parents?" I thought they were going to judge me and I thought that I was probably going to lose students. All of that was the opposite of what happened. It was an inner saboteur that was trying to come and get me, and I had to remind myself the devil was alive. But they were just celebrating me and they were so open. It was wild. I have experienced a lot of greatness, and this is truly going to be a show that encompasses all of that because behind all the glam and all the glitter is a story. Putting it into a live show has been so fun and so exciting. I manifested this, I dreamt of this.
So you've kept some of your life a secret?
Let me be quite frank…I didn't grow up with social media. I don't know how to wake up in the morning and let everyone know what I'm eating. I just don't know if that was a part of my schedule. I'm working on it, but I don't share enough.
Have you had your ultimate stage fantasy?
OK, Eileen, you're ready for this?…OK, I'm going to be very candid. So when I watched Behind the Candelabra, I thought, "This is the most insane life." I thought this person was living the grandest of stage performances. Liberace would come out with the feathers, the glitter and the rhinestones and the drag, oh my. I think for me Life, Love & Lashes is opening the curtains and pulling back the veil. This is the absolute, untold story of Alyssa Edwards, and I think that this could be that fantasy come true.
If you could have me ask you any question on the planet, what would it be?
"What is one thing that I hope to do that I haven't done yet?" Hopefully, I want a      proper southern wedding like in Forrest Gump. Now, you know, love is alive in my life. I did host a global audition. I know Prince Charming was en route to my house. So maybe I'll have a beautiful southern wedding one day. I just manifested that, oh wow. So that's a southern wedding because now everyone's going to want to know if I'm getting married…So, besides that, I'm going to answer it according to Life, Love & Lashes…so that's the love part. The life part is maybe an autobiography or maybe I will do a season two of Dancing Queen and then lashes, so that would be drag. And for drag, I definitely want to live my days on the big stage. I want to be surrounded by the theater. And I hope to inspire as many audiences as I can.
Anything you want to add?
I just want to say thank you and I'm very grateful and so full of gratitude that in the world where people can judge and not necessarily be as understanding, I've been so celebrated and so supported. To everyone that's been a part of this journey with me, I say thank you….always and forever, Alyssa Edwards.
May 19th   –  The Town Hall NYC   –  Drag fans.  @mmppresent